Château Lafleur
---
---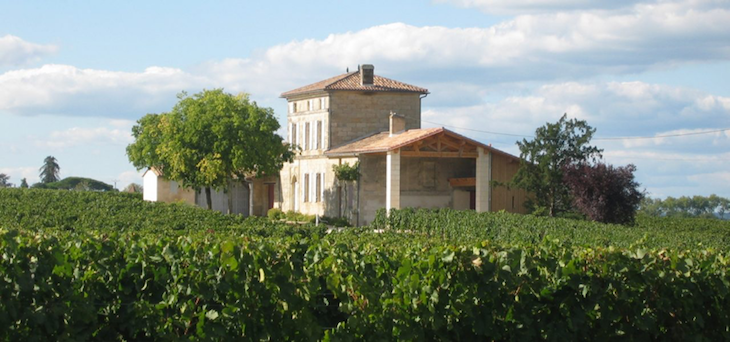 Address: Château Lafleur 33500 Pomerol  
Phone: +33 557 844403 
Website: www.chateau-lafleur.fr 
Recommendation: BUY
– Given the small quantities of Lafleur made, only 1,000 cases for the world, I recommend buying this wine direct from source rather than in the more expensive auction market.
Overview
– Area under Vine: 4.5 hectares producing about 1,000 cases per year.
– History: The estate was created in 1872 by Henri Greloud, then from 1915 it was purchased by Andre Robin who was married to Gabrielle Greloud, the granddaughter of Henri Greloud. Two daughters of Andre Robin, Therese and Marie Robin took over management in 1946. In 1985, Jacques and Sylvie Guinaudeau, the great, great grandchildren of Henri Greloud started to lease the property. By 2002, after both sisters passed away, the Guinaudeaus managed to acquire the remaining shares of Lafleur and became sole owners.
– Current Owners: The estate is run by Sylvie and Jacques Guinadeau and their son Baptiste, and his wife Julie.
Unique Aspects
– Lafleur is the only Pomerol estate to have 50% Merlot and 50% Cabernet Franc in their vineyard and in their wine.
– Three unique, very special soils can be found at Lafleur: to the north-west the sandy-clay gravel, to the south and to the east clay gravel, and at the heart of the vineyard gravelly sand.
– Always a family-run property since its establishment, Baptiste, who runs the estate now with his wife Julie, was only 21 years old when he started working at Lafleur.
Jeannie' s Insights
I fell in love with Lafleur on first taste. It was a heady introduction by a Hong Kong collector 20 years ago when he opened a bottle of Lafleur 1950. I had tasted Petrus, Trotanoy and Vieux Château Certan before from great vintages, but never Lafleur. It was instantaneous, love at first taste. The dark, savory, earthy flavors of Cabernet Franc, combining with the round, plush, sweetness of Merlot was magical. With age, the wine had taken on more ethereal flavors of dried green tea leaves and dried violets. It was the persistence and the structure that impressed me most and left imprints on my palate long after the wine was gone. Now, after having visited the château, watching the young Guinadeau couple devote themselves over the past 15 years to maintaining the standard of this magnificent wine and its unique terroir, I am even more convinced that Lafleur is one of the greatest wineries in the world. While Lafleur can be quite closed and sullen in its youth and needs time to open (at least 10-15 years in most years), the Pensee de la Fleur, from a specific site in the vineyard (not a second wine), is more open and accessible from about 8-10 years of age.
En Primeur Release Price Fluctuations 
Prices below are for 12-bottle case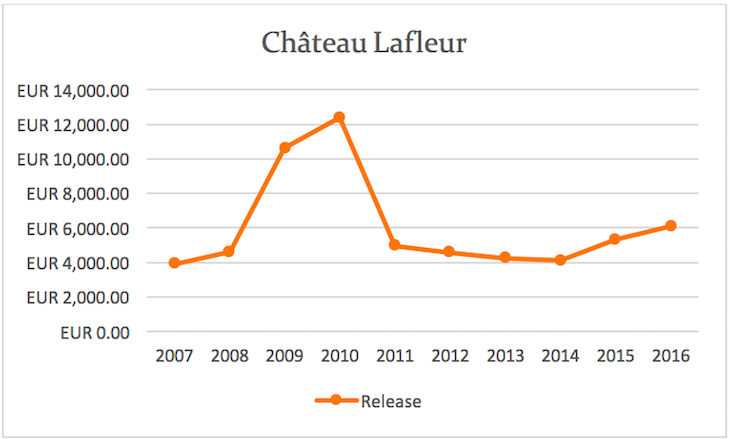 En Primeur Release Price Compared with Current Prices
Prices below are for 12-bottle case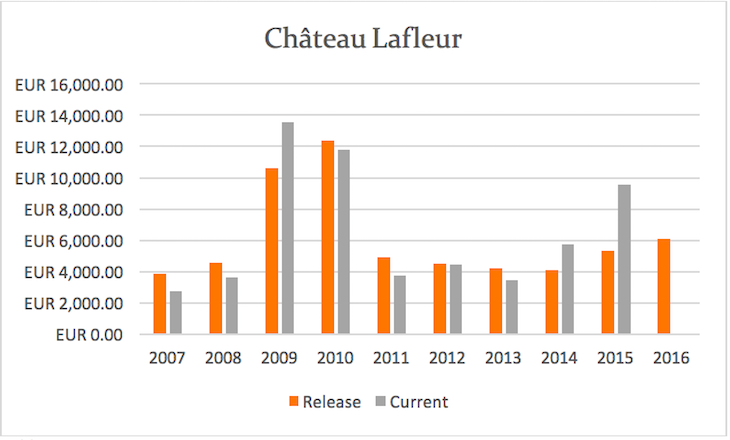 Data Source: Liv-ex
Jeannie' s Tasting Notes of Lafleur in the Past 6 Vintages
2016
An explosive aroma of violets, red plums and blackberries with hints of savory herbs and subtle spices. The palate is velvety, focused, pure with lifted flavors that go on and on. The flavors dance on the palate with dense, ripe tannins and freshness in the background. 45% Merlot and 55% Cabernet Franc.
98 points
2015
This is a strucutred 2015 with lovely depth and intense layered flavors of earth, dark berries and spices. The concentration is deep with an aromatic freshness with a long, lingering minerally finish. This wine is mostly Merlot 51% and 49% Cabernet Franc.
96 points
2014
There are hints of fresh herbs, violets and spices on the nose. The palate is sumptuous with firm, cashmere-like tannins. Generous and powerful with purity; the minerality in this vintage is quite prominent. The wine is balanced with freshness and subtlety.
95 points
2013
Open, accessible flavours with an array of blackberries, plums and spices. Medium bodied with wonderful freshness and good depth. This vintage is approachable and beautifully crafted. Same quantity of Lafleur this year versus past several years which is surprising given how little people made in Pomerol in 2013.
94 points
2012
Intensely floral with violets and roses and a palate that is complex and generous with layers of flavours that are persistent and fresh. Amazing finesse with intensity and depth. Very long length with wonderful concentration without any heaviness. The Cabernet Franc performed very differently depending on the soil/site so maturation was different by plots. In 2012, Lafleur is composed of 46% Merlot and 54% Cabernet Franc which were harvested between 23 September to 6 October, fairly early for this vintage.
96 points
2011
On the nose, the violets and plums suggest a soft, gentle wine; however, this wine is filled with an intense layers of tannins with great density and depth. The flavours are concentrated and surrounded by tannins at this stage but the wine also displays minerality and grace. This is a wine that will take a decade or more to come around. The wine is serious and has a stature that suggests it will improve greatly with age. Be patient with this wine.
95 points
Jeannie' s Tasting Notes of Top Lafleur Mature Vintages
1950 (Magnum)
Up until this point in my wine drinking life, the most perfect wine I have ever tasted. Delicate body with intense flavours that are both persistent and ethereal. Complex flavours of dried flowers, spices and sweet dried red fruits that unfold layer by layer on the palate and go on and on. The magnum format has helped the wine retain its vibrancy and youthfulness. A gorgeous wine.
100 points
 1952
A gorgeous wine with layers of tobacco, leather, dried plums and hint of cacao. The palate is seductively silky with an explosion of additional spicy and dried berry flavours. Wonderful lingering finish. This wine is utter perfection.
100 points
 1979
A beautiful Lafleur just starting its decline. Lifted, fresh flavors of dried rose petals, mixed herbs and sweet spices. Delicate, a little bit fragile but so pure and expressive. Enjoy now.
98 points
 1982
This is one of my favorite vintages of Lafleur and I am lucky to enjoy it quite regularly with friends. Exuberant and glorious, very different from the shy young Lafleur vintages during the first few decades of its life, this complex, intriguing red has so much to offer and express! Dried blakcberries, cocoa, savory, roasted herbs and spices are wrapped around plush, generous tannins. The finish is incredibly long.
98 points
 1989
This is a sexy Lafleur that is closer to Le Pin on the nose than any other vintage I have experienced. The palate though is very different – Lafleur has great minerality and depth with a solid earthy, dark berry and savory herb-dominated core. The aroma is simply gorgeous and the palate is incredibly persistent. A wonderful bottle, better than previous bottles of this wine tasted in the past.
97 points
For more tasting notes and reviews by Jeannie, please click here.
Wine Label
Photo Credit:  Pasternak Wines