Top Red and White Burgundies in 2016 for Collectors
---
---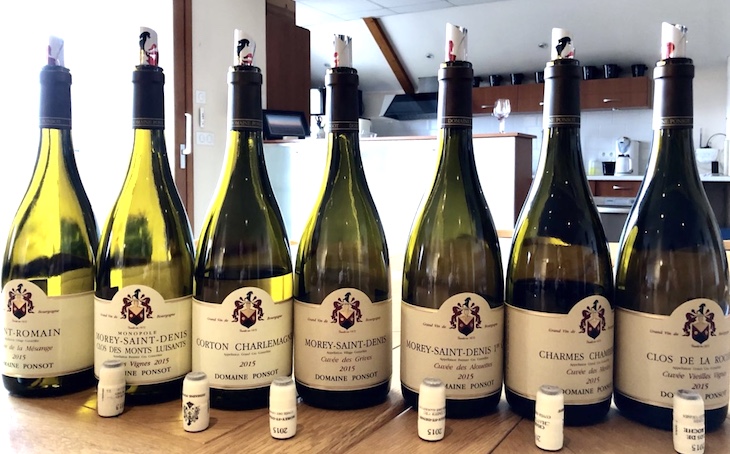 The 2016 vintage is for the true Burgundy lover, the ones that like to discover and follow favorite producers to see how they fared during a challenging vintage. Even in Chablis, where most people wrote off the vintage due to the frost and the hail, there were delicious, balanced wines made by conscientious growers like William Fevre, Samuel Billaud, and Drouhin. In general, the red wines from top growers in Cote de Nuits did very well but careful selection is the key. Cote de Beaune reds can also be delicious but they lack the ripeness and richness of the 2015 vintage. As for the whites, there is not as much substance and tension as in the 2014 vintage, but some delicious wines were made from producers such as Leflaive, Lafon and Domaine de la Vougeraie.  
Find below my recommendations for the best red and white wines in 2016 for collectors. To read more about the 2016 Burgundy vintage, click here or to see my selection of best values in 2016, click here. To view all the tasting notes from this vintage, visit our Wine Ratings page.
Top 2016 Burgundy White Wines:
1. Domaine Arnaud Ente Meursault La Seve du Clos 2016
Nose is seductive – hazelnuts, almonds, peach blossom – while the palate is complex with great intensity and depth. The wine is tightly wound and a bit closed at the moment but the structure is there for the wine to age in the long term. Always one of my favorite Meursaults from Ente.
95 points
2. Domaine Arnaud Ente Puligny-Montrachet Premier Cru Les Referts 2016
A complete, balanced Referts with depth, layers of flavors and an incredible finish – only 2 barrels of this wine was made in 2016. The palate is intense, focused, filled with tension and minerality with a very long finish. Impressive 2016!
96 points
3. Domaine Bonneau du Martray Corton-Charlemagne Grand Cru 2016
An intense Corton Charlemagne with mixed nuts, minerals and a finish of stones and hazelnuts. Lovely intensity, depth and complexity with a persistent finish. Layers of stones and slate mingle with toasted almonds. This has the tension of 2014 and the richness of 2015.
96 points
4. Domaine Bouchard Chevalier-Montrachet Grand Cru La Cabotte 2016
Incredibly intense concentration with both power and finesse. There is delicacy and concentraton combined in an etheral wine that has the nose of mixed nuts and savory herbs but opens up to chalk and minerals on the palate. The vineyard has 45-60 year old vines; this is a small sub-parcel of the Chevalier-Montrachet that is closer to Montrachet in style.
96 points
5. Domaine Bouchard Montrachet Grand Cru 2016
This is a powerful Montrachet with nice concentration and freshness combined with layers of ripe, generous fruit. The palate is filled with tropical fruit, mixed nuts and savory spices with a chalky, slatey backbone of acidity and minerals. A beautiful wine that will age well.
97 points
6. Domaine de la Vougeraie Bienvenue-Batard-Montrachet Grand Cru 2016
Powerful yet delicate, Bienvenue wine grabs you from the start. The nose is intoxicating with a mix of toasted nuts, ripe stone fruits and minerals. A gorgeous wine with wonderful energy and tension. Long, lingering finish.
96 points
7. Domaine de la Vougeraie Chevalier-Montrachet Grand Cru 2016
Gently powerful with layers of flowers and stone fruits. The flavors here are lacy, fine and detailed – white flowers, sweet peaches and hazelnuts. Incredibly long finish of stones and almonds. Lovely Chevalier with tension and length.
95 points
8. Domaine de Montille Volnay Premier Cru Les Taillepieds 2016
A beautiful nose filled with layers of savory herbs and spices peppered with rose petals. The wine is delicate and balanced and is meant for long term aging. There is a wonderful chalky finish in this wine. This vineyard is almost always 100% whole cluster because the vines are old – they are 65-70 years old.
94 points
9. Domaine des Comtes Lafon Meursault Premier Cru Genevrieres 2016
Wonderful intensity and focus in this beautiful, gentle Genevrieres with delicate white flowers and peach notes. Lingering finish.
94 points
10. Domaine Leflaive Bienvenues-Batard-Montrachet Grand Cru 2016
A gorgeous nose of sweet spices, flowers and ripe stone fruits which opens up to an intense Bienvenues with intensity but without weight. Focused, intense with layers of hazelnuts and almonds that comes through in the finish. Only 7 barrels were made in 2016 when normally 22 barrels are produced from this 1 ha vineyard.
96 points
11. Louis Jadot Batard-Montrachet Grand Cru 2016
This wine is subtle for a Batard, but has quiet power. It rises to a crescendo on the mid palate – from delicate acadia flowers to mixed nuts and sweet peaches that grip you and linger on the palate with a chalky, minerally finish. A wonderful Batard in a difficult vintage where very little Montrachet or Batard was made.
95 points
12. Maison Joseph Drouhin Montrachet Grand Cru Marquis de Laguiche 2016
Intense, powerful Montrachet with a delicate, feminine touch. Layers of mixed hazelnuts, white flowers and ripe peaches. The finish is long, persistent and quite revealing of the wine's intensity and stature. A glorious wine! This Montrachet by Drouhin is a 2ha vineyard and half was destroyed by frost in 2016.
97 points
Top 2016 Burgundy Red Wines:
1. Domaine Arlaud Bonnes-Mares Grand Cru 2016
The nose is intoxicating with wild herbs and spices while on the palate the wine is persistent and intense. Tannins are beautifully handled and the finish is very long. In this vintage, there are only 2 barrels compared with the usual 3.5.
96 points
2. Domaine Armand Rousseau Pere et Fils Chambertin-Clos de Beze Grand Cru 2016
This is an intense, concentrated expression of Clos de Beze with layers of savory herbs, red berries and savory spices. A gorgeous wine with amazing intensity and volume without heaviness. Long, lingering finish.
99 points
3. Domaine Arnoux-Lachaux Latricieres-Chambertin Grand Cru 2016
A delicate palate of roses and violets with bright red berries and savory herbs. A gorgeous wine with 100% whole bunches that are very well handled. Lovely flavors with very little new oak – less than 30%. A beautifully composed wine with a long finish.
96 points
4. Domaine Cecile Tremblay Chapelle-Chambertin Grand Cru 2016
Gorgeous bouquet of wild flowers and fresh herbs layered with dark berry fruit that is juicy and ripe. Intense, velvety with a very long finish. A wonderful, delicious Chapelle Chambertin! Tremblay only has 0.36 ha so very little wine is made.
96 points
5. Domaine de la Romanee-Conti Romanee-Conti Grand Cru 2016
An expressive Romanee-Conti with great exuberance, intensity and complexity. This is a brilliant vintage for DRC and the Romanee-Conti in this vintage is suprisingly open at this stage. The wine combines everything one would want in a great Burgundy wine – delicacy, purity, depth, complexity, length and seductive flavors.
99 points
6. Domaine Denis Mortet Chambertin Grand Cru 2016
A majestic Chambertin that defies words – ethereal in flavor, delicate yet powerful in its delivery with a long, lingering finish. While the wine is clearly powerful and intense, there is a quiet confidence and subtle layers of savory dark berry fruit supported by minerals and velvety tannins. The depth and complexity in this wine is incredible as is the length. A wine to lay down for a decade before approaching.
97 points
7. Domaine Dujac Bonnes-Mares Grand Cru 2016
The nose is filled with garrigue and spices while the palate seduces with its velvety tannins and wonderful intensity. The wine has depth without heaviness and even in this youthful state, the wine is expressive and balanced.
96 points
8. Domaine Fourrier Griotte-Chambertin Grand Cru 2016
A wonderful Griotte that offers attractive aromatics of rosemary, thyme and rose petals. The palate is intense with lovely focused flavors and great structure. A beautiful, successful wine in 2016! There was normal quantity of 5 barrels in 2016. The vines here were planted in 1930.
96 points
9. Domaine Meo-Camuzet Vosne-Romanee Premier Cru Au Cros Parantoux 2016
Incredibly concentrated Cros Parantoux with great purity and intensity. There is a lovely minerality and concentration here with a linear, vertical structure. It is not big or powerful but intense and very long in the finish.
96 points
10. Domaine Perrot-Minot Chambertin Grand Cru Vieilles Vignes 2016
Nose is very complex, with layers of sweet spices, crushed violets and jasmine. Delicate flavors with lacy detail backed by intense minerality and earthy core. This had 60% whole bunch and only 20% new oak. The finish is incredibly long despite its delicate flavor profile. 3 barrels made in 2016.
96 points
11. Domaine Ponsot Clos de la Roche Grand Cru Cuvee Vieilles Vignes 2016
A glorious Clos de la Roche with complexity and depth, as usual. This vintage has both power and depth with wonderful approachability. This is a velvety, balanced, intense Chambertin that is classic Ponsot – incredibly intense with no new oak and no whole bunch.
96 points
12. Maison Joseph Drouhin Musigny Grand Cru 2016
An amazingly graceful, elegant yet persistent Musigny that is ethereal as well as intense. A bouquet of red flowers greets you on the nose and on the palate, there is a confident harmony and insistence of lingering flavors in this wine. Only 2 barrels made in this vintage.
96 points