Great Champagnes for the Holidays
---
---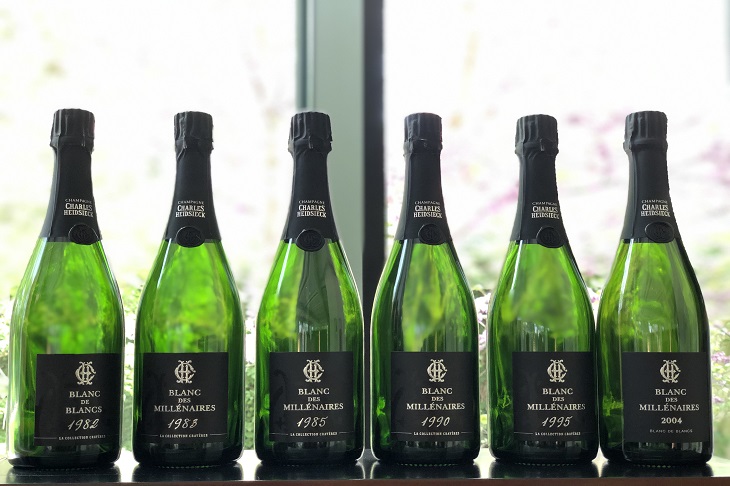 I will be opening quite a lot of champagne in the coming months as we come to the end of the year wrapping up 2019 and preparing for 2020. I had the great fortune of spending a week in champagne earlier this year and returned with nearly 100 tasting notes! While the number of grower champagnes continue to increase and gain favor among savvy sommeliers and retailers, the reliable, top champagne houses offer dependability and importantly, accessibility around the world. The combination of cool climate, a special chalky soil and dedicated, talented chefs de cave with incredible blending, winemaking skills and experience, enables this region to maintain its unchallenged, prestigious place in the world of sparkling wines. Below is a list of champagnes I would recommend that are widely available and accessible now:
NV Bollinger Special Cuvee
Full bodied, creamy, generous Champagne, classic Bollinger made up of mostly red grapes – 60% Pinot Noir, 25% Chardonnay, 15% Pinot Meunier. 5-15% of the total is barrel fermented. Hundreds of different components make up the blend including 6-7 different vintages; some of the wines in the blend are kept in magnum. Minimum of 3 years on lees and 8 gm/litre residual sugar.
2008 Bollinger La Grande Annee
Impressive, toasty with layers of hazelnuts, brioche and butter. This Grande Annee by Bollinger has both the intensity as well as the acidity and structure for long term aging, with a long, persistent finish. Made up of mostly Pinot Noir. Aged on lees for nearly 10 years and the dosage is 8 gm/litre.
2012 Ayala Blanc de Blanc
An elegant Blanc de Blanc with a linear palate, fine mousse and acidity and layers of delicate minerality. The dosage is minimal – only 6gm/litre with a creamy mid palate from 6 years on its lees.
2008 Pol Roger Sir Winston Churchill
A complex, focused, linear Champagne with wonderful tension, lovely minerality and a long finish. There is so much intensity and power with elegance in this wonderful vintage of Winston Churchill. A majority of Pinot Noir makes up the blend.
NV AR Lenoble Brut Nature Dosage Zero Mag 14
Layered, focused, intense well-made Brut Nature with a lingering fresh, minerally finish. Aged an extra 12 months (plus 8 years aging for the basic wines) with no dosage. 25% Chardonnay, 30% Pinot Noir, 45% Pinot Meunier.
2004 Charles Heidsieck Blanc de Millenaires
Toasty and layered with wonderful depth and a long finish. This prestige cuvee offers wonderful concentration and is often under-valued in the market compared to its peers. Since 1983, the Blanc de Millenaires is only sourced from 5 villages of Cote de Blanc. 30,000 bottles made per year. Aged for 13 years on its lees and made only every 5-7 years.
NV Tattinger Prelude
A lovely, under-rated, great-value Champagne with depth and wonderful intensity. Classic Tattinger style – it is lean and athletic rather than big with 50% Pinot Noir and 50% Chardonnay. Made from mostly premier cru and grand cru vineyards and aged for 5 years on its lees.
2006 Piper-Heidsieck Rare
Intensely toasty and filled with aromatic tea leaves and spices along with toasty almonds with a fairly long finish. Disgorged 11 months ago at the end of 2018 and just released in 2019. Blend is 70% Chardonnay and 30% Pinot Noir. 10 gm/litre residual sugar.
For ratings of the above champagnes and more extensive notes, please click here.
Image Credit: Forbes