Montrose 2016: One of Their Top Vintages since 1990
---
---

Address: Château Montrose, 33180 St. Estephe 
Phone: +33 556 593012 
Website: www.chateau-montrose.com 
Recommendation: BUY
– 2016 is one of the best Montrose made since 1990.
Overview
– Area under Vine: 95ha producing approximately 320,000 bottles per year (includes both the first and second wine)
– History: Despite the château's over 200 year history, there have been four families involved: Theodore Dumoulin who bought the patch of land and his son Etienne Theodore Dumoulin who built the château in 1815 and called it Montrose. In 1866, Mathieu Dolfus acquired Montrose and modernized the winery and vine growing methods. From 1896 to 2006, the Charmolue family guided the estate and enhanced the winery's reputation.
– Current Owners: Martin and Olivier Bouygues became the new owners of Montrose in 2006.
Unique Aspects
– Montrose was only 40 years old when it was classified as a second growth in the 1855 classification.
– Extensive renovations and investments of over 50 million Euros to the winery and vineyards means Montrose has one of the most sophisticated, environmental conscious wineries in Bordeaux.
Jeannie' s Insights
Similar to Martin Bouygues, the current owner of Château Montrose, I had my epiphany with this property when I tasted their 1989 vintage. It was served to me blind at a dinner hosted by Jean-Hubert Delon, owner of Château Leoville Las Cases. The wine, at that time barely 20 years old, had the breeding, complexity and intense finish of a first growth. Since the Bouygues brothers purchased the property there has constant refinement, in the vineyard, cellar as well as in management. The style has not changed, Montrose manages to stay true to its muscular, complex, powerful style, reflective of its Saint Estephe terroir. And now with Herve Berland, the former managing director of Mouton Rothschild at the helm since 2012, the château is reaching the high standard of the 1989 vintage on a regular basis. Montrose 2016 is one of my top picks in a vintage that produced many outstanding wines.
En Primeur Release Price Fluctuations
Prices below are for 12-bottle case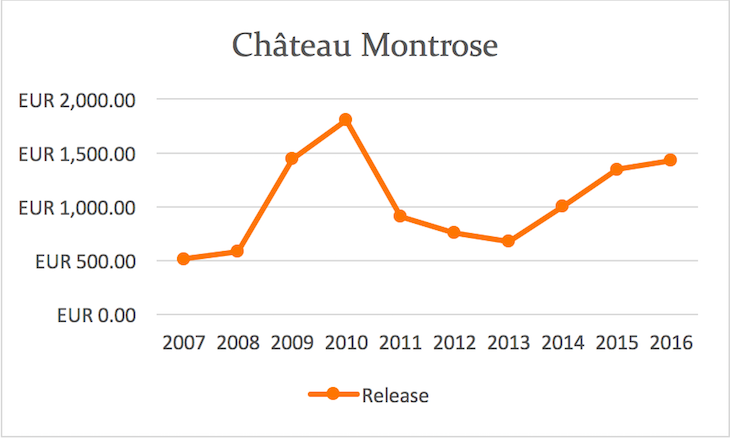 En Primeur Release Price Compared with Current Prices
Prices below are for 12-bottle case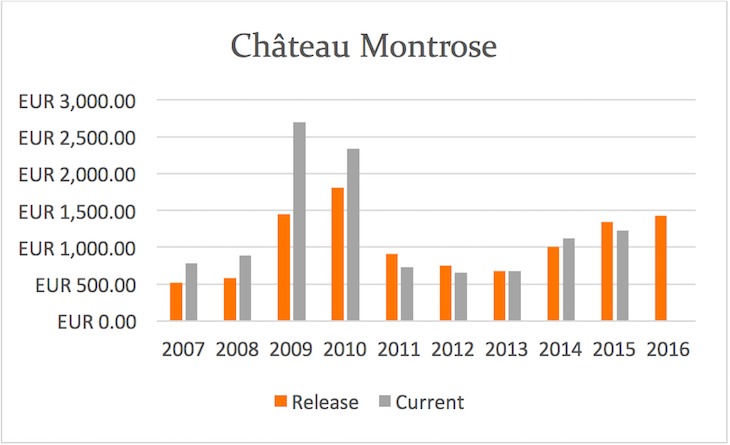 Data Source: Liv-ex
Jeannie' s Tasting Notes of Montrose in the Past 6 Vintages
2016
A lovely Montrose with wonderful freshness, great intensity of ripe red plums and blackberries with a sweet, firm palate. This is a beautifully composed Montrose that is built for the long term – layers of dense tannins and a fresh, lively palate filled with ripe fruit. This is a 'caged lion' according to winemaker Vincent, that is not yet fully expressing itself but the potential is there for very long aging – easily 20-30 years.
97 points
2015
A dark, serious Montrose with firm, grippy tannins and a wonderful concentration of flavors. This is a dense Montrose with elevated, ripe tannins. There is a spiciness and floral character in this vintage that is usually not present in Montrose this young. A subtle, restrained wine built for aging rather than drinking early – wait at least 8+ years.
94 points
2014
Great concentration combined with velvety tannins, dark berry fruit that is crunchy, fresh and supple with round tannins. There is great linearity and freshness combined with lifted dark berry fruit and spices. Tannins are very well managed with long length. This is a much better vintage than the past 3 years.
95 points
2013
Tasted three times, this wine showed differently each time. The first sample at the château was tannic and closed. The second sample lacking on the mid palate. Finally the third sample, sent from the château was harmonious. This year Montrose made a focused red with firm tannins and velvety texture. Tannins dominate more than the fruit at this stage but the quality of the tannins are there for the long run. Tight, fairly slim red with good finish.
92 points
2012
Great density and depth in this serious Montrose made from small berries. There is 37% Merlot in this vintage, about 3% more than average. The wine has good strucutre, plushness and density with lovely tannin profile and long finish. A successful wine for Montrose with potential to age and evolve over the next 20 years.
93 points
2011
Round, supple, full bodied Montrose with the plush, velvety tannins one would expect from this superstar 2nd growth. The flavours are polished and layered but at the same time, the wine offers nuances and depth. Not as complex as in the past two vintages, but definitely a successful vintage for Montrose.
93 points
Jeannie' s Tasting Notes of Top Montrose Mature Vintages
1990
I have tasted over a dozen different bottles of this vintage and each time, it is like a new experience because there is so much bottle variation. This bottle was glorious and lives up to its reputation as a phenomenal vintage for Montrose – complex, sweet, ripe, filled with cedar, violets and cassis. However, there have been just as many disappointing bottles with fruit that is stripped and dominated by brettanomyces. Caveat emptor!
97 points
1982
This is a gorgeous Montrose with its tannins finally tamed after 16 years of age. The dark berry fruit has integrated beautifully with the firm tannins and the texture is firm and supple. Full bodied and generous, this Montrose will age beautifully for decades. Enjoy now or lay down for 10+ years.
95 points
1996
A mature but still youthful Montrose that is just starting to show its herbal, leather and savory spice notes. The mid palate is is still filled with juicy blackberries and cedar. A gorgeous, plush, sumptuous Montrose with a long finish. Enjoy now and over the next few decades.
95 points
1989
Consistently a great wine, unlike the 1990 Montrose where bottle variation is very high. This is a powerful Montrose that is exuberant and expressive with a firm, muscular tannic structure. Very long finish a wine that will keep for decades. Drink 2013-2029.
94 points
1976
En elegant, supple, fully mature vintage for Montrose that will be appreciated by those who prefer the dried leaf, leather flavors in older wines. Just starting to fade, so I would drink this medium bodied, classic St-Estephe red quickly. It is delicious to drink now.
93 points
For more tasting notes and reviews by Jeannie, please click here.
Wine Label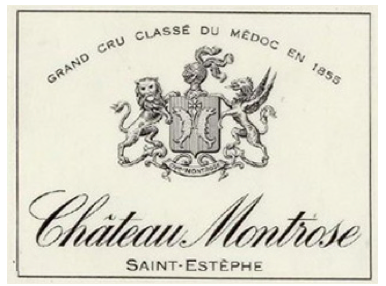 Image Credit: Château Montrose & Bordeaux Investment Wines