Château Haut-Brion
---
---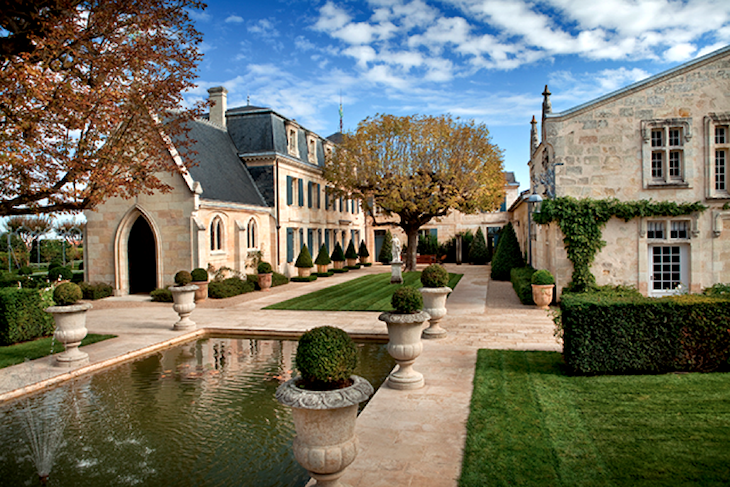 Address: 135 Avenue Jean Jaurès 33608  
Phone: +33 556 002930 
Website: www.haut-brion.com 
Recommendation: WAIT
– Given the 9% price increase from 2015 and that both 2016 and 2015 vintages were terrific, I would suggest buying the 2015 or waiting to buy the 2016 when it is bottled.
Overview
– Area under Vine: 48 ha producing about 20,000 cases annually of all wines.
– History: This is one of the oldest châteaux in Bordeaux with its history dating back 600 years. In the early 16th century, Haut-Brion was part of the dowry, which the daughter of the then mayor brought with her when she married Jean de Pontac. Fast forward several hundred years later, and in 1935 Clarence Dillon, a New York banker purchases Château Haut-Brion.
– Current Owners: The Clarence Dillon family since 1935. The estate was managed by Clarence Dillon's granddaughter, Princess Joan Dillon, from 1975 until 2008. Currently, Princess Joan's son and Dillon's great-grandson, Prince Robert of Luxembourg, manages the estate. A talented trio manages the property on a day-to-day basis: Jean-Philippe Delmas, the Directeur Générale; Jean-Philippe Masclef, the oenologist; and Pascal Baratié, the technical director of vineyards.
Unique Aspects
– Haut-Brion is the only estate ranked as a first growth in 1855 that is located outside of the Medoc and the only château at the top of two separate wine rankings: the 1855 classification and the Cru Classe de Graves.
– In 1666, Haut-Brion became the first château to open a tavern in England for the purpose of selling and promoting their wines! Recently, their newly opened Parisian restaurant, Le Clarence, earned 2 Michelin stars.
– Thomas Jefferson was a huge fan of Haut-Brion.
– The estate is one of the first Bordeaux properties to have a nursery for private clonal selection and one of the first to bottle a portion of their production at the château in the 1850s.
– One of the few properties in Bordeaux as famous for the high quality of their white wine as for their red.
Jeannie' s Insights
Among the first growths, Haut-Brion has always been the insider's favourite. Never flamboyant like Mouton nor delicate and floral like Margaux, Haut-Brion has the reserved, aristocratic character of Lafite and the backbone of Latour but with more expressiveness and approachability. Haut-Brion has always been one of my favourite wines and I love them most for their consistency, even in off vintages when others didn't fare as well. Because of the wine's blend (more Merlot than its northern neighbors) and its location and terroir, the wines do not follow overall Bordeaux vintage evaluations. The 48% of Merlot in the vineyard, which is larger than the percentage of Cabernet Sauvignon planted, adds roundness and plush, velvety texture to Haut-Brion. While Haut-Brion may be the smallest in volume compared with the other 4 first growths, they also own La Mission, the sister property with 21 hectares, which is managed by the same team as Haut-Brion. While both of the past two vintages of Haut-Brion, the 2015 and 2016, have been stellar, I have slight preference for the 2015 which is classic cedar, tobacco and plums but with added depth and plushness.  
En Primeur Release Price Fluctuations 
Prices below are for 12-bottle case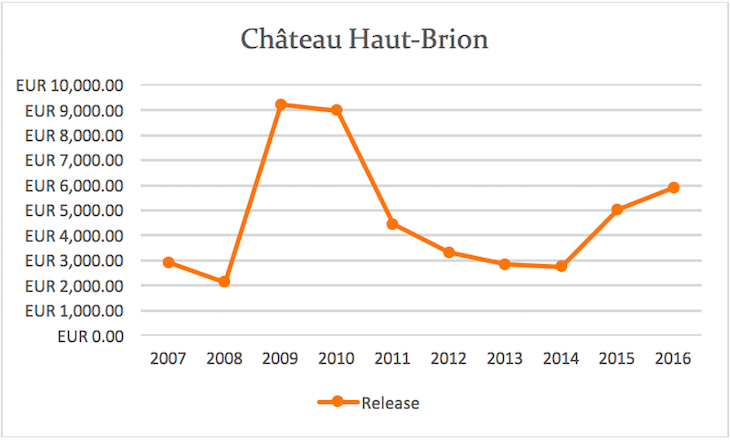 En Primeur Release Price Compared with Current Prices
Prices below are for 12-bottle case 
 
Data Source: Liv-ex
Jeannie' s Tasting Notes of Haut-Brion in the Past 6 Vintages 
2016
A serious, tightly knit Haut-Brion with structured backbone and reserved flavors. There is less flamboyance and generosity compared with 2015 but the structure is classic – dense, fine-grained tannins with cigar, tobacco and earthy flavors accented by savory herbs and spices. Long finish. A wine to be enjoyed in 10-20 years time.
98 points
2015
Ripe, generous and intensely concentrated with plush, velvety tannins and layers of earthy, dark berry flavors. This is a serious, complex vintage with sumptuous flavors – almost California-like in its ripeness. The alcohol this year is quite high with 14.9%. This is a wine that needs at least a decade in bottle.
98 points
2014
The structure of Haut-Brion this year is compact and tight with ripe, velvety tannins that are dominating the dark fruit and tobacco flavors in the background. Tasted alongside the La Mission, there is less flamboyancy and spice here but rather long-term aging potential and greater intensity. Wait for the wine to open up in 8-plus years.
95 points
2013
This wine is classic Haut Brion with dark berry, cedarbox and tobacco flavours. Tannins are supple, round and firm in the finish. This vintage had as much rain as in 1969 according to Jean-Philippe Delmas. 50% Merlot, 46% Cabernet Sauvignon, 4% Cabernet Franc.
93 points
2012
At Haut-Brion 2012 marked one of the highest level of Merlot content in the past 20 years with 66% in the blend. There is more structure in Haut Brion than in La Mission this year with plush, firm tannins and good concentration and depth. Very long finish. According to the technical analysis, the numbers for both wines, La Mission and Haut-Brion in 2012 are the same, but Haut Brion stands out with greater complexity and depth. 14.9% alcohol, higher than most in this challenging vintage.
96 points
2011
There is wonderful density and depth in this wine, but also a firm wall of tannins that make Haut Brion much less expressive at this stage than La Mission. There are many wines in this tannic vintage like Haut Brion that deserve to be re-tasted before bottling when a better sense of its true personality will emerge. The cedar box, earthy, dried Chinese red date flavours are restrained and the flavours are very tightly wound. The wine is promising with a long length, but patience will be required for this wine.
94 points
Jeannie' s Tasting Notes of Top Haut-Brion Mature Vintages
1961
A complex wine that is still majestic, powerful and long. This bottle is more intense than other bottles I have tried in the past and the youthfulness and vigor is noticeable in the vibrant character and long finish. Beautiful wine that ranks as among the finest from Haut-Brion, along with their 1982 and 1989.
99 points
1962
This vintage is as good as the glorious 1961, just with less sweetness. What attracts me about the 1962 vintage is the depth in this wine and layers of fascinating flavours that open up in the glass. Even over a 2-3 hour meal, the wine continues to impress and evolve, showing none of its 51 years of age. Amazing wine that is still intense and alive.
99 points
1982
As beautiful and youthful as the last time I enjoyed it less than a year ago. Generous, ripe with dark berry and earthy flavors that are deep, layered and very long. A spectacular vintage for Haut-Brion. If drinking within the next 5 years, 2 hours of decanting are suggested.
97 points
1989
One cannot say enough about this gorgeous Haut-Brion that leaves one speechless. The wine combines power, intensity, complexity and depth with incredible finesse. I've tasted this wine many times and each time, the wine is perfect, magical. Still youthful, this wine has at least 30+ years ahead.
100 points
1990
This gorgeous, voluptuous 1990 Haut-Brion was tasted alongside 1989 and the flavour profile of the 2 wines were very different. While the 1989 is more layered with exotic spices, the 1990 is rounder, with riper flavours and velvety tannins. For those who prefer a sweeter, rounder style, the 1990 may be their preferred vintage over the 1989. I appreciate both, however the 1989 has more complexity and depth. The 1990 is just reaching its peak and has a long life ahead.
98 points
For more tasting notes and reviews by Jeannie, please click here.
Wine Labels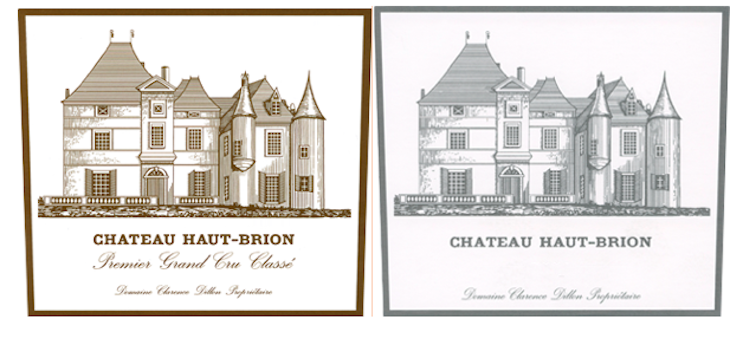 Photo Credit: www.sothebys.com