Bordeaux 2020 En Primeur: Third Warm Vintage in a Row
---
---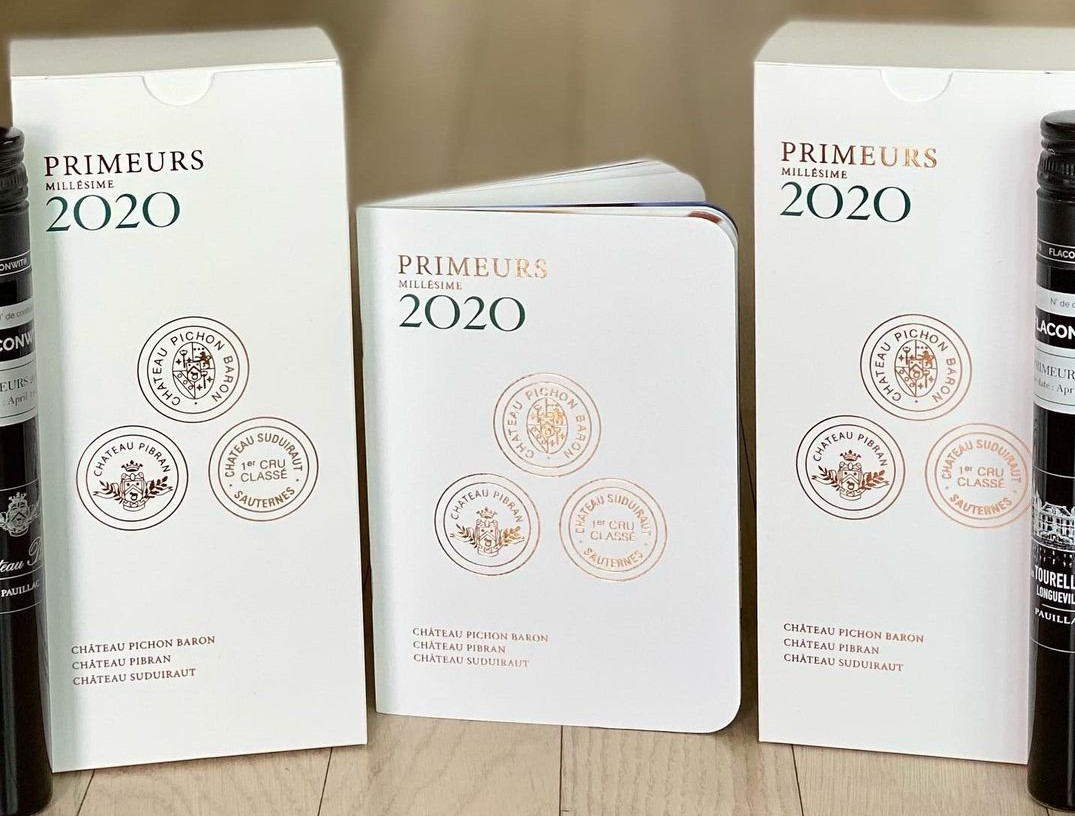 It was a pleasure tasting the Bordeaux 2020 en primeur wines this spring, mostly as samples sent to me in Hong Kong and Korea. The red wines overall are juicy, generous, round and ripe as one would expect from a warm vintage with good climatic conditions for ripening and the Bordelaise having much more experience navigating these frequent warm and drought conditions. The most frequent questions I received from both the trade and consumers was about the quality of the vintage. This was clear after tasting through hundreds of barrel samples that arrived via FedEx and UPS shipment that the vintage was very good to excellent for the red wines, and more mixed for the whites.
My overall impression after tasting over 300 wines from across all appellations of Bordeaux is that it is generally an excellent vintage for red wines. The 2020 red wines have as much depth and concentration as the previous two vintages, 2018 and 2019, but tastes lighter, less denser on the palate. For example, the four first growths I tasted – Mouton, Lafite, Margaux and Haut-Brion were outstanding in their sculpted expression of their own individual terroirs. Anyone who really wants to understand the character and terroir of Lafite for example, should really seek out the 2020 vintage. What I loved about Margaux in this vintage is the sculpted, precise, detailed expression despite the immense concentration of flavors. Haut-Brion was incredibly layered and complex while Mouton was expressive and deep with amazing freshness.
This high definition and precision was not as prevalent among the Cru Bourgeois of course, but there were plenty of very good, juicy, delicious wines. Overall, I was most impressed and found the greatest consistency among the wines from Pauillac and Saint Julien on the left bank and Pomerol on the right bank. The St Emilion wines were not as homogenous, being such a large region, and some wines that should have performed well did not. What was obvious in this vintage was how the superior terroir showed through and revealed how well it coped under another warm and fairly dry summer.
The white wines were light and fresh and although there were some delicious whites, I found the reds overall to have more complexity, depth and finish. For example, among the top producers in Pessac Leognan that produced excellent reds and whites, I was more impressed with their red wines. I love the whites from Smith Haut Lafitte and in 2020, it was very good, but their red was outstanding. I only tasted 12 sweet wines so I don't have a large enough sample size to comment on the sweet wines in 2020.
Of course, for the 2020 vintage as well as for the 2019 vintage, we have to account for the condition of the wines since the samples were sent halfway around the world. For the wines that seemed out of condition, I didn't rate or comment on them, only noting that I should re-taste the wines in the future. One concern to keep in mind is that the white wines may not travel as well as the reds, thus accounting for their lower performance compared to the red wines. I hope to revisit this when I am able to travel to Bordeaux in the near future and taste them at the chateaux.
While the quality of the vintage is one important consideration, another crucial factor is whether there will be demand for these wines from wine lovers around the world. In Asia, where I am in touch with many importers and collectors, the forecast looks dismal. Most of the wine merchants I spoke to were only planning to buy small quantities of select wines, and most commented that demand for en primeur Bordeaux was low. One top HK wine merchant commented, "Bordeaux en primeur market is dead in Asia. Do you see anyone rushing to buy Bordeaux these days? If there is demand, it is all for older vintages, not these young wines which they will have to keep in their cellar for 20 years before opening!"
Among the few dozen consumers that I spoke with that buy wine regularly, there was no demand for en primeur Bordeaux. The most common answer I received was, "Why bother when there are so many other great vintages in the market that I can enjoy earlier?" 2020 follows two highly acclaimed vintages, and makes up a trilogy reminiscent of 1988, 1989 and 1990. In addition, the past few decades have supplied us with numerous great vintages starting with 2005, 2009, 2010, 2015, 2016 to name just a handful. If collectors are looking to enjoy and open the wines in their own lifetimes rather than buying for their children, there are plenty of great young Bordeaux wines to choose from.
In Asia, Covid-19 seems to have created a demand for home consumption and smaller gatherings. Social and business drinking, which made up the majority of wine consumption in greater China, has definitely declined. However, online sales have increased and at the top end, fine wine collectors are drinking even better, more expensive wines and occasional home consumers are seeking bargains at the everyday wine range. Import figures, which are down for China mainland and Hong Kong since Covid began, reveal the big picture: Imported bottled wine figures for China mainland and Hong Kong have been declining since 2019 and re-exports (from HK to mainland) are at an all time low.
There are some growth markets in Asia however and the outlook post Covid looks good. Having spent nearly 2 months in Korea this year, I am happy to report that Korea shows an all time high for wine imports and retail wine sales are booming during this Covid period. Everyone who travels and usually enjoys wine abroad is now being forced to buy wine domestically. Wine lovers in Seoul claim there are new wine shops opening up every week and imports across all categories are on the rise. However, there was not much enthusiasm among the half dozen Korean wine merchants that I spoke to for 2020 Bordeaux en primeur.
I wish the chateaux and negociants in Bordeaux a lot of luck marketing another great vintage. As parts of the world slowly recover from COVID-19, there will be more optimism and willingness to spend – but the big question is whether it will be for young wines that won't even be available for a few years and won't be ready to drink for another decade. Given the growing trend of releasing less quantity in the en primeur market, this may give rise to another form of marketing that may mimic the Latour model of releasing ready to drink wines in the future. Congratulations to the Bordelaise on another great vintage!