Asia's Number One Chef On The Importance Of Storytelling
---
---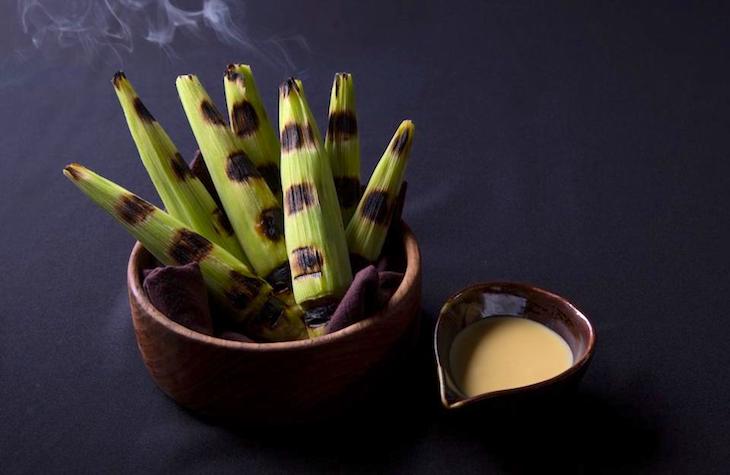 The popular corn dish at Gaa by Garima Arora.
"Let me tell you why restaurants succeed or fail," says Gaggan Anand whose eponymous restaurant is number one for three years in a row at Asia's 50 Best Restaurants. His dark brown eyes are intense and he leans closer to me. "Success comes from completing the circle. To be successful, we need to convert skills and talent into being a good cook; then move from being a cook to a great chef. And finally, from a chef to a restaurateur." He pauses as I digest this information.
"To reach the pinnacle, one needs to convert from a restaurateur into a storyteller. This completes the circle." I consider his words and remember the first time I met Gaggan, nearly 6 years ago, way before his celebrity status and before he had his own episode on Chef's Table on Netflix. I sat with my family at his chef's table amazed with his pioneering, Indian-inspired creations and as he came to explain each dish, I remember thinking, "This talented chef is filled with stories!" Each dish he presented harked back to his childhood or upbringing and the stories he relayed were as fascinating as the flavor combinations I tasted.
Rising star
Perhaps I did suspect then that Gaggan would eventually reach this status, but I didn't expect the rise to be so meteoric or quick. Now, in addition to Gaggan, he owns a growing list of successful restaurants including Meatlicious – a casual steak and burger restaurant that was such a hit that the business broke even within six months. All the meat dishes from the Miyazaki beef to the flavorful roast chicken are superb and the Khao Tom, rice soup made with meat bone broth at the incredible price of US$1.80 (60 Baht) per bowl, is out of this world.
His other ventures, such as Suhring with the German twin brothers Thomas and Mathias Suhring rose to number 13 in Asia's 50 Best within a year of opening. It is worth booking ahead to sample the fabulous contemporary German fare at this beautifully converted Thai house surrounded by tropical foliage.
Gaa, with the help of talented Indian female chef Garima Arora, opened in May this year and is starting to attract a following. The restaurant, located just across from Gaggan, offers modern eclectic cuisine based on local ingredients and authenticity – everything from the cow milk tofu to the caramelized onion bread to the butter is made in-house. Arora creates dishes that are delicious and balanced but difficult to pin down because the influence comes from many directions; some from Thailand, some from Noma in Denmark where she was a chef de partie; and some from her home country of India.
Betting on wine
Gaggan's upcoming new project, due to open this winter, is based around wine. In Bangkok where wine duty reaches 300% of its value, the concept itself is groundbreaking. A new wine bar, tentatively called Wet, is schedule to open later this year in the small house adjacent to Gaggan. The business will be shouldered by Gaggan's current head sommelier, Vladimir Kojic, who has proven himself by doubling the wine revenue at Gaggan over the past two years.
In September 2015, Gaggan approached Kojic and hired him to upgrade the wine list. In just two years, the wine list expanded from 80 to 500, with the revenue doubling and direct importation of wine increasing to 70%. Kojic is extremely busy, not just with replenishing the quickly depleting wine stock, but also because of their need for more sommeliers for the restaurant group and the new wine bar. "If you look at our wine list, we are on par with Hong Kong-based restaurants in terms of prices [despite the high wine duty] because we have lower margins and we want to be known for our fair wine pricing."
Part of Gaggan's success is on betting, trusting and believing in talent. And the feeling is mutual. "I love him," says Kojic. "He is great to work with and there is mutual trust. Just three weeks ago, I ordered some wines and he signed the 400,000 Euro bill without questioning me or the purchased items. He is like that."
A hearty appetite 
Ever since reaching number one in Asia's 50 Best, the demand for reservations, demand from overseas visitors and demand for wine have all increased exponentially. Gaggan is hoping to ride on this trend. "I want to create a warm, friendly environment for wine – with candle lights, nude wood and comfortable seats. It will be more risky [compared with his restaurant ventures] but I believe it will work." Already he has built a wine cellar that can house 10,000 bottles and is selling around 30,000 bottles of wine per year through his various restaurants. "Most of my profits come from wine. My ingredients are so expensive it certainly isn't coming from the food!"
Gaggan lives life and cooks as though the clock is ticking. He is thoughtful for a few seconds and looks away. "I am very close to my mother – she is the biggest inspiration of my life. My mother and I both have diabetes; it runs in the family. I started to take pills for diabetes since the age of 40. By 50 I may suffer from kidney failure like my mother who has to have hemodialysis every three days." Everything that I have known about Gaggan comes together for me at that moment: His plans in 2020 to close Gaggan, the passion and focus he imparts on his cooking, his devotion to his staff, his desire to expand quickly and his philosophical, thoughtful way of looking at the world.
"There is another circle you have to understand," says Gaggan. "It is the circle of food, science, taste, philosophy and art. Great food is about understanding each of these parts and how you layer them – art, science and tradition perhaps on one plate and maybe fantasy, imagination and playfulness in another." Gaggan is not religious but follows his own inner religion, one that channels creativity and talent into an art form and communicates its essence like a born storyteller.
Image credit: Gaggan