Artistic Interpretation of Chinese Gastronomy with Chef Da Dong
---
---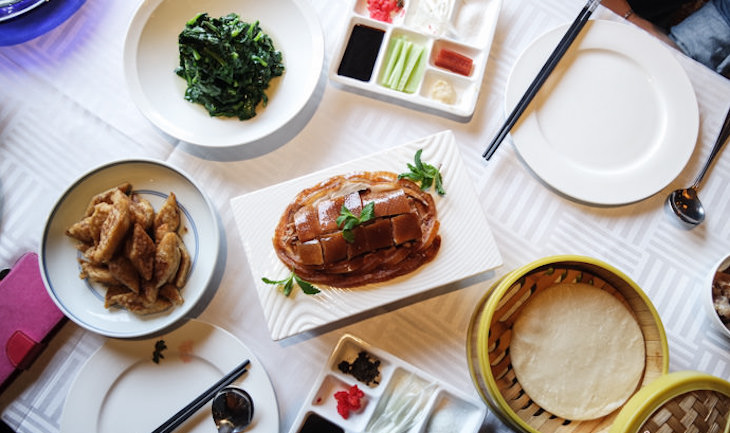 It was an honor and privilege for me to pair Chef Da Dong's artistic dishes with wine on November 17, 2017. I have been fortunate enough to dine at Chef Da Dong's restaurants both in Shanghai and Beijing and really enjoyed his food, especially his unique Peking duck. The menu for this evening were not his usual Northern Chinese based dishes – the theme was Chef Da Dong's 'artistic interpretation of Chinese gastronomy'. Thus on the menu, we discovered unusual dishes such as black truffle in squid ink soup and smoked wagyu beef with boletes. The chef's interpretation is exploring the world of food, from places like France, Japan, Italy as well as within China so it was a gastronomic journey across the world.
To pair with such a diverse menu, I also sought inspiration from around the world, finally settling on wines from Spain, Italy, France and Hungary. Fortunately the first dish, the geoduck fillets had only a touch of sichuan peppers so the Cavit Prosecco worked very well. I explained to the nearly 100 guests who attended the dinner that actually Prosecco is the easy choice for all Chinese banquets since it pairs with nearly every light, spicy and seafood-based dishes. 
Next we had an unusually thick squid ink soup (think creamy mushroom soup consistency) laced with bean curd and black truffle – a unique combination that required a wine with a strong personality. I chose an unusual Albarino from Rias Baixas in Spain that had 6 months of oak age, adding body and depth to the wine with floral and aromatic characters. If it was a lighter Albarino, it would have been more challenging to pair with this richly textured soup.
The best pairing of the evening for me was the braised sea cucumber with a young, elegant Burgundy – Maison de la Cabotte Morey Saint Denis 2012! Most people think of pairing sea cucumber (which is a fairly neutral seafood) with white wine and from my experience the sauce is usually so intense and flavorful I found red Burgundy works better than most white wines. In this case, the soft texture of the sea cucumber with the richly flavored sauce really paired well with the bright cherry-scented, elegant Morey Saint Denis with layers of fresh herbs, violets and juicy strawberries. The wine was subtle, not too overpowering but intense enough to stand up to Chef Da Dong's sauce for the sea cucumber.
Other wines we enjoyed was the Marcel Lapierre's Morgon, a wonderful example of the great quality cru Beaujolais that are now being produced at great value for money. Also Jean Luc Colombo's Hermitage paired very well with the wagyu beef, and it was especially a good match because the beef was smoked, bringing out the spicy and smokey flavors in the Hermitage. Another wine that many people enjoyed was the 1996 Sociando Mallet, a lovely, mature, delicious cru Bourgeois red that paired well with the pork dumplings and beef noodles. We finished with a beautiful, sweet 2011 Royal Tokaji Aszu.
Sometimes with a menu as diverse and unique as the one that Da Dong created for us, pairing wine can be challenging. Fortunately, the wines I chose had the right personality and balance to complement Chef Da Dong's food and the feedback we received was very positive.
Image credit: DaDong roast duck restaurant & Aikolife