Alibaba's Jack Ma Bets Big On China's First Online Wine Festival
---
---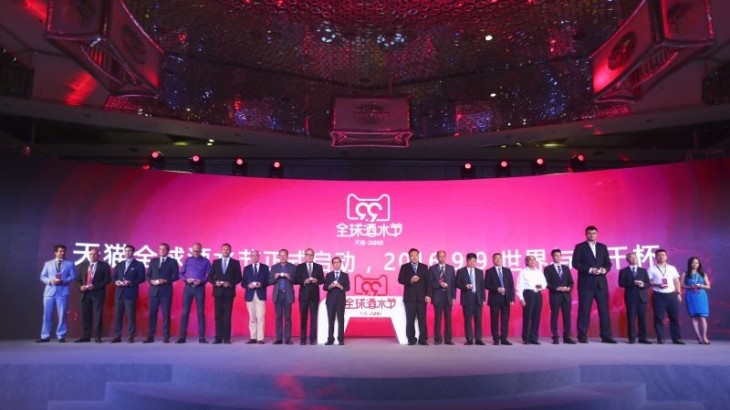 September 9th is the day when 100,000 wine and spirits will be offered online with the marketing force of China's largest online shopping platform behind it, Alibaba's Tmall. According to reports by Decanter China, Alibaba expects around 100 million of its over 400 million-plus active buyers to take part in what has been dubbed as China's first online wine festival.
The official Chinese term for the event is "Jiu Shui Jie" which translates into "alcohol festival," but wine traders are calling it "Wine Day" in China since the majority of the offerings is wine. It is no accident that the festival is held on September 9th – the number nine in Chinese, "jiu" for both the month and day, sounds like "jiu" for alcohol – making it easy for consumers to remember that every year, September 9th is all about wine and spirits.
The company hopes to duplicate the success it's had with November 11th Single's Day, which has become one of Tmall's most successful shopping days of the year. Even if the 9.9 International Global Wine and Spirits Festival Day only achieves a fraction of the Single's Day's success, it would still be a big boost to an industry that desperately needs it. While wine imports are slowly climbing back up, the market is less robust and the margins much thinner compared to five years ago.
Jack Ma made the announcement about the launch of an annual 9.9 Wine Festival Day in April this year while meeting with Italian prime minister Matteo Renzi at the Vinitaly show in Verona. A few months later in June 2016, Alibaba announced the launch of Wine Direct, a division within Tmall where chateaux and producers will be able to sell directly to consumers in China. And just 2 weeks ago, Wine Australia launched a wine store on Tmall selling Australian wine direct to consumers.
Where does this leave wine importers? Many are busy setting up their own stores within Tmall — expect all the large players like ASC to have a presence during the festival alongside Chinese domestic producers, most of whom have formed a solid importing wine division to make up for the slack in domestic wine sales.
Online sales is the fastest growing wine sales channel and this is apparent in the recent 2015 en primeur Bordeaux campaign. When I asked Castle Li, General Manger of the imported wine business department of COFCO, one of the largest domestic producers of wine in China, why they purchased the 2015 vintage, he said he was optimistic about their growing online customer base. COFCO is eager to expand their online sales and Li adds, "This year we offered wines to clients through JD.com and other online platforms. Selling online gives us useful data about which wines are more welcome in China, so we purchase accordingly."
Wine-World.com is one of the newest players to this growing online scene and they purchased a significant amount of 2015 Bordeaux solely to sell through online platforms. Miu Kin, the chairman of Wine-World.com says, "We have purchased a large quantity of 2015 en primeur 2015. I believe it makes us one of the top buyers in mainland China, perhaps even within Asia." Kin feels that the Chinese market will go through significant development and growth and adds, "Buying Bordeaux futures, especially during very good vintages, not only offers great potential investment value, but also gives customers more benefits and choices."
Wine-world.com is currently offering a special package called "Wines of Grands Crus Classes en 1855″ which includes 60 different grand crus classes wines from the 2015 vintage. Kin says, "We are currently the only company in mainland China offering this type of package for the 2015 vintage and it is only available through Wine-World.com."
This year marks a dramatic shift for the wine industry in China, one that sees traditional sales being sidelined by online sales. And today marks the day that will calculate exactly how dramatic this shift has become.
image copyright: Tmall