Wines to cool You down
---
---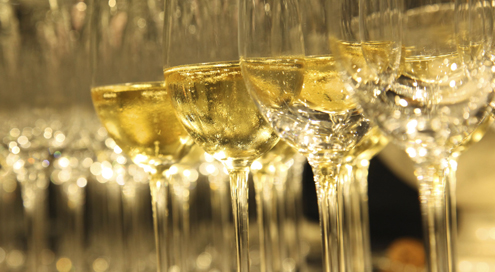 After two months in temperatures that barely reached 20 degrees Celcius in Paris and northern Italy, Hong Kong feels like a furnace. The heat is suffocating and the humidity feels like a heavy fog inside my lungs and around my body. And yet, I am still reaching for my daily glass or two of wine. I want a refreshing wine, one that drips with condensation as soon as it reaches my dining table, tempting me to take a sip of the cool liquid inside.
This week I found myself fishing for something to drink amongst the coolest section of my Eurocave. I found a wine that was recently sent to me by Christian Seely who just launched a non vintage English sparkling rosé called Coates & Seely. This traditionally made sparkling wine has a light salmon pink hue with a vibrant cherry and strawberry nose with tiny, fine bubbles. With its crisp lean profile and good depth of flavours, this is a serious sparkling worthy of the large white wine glass in which it was poured. I highly recommend this elegant bubbly that combines both substance and lightness from Hampshire England. I rate it 92 points.
When I am looking for value, one of the producers I rely on is Cono Sur from Chile. Their 20 Barrels Limited Edition Sauvignon Blanc from 2010 is below HK$200 with crisp and lively flavours of gooserries, apricots and nectarines. Unlike New Zealand Marlborough Sauvignon Blancs, this one is less herbaceous and more about crunchy summer fruits. The mid palate has amazing density and depth for a medium bodied white wine that is perfect with Thai salads and poh pias (fresh spring rolls). A 90 point wine.
I am always looking for unusual wines from unlikely places and one of my recent discoveries after my trip to Israel earlier this year are their wonderful whites. I am impressed with the 2009 Flam Unoaked Sauvignon Blanc Chardonnay, an uncommon blend from the Judean Hills. Why would one blend such distinctly strong personality varieties together? But somehow this wine works with a citrus and herbaceous nose that signals Sauvignon Blanc, and a generous mid palate and rounded profile pointing to Chardonnay. It's a fascinating wine worth seeking. 88 points.
Another wine that captivated me this summer was the 2008 Vigne Marina Coppi Timorasso Fausto from southeastern Piedmont. The Timorasso variety is an ancient indigenous Italian variety that nearly became extinct until a handful of dedicated producers recently made efforts to revive its popularity. The wine is full-bodied without sweet fruit flavours or density. The nose exudes dried chrysanthemums, minerals and blanched almonds. On the palate, the flavours are complex with minerality and firm acidity. The flavours rise in the finish, making it an enticing wine with a unique array of flavours. 91 points.
If unusual varieties and flavours are not what you are looking for, Bordeaux is a great place to go for medium to full bodied whites that use the herbaceous and refreshing Sauvignon Blanc in their blend. I highly recommend the delicious, opulent 2005 Domaine de Chevalier Blanc. The flavours are seductive, still fresh and lively with wonderful roundness and completeness on the palate. Think toasted pinenuts, ginko nuts, star fruit and dragon fruit. Great length. Enjoy now and over the next five years. 95 points.
For a luscious, full-bodied but still refreshing white wine, Chardonnay has few rivals. I love the 2008 whites from Burgundy and the 2008 Jean Chartron's Puligny-Montrachet 1er cru Clos du Cailleret Monopole is gorgeous. Peaches mingle with apricots, white Thai jasmine flowers and toasted hazelnuts. I love the tension between the delicate flavours with firm acidity and minerality in the backbone. It is young but offers immediate drinking pleasurable now and will keep well for the next decade. 92 points.
Made in the same classic white Burgundian vein, the 2007 Littorai Charles Heintz Vineyard Chardonnay from Sonoma Coast California served blind can often fool people into thinking it is a Meursault 1er Cru. The nose has hints of nectarines and peaches but the overall impression is that of a spicy and savoury Chardonnay that exudes whiffs of toasted hazelnuts. This is a classy wine with a long finish and linear palate. 93 points.
Italy makes its own expression of this popular variety and the 1994 Gaja Gaia & Rey Chardonnay in magnum is a stunning wine. The colour is deep golden with a hint of amber and aromas of orange peel, lemongrass, peaches and butter. This Chardonnay vineyard was planted in 1979 giving its first vintage in 1983. This wine has an exotic nose and flavours that change in the glass – at one moment there is herbal notes, then camphor wood and then changing to lemongrass. Very complex and opulent with 13.5% alcohol. 94 points.
To satisfy a sweet tooth during the summer months, don't forget Germany's refreshing and light sweet wines. The 1998 JJ Prum Wehlener Sonnenuhr Auslese (94 points) is just divine. I enjoy its honeysuckle, sweet flavours in a half bottle, just to tempt my palate before a meal or to savour at the end of a hot, sticky day.
Reprinted with permission from South China Morning Post