Vertical Tasting of Chateau Giscours & Chateau du Tertre
---
---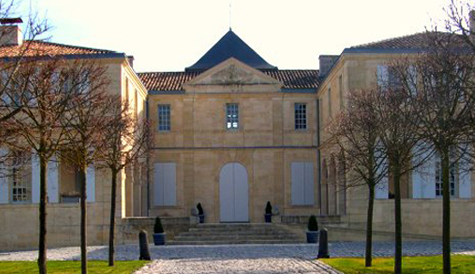 During Vinexpo week last month, I had the unique opportunity to taste 12 vintages of Giscours and 9 vintages of du Tertre. Both properties are owned by Eric Albada Jelgersma, a Dutch businessman, who has spent considerable energy and money upgrading both properties over the past decade. He became majority share holder of Giscours in 1995 and du Tertre in 1997.
Chateau Giscours (3rd growth in the 1855 classification) is the wine I know better and have always enjoyed its elegance and subtlety, even before it was owned by Jelgersma. In these two vertical tastings held on the same day, it was du Tertre which surprised me with many of the wines surpassing its status as a 5th growth. In certain vintages such as 1990 and 2001, I enjoyed the du Tertre as much or more than the Giscours!
Verticals reveal the different facets of a wine's personality and the site's terroir potential. The two tastings going back to the 1980s illustrated clearly that both of these properties possess excellent terroirs. The wines were tasted in succession from old to young starting with the vintages of du Tertre followed by 12 vintages of Giscours.
Vertical of Chateau du Tertre:
1. 1982 Chateau du Tertre, Margaux, Bordeaux, France
Tannins are velvety and soft with notes of leather and mushrooms. However, the wine is starting to fade and the finish is moderate rather than long. Drink up. (87)
2. 1988 Chateau du Tertre, Margaux, Bordeaux, France
Gorgeous evolved perfume with supple tannins and good length. This is a delicious wine that is at its peak and expressing notes of Chinese dried red dates and ripe persimmons. (90)
3. 1990 Chateau du Tertre, Margaux, Bordeaux, France
Very impressive wine with a gorgeous bouquet filled with dried flower notes, hint of cedar and Thai jasmine. Glorious terroir expression with long finish. This is a sensual, intelligent woman at her prime. (93)
4. 2000 Chateau du Tertre, Margaux, Bordeaux, France
Very powerful wine that is markedly different from the vintages that came before. There is greater concentration and the work in the vineyard and the cellar comes through in the density and complexity of flavours. Bravo to the new generation in charge at du Tertre. (93)
5. 2001 Chateau du Tertre, Margaux, Bordeaux, France
This wine is in the same vein as the 2000 in its concentration and power. Very young and still closed at the moment but truly impressive given the status of the vintage. A great value wine. (92+)
6. 2003 Chateau du Tertre, Margaux, Bordeaux, France
A broad, ripe wine without the precision and elegance found in more classic vintages. Those who enjoy ripe, dense wines may appreciate this wine but I find it slightly chunky. Drink soon. (88)
7. 2005 Chateau du Tertre, Margaux, Bordeaux, France
Very young, powerful and closed at the moment. This is a dense, layered wine still overpowered by its primary fruit flavours. It will require at least 5 years of aging before it can be approached but the balance on the palate shows much promise. (92)
8. 2009 Chateau du Tertre, Margaux, Bordeaux, France
A gorgeous wine, even in its youth. It shows even greater density and concentration than the 2005 with more structure and sturdier tannin backbone. A wine to keep in the cellar for at least ten to twenty years. (92-93)
9. 2010 Chateau du Tertre, Margaux, Bordeaux, France
A very dense, highly structured wine which will definitely age longer than the 2009. At the moment the wine is densely packed with gorgeous primary flavours and ripe, generous tannins. This is no doubt a race horse that shows the potential in time to surpass all the past great vintages of this estate. (90-93)
Vertical of Chateau Giscours:
1. 1975 Chateau Giscours, Margaux, Bordeaux, France
This is a wine that would divide people – those who enjoy mature wines will find it enjoyable with silky tannins and mushroom notes; others might find it drying out and tired. I am in the former camp but the wine needs to be consumed now. (88)
2. 1985 Chateau Giscours, Margaux, Bordeaux, France
A beautiful wine that is at its peak with vibrant mid palate fruit and lovely tertiary characters. Long length and sumptuous classic Margaux bouquet rounds out the experience. (92)
3. 1986 Chateau Giscours, Margaux, Bordeaux, France
A nose to die for – filled with an array of violets and Thai jasmine with hints of cedar and spices. The palate doesn't disappoint, with silky tannins, lovely flavours that are bound together seamlessly and carries through in the finish. (93)
4. 1989 Chateau Giscours, Margaux, Bordeaux, France
Supple, silky, smooth – this wine is all about texture. Flavours are equally impressive and complex with spices, flowers and fruit flavours unfolding gently on the palate. Still youthful but reaching its peak. Impressive wine. (94)
5. 1990 Chateau Giscours, Margaux, Bordeaux, France
There is plenty of ripe concentrated flavours brimming with blackberries and dark Chinese dates. The nose still displays primary flavours on the palate – it is opulent and flavourful. It drinks well now but still has a long way to go. I have slight preference towards the 1989 over the 1990 because I find the former wine's flavours to be better defined and more precise. (93)
6. 1995 Chateau Giscours, Margaux, Bordeaux, France
A disappointing wine given the vintages which came before. This wine has chunky tannins that forms a wall on the palate. Nose is correct but the palate is disjointed. (87)
7. 1998 Chateau Giscours, Margaux, Bordeaux, France
A concentrated wine that is still very young, needs at least a few more years until its potential is realised. Filled with flavours of violets, blackberries and dried Chinese red dates, this is a wine to keep another ten or more years in your cellar. (93)
8. 2001 Chateau Giscours, Margaux, Bordeaux, France
This wine has a wall of tannins that are difficult to penetrate which is very surprising for this vintage. Layered with cedar, tobacco and dark berry fruits, the flavours are lurking in the background but not accessible yet. I would bet on this wine opening up and showing its true potential in about five years time. (91)
9. 2004 Chateau Giscours, Margaux, Bordeaux, France
A wonderful Giscours, beautifully balanced and crafted and still extremely young. Wait another five or more years before approaching. (92)
10. 2005 Chateau Giscours, Margaux, Bordeaux, France
Dense with gorgeous layers of flavours, this wine was obviously made to age for a few decades. Tannins are supple, generous and velvety textured. One of the best Giscours ever produced. (92-95)
11. 2009 Chateau Giscours, Margaux, Bordeaux, France
Another young but impressive wine. This wine possesses the balance of yin and yang – feminine nose and delivery along with dense structure and backbone. A polished, sophisticated wine. (93-95)
12. 2010 Chateau Giscours, Margaux, Bordeaux, France
This vintage is much denser and more concentrated than the 2009 and in twenty years time, it may turn out to be the better wine. At the moment, the 2009 is slightly superior in my view because of its generosity and balance. (92-94)