Vertical of 28 Vintages of San Leonardo
---
---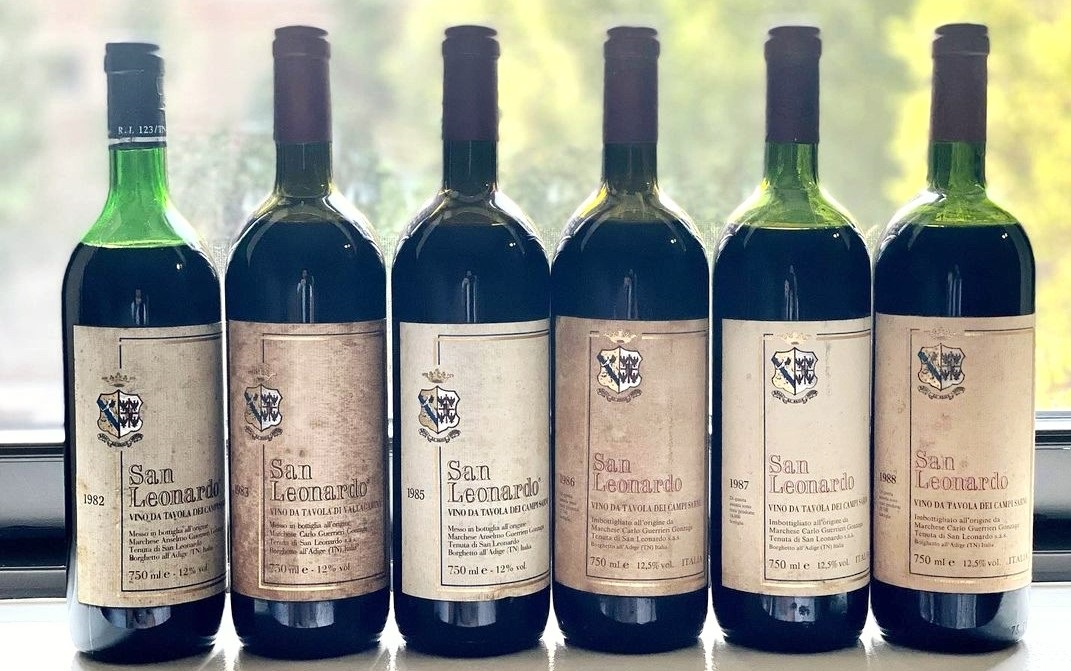 San Leonardo is a hidden gem for wine lovers who enjoy Bordeaux but are looking outside of France. The wine estate was founded more than 300 years ago by the Guerrieri Gonzaga family and the estate is also referred to as San Leonardo (same as the name of its iconic wine). The estate's 25-hectare vineyard produces some wonderful wines but it is their iconic wine that most wine lovers seek. San Leonardo is made from about two-thirds Cabernet Sauvignon and one-third Carmenere and a bit of Merlot and aged in two years in French barriques.
I was fortunate enough to taste a 28-vintage vertical going back to 1982 and was incredibly impressed with how gracefully these wines age & evolve. The decade of the 1980s produced very good wines that were balanced, reserved and were either still enjoyable or declining. The 1982, 1983 and 1985 are starting to fade with delicate flavors of dried fruit and leather notes; the 1982 was the sweetest and had the most to offer in this flight. The other wines from the 1980s – 1986, 1987 and 1988 were also holding up pretty well though they were probably more enjoyable a decade prior; in this set, the 1988 was the most intense and impressive.
The 1990s offer greater consistency and the wines are all closer to their optimal peak, including the gorgeous 1990, 1993 and 1995. The other vintages in the 1990s are excellent too and its classic, structured, earthy style with layers of aged tobacco and roasted herbs are prominent throughout this decade. Starting from the 2000s, quality jumped up and there is more concentration and intensity while still retaining its gracefulness. I loved the 2005 in this decade the most, but the 2003 is not far behind. The wines from this decade, like the 1990s, are also at their peak.
From 2010 until 2016, there are no bad vintages. I was especially impressed with the 2015 and 2014 vintages. These are still very young wines and not yet ready to enjoy, but their intensity and quiet power is obvious in their depth and lingering finish. San Leonardo is really an under-rated gem – it is hard to find wines with this combination of grace, elegance, power and age-worthiness!