Two Shining Wine Stars from China: Ao Yun and Silver Heights
---
---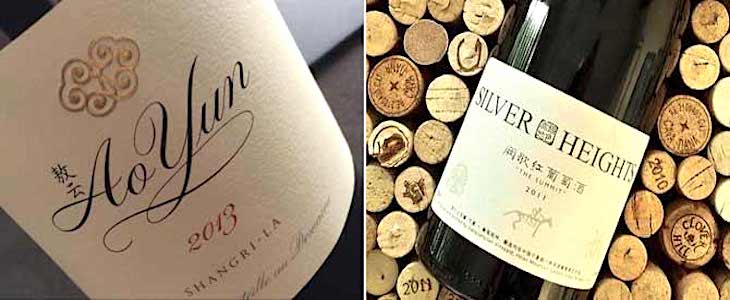 The first time I tasted the 2014 Ao Yun red wine blind, it was a true eye-opener. I did not expect such concentration and complexity from a wine from China. I was familiar with the 2013 Ao Yun and was duly impressed by it when I tasted the wine upon its release with the then president of Moet & Hennessey Wine Estates, Jean-Guillaume Prats. I enjoyed the 2013 a few times afterwards and was convinced it was one of the best Chinese wines I have tasted. But the 2014 Ao Yun is at a different level – there's greater intensity, depth and balance.
The 2014 is only Ao Yun's second vintage. The name means "flying or roaming above the clouds". The vineyards are located just below the Meili mountain in the northwest corner of Yunnan province, 6,740 meters above sea level. Visitors must brave a half-day drive up dangerous mountainside roads. The cabernet sauvignon (90%) and the cabernet franc (10%), which make up the final blend of Ao Yun was sourced from local farmers from four different villages: Adong, Shuori, Sinong, and Xidang – all four villages lie above 2,200 meters above sea level.
Even the region's name, Shangri-la, evokes images of a lost paradise. The vineyards are nestled deep in the mountains, protected from the monsoons by two rivers: Yangsee and Salouen rivers. Thus, the wet growing season which plagues the eastern coast of China is not a worry in this high altitude terrain. Unlike the Yantai or Penglai district of Shandong province, home to Domaines Barons de Rothschild's (Lafite) Chinese venture, Shangri-la enjoys a relatively dry growing season and good sunlight from its high altitude position. The area differs from the western regions of China, such as Ningxia, Xinjiang or Gansu, where Chinese viticulture is expanding most rapidly. The winters are not so cold that there is a need to bury the vines to protect them from the freezing temperatures. The biggest drawback to the region is the lack of infrastructure, such as reliable electricity, paved roads, nearby airports or public transportation.
The 2014 Ao Yun is surprisingly dense, riper and more powerful than the 2013. It is also deeper, more complex and offers layers of spices like cinnamon and nutmeg which gives way to dried Chinese red dates and persimmons. The finish is the most impressive aspect of the wine – it is not just an intense, full-bodied red wine; there is an earthy, almost graphite-slatey flavor with a firm tannin structure that carries the dark fruit and spices to a lingering finish. I love that the wine displays intense, wonderful concentration without any fat or richness. It gallops across the palate like a thoroughbred racehorse. That's why in the blind tasting, it didn't seem like a warm climate wine – it was definitely not Californian nor was it South Australian. Only 2,000 cases are produced and the key deterrent is its hefty price tag at US$300 per bottle.
Another impressive Chinese wine, made in a very different style to Ao Yun with a completely different personality is Silver Heights. This family-owned winery is based in Ningxia and led by the talented young winemaker Emma Gao. As a native Ningxia resident, born and raised in Yinchuan, Emma understands both the land and the people who appreciate her wines. She studied winemaking at Bordeaux University and worked at Chateau Calon-Segur in St Estephe where she met and married her French husband, Thierry Courtade (head winemaker of the Chateau Calon-Segur).
Silver Heights' Summit and Emma's Reserve are excellent, elegant wines that evoke the delicacy of Margaux and the velvety tannins of St Julien in Bordeaux. It is no wonder Silver Heights' wines are Bordeaux-like in personality given both Emma and her husband's close ties to Bordeaux. The wines are more reasonably priced compared with Ao Yun, at under US$100 per bottle, but very difficult to find outside of China.
Both Ao Yun and Silver Heights prove that high quality wines, on par with the best wines of the world is now being produced in China. These two wineries are testament to the diversity and the huge potential array of high quality red wines that will likely emerge from China in the coming decades. The coming decade is China's time – a moment for Chinese wines to make a worldwide statement.
Image credit: wine-searcher.com