Staying vigilant about fake Wines
---
---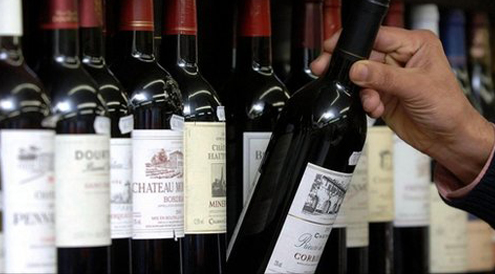 "Eighty percent of pre 1980 Burgundies sold at auction are fake," says Laurent Ponsot who was recently in Hong Kong. That figure is higher than anything I could have imagined and came as a shock to me when Ponsot mentioned it matter-of-factly. "I have been on a personal crusade for the past four years," adds Ponsot. "I need to find out who has fake Burgundies, of course mine as well as other peoples', and who is selling them."
In mid April 2008, Laurent Ponsot received a call from a lawyer friend in New York who asked him, "How much Clos St Denis did you produce from 1940s to the 70s?" Baffled by this question, Ponsot replied, "That is easy, we didn't produce any because we didn't make Clos St Denis until 1982!" About a 100 bottles of Domaine Ponsot was up for auction and was estimated to fetch between US$600,000 to US$1.3 million dollars and included many bottles of Clos St Denis from vintages that could not have existed. When Ponsot called John Kapon, the President of Acker Merrall, he sounded very reluctant to pull them out of the auction claiming that the consignee was trustworthy. 
To ensure that the wines would not be sold at auction, Ponsot flew to New York on the day of the auction showing up unannounced. The Ponsot wines never went under the hammer and the wines are now under the custody of the FBI. Since February 2010, Ponsot has been working closely with the FBI team who arrested Rudy Kurniawan on March 8th 2012. Kurniawan is an Indonesian Chinese who goes under several aliases and has been based in Los Angeles for the past nine years. 
Kurniawan's true identity is shrouded in mystery but his lifestyle is not. He led an extravagant life, dining in the best restaurants, buying and selling art as well as wine on a seemingly unlimited budget. In one year alone, 2006, he sold about US$38 million worth at two Acker Merrall auctions. Evidence surfaced that Kurniawan was financing his lifestyle on credit — borrowing money from numerous sources and buying on credit from auction houses. 
After his arrest, the police found evidence in Kurniawan's home in southern California of counterfeiting fine wines. Photos released by the FBI include reams of printed labels of top cru classe Bordeaux and Burgundy, corks, foils and rubber stamps with various vintage dates. According to people who knew and spent time with him, he was incredibly generous opening great wines in succession and knowledgeable about older wines. 
Comments about Kurniawan's personality recall the other shady wine figure accused of trading in counterfeits, Hardy Rodenstock, a.k.a Meinhard Goerke. Starting from the 1980s, the flamboyant German gave lavish wine parties and wine tasting marathons inviting top winery owners as well as wine luminaries from around the world. Rodenstock visited Hong Kong and befriended many collectors and he has sold wine through his agents in the market since the 1990s. He was notorious for "discovering wine" in hidden cellars from Paris to obscure cities in Europe. He regularly consigned old and rare magnums, including pre-phylloxera, or mid 19th century wines and the "Th.J." bottles which were supposedly once owned by Thomas Jefferson. These bottles are the centre of an ongoing controversy with an infuriated millionaire American collector named Koch pursuing Rodenstock in an ongoing lawsuit. 
American collector Eric Greenberg is another of Koch's targets, since he claims that in a Zachy's auction in 2005, Greenberg put up for auction fake bottles including a 1921 Petrus (the chateau expressed serious doubts about the bottle's authenticity citing inconsistent cork length and details on the capsule). One of Greenberg's sources for wine was a company called Royal in New York, which has a dubious reputation. According to Koch's evidence, Greenberg purchased over US$2 million worth of wine from Royal between 2000 to 2002. If we go back two years, Greenberg's "Imperial Cellar" was one of the biggest sales generators in wine auction history raising US$19million in Hong Kong on May 28th and 29th 2010. 
When Greenberg and many American collectors were amassing their collection, they relied on merchants like Royal who were closely linked with Rodenstock. According to shipping invoices obtained by Koch, Rodenstock sent 21 magnums of 1921 Pétrus to Royal between 1998 and 2004. This is highly suspicious since there are no records of chateau bottling of magnums in the 1920s and negociants that sold Petrus treated it like an inexpensive everyday wine so magnum bottling would have been unlikely. And where did Royal obtain their wines? Shipping records point to Rodenstock as one of the key sources with over 800 bottles worth about US$8 million shipped to Royal between 1998 and 2008. It included over a hundred magnums of 1961 Petrus and over a hundred magnums of 1961 Latour. All of this is well documented in Koch's numerous lawsuits filed against various parties.
The recent arrest of Kurniawan begs many questions: How widespread are fake wines in Hong Kong and Asia since we are now the number one auction city in the world? How can we prevent this vicious cycle of fraudulent wines surfacing in our market? It will only take one high profile case in Hong Kong to scare the already jittery buyers of fine wine and certainly leave doubts about the reliability and reputation of Hong Kong as a fine wine centre. 
One step we can take is to demand provenance and traceability of the wines we buy, whether it is from a wine merchant or at auction. If the wine has a high price tag or is old and rare especially in magnum, we should be even more vigilant. Another step we can take is to do what Ponsot suggests, don't buy wines that are pre 1980s, especially Burgundy. We should also be aware of the court cases and controversies surrounding fake wines in other markets so that we don't become its next victims. 
Reprinted with permission from South China Morning Post