Women in Wine: Gaia Gaja
---
---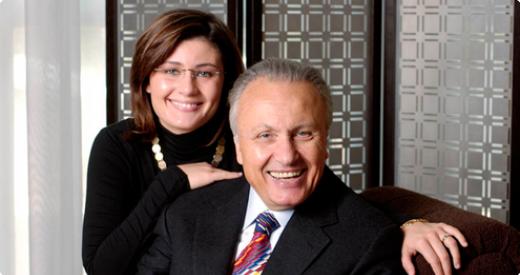 Gaja wines may sometimes be mistaken as a modern estate with its contemporary label and modern, unique flavour profiles. The image is supported by the tireless Angelo Gaja and his infectious enthusiasm for the wines of Piedmont, in particular Barbaresco. However, the winery is more than 150 years old, founded by Giovanni Gaja in 1859 and has been owned and operated by five generations of the Gaja family. Currently, the Gaja winery owns 250 acres of vineyards in Piedmont, located in the Barbaresco and the Barolo regions. They also own two Tuscany estates, Pieve Santa Restituta in Montalcino and Ca'Marcanda in Bolgheri.
Gaia Gaja, Angelo's daughter and fifth generation in the family to join the winery, had a wine named after her when she was a baby – Gaia & Rey Chardonnay. Gaja became involved in the winery in 2004 and since then travels around the world representing the Gaja family's wine estates.
1. Which wine(s) are you most proud of and why?
In general every wine that shows a harmonious work of the team and that reveals vision, courage and generous sense of collaboration applied that year. More in specific Barbaresco regardless of the vintage, because in this wine there is the heritage of all my family. It's the wine that every generation produced, from my great great grandfather on, and I am proud to carry on their dream. Barbaresco has always been our bet, the wine that just 20 years ago was considered, among the circle of the connoisseurs, as the "lesser" version on Barolo…less structured, less tannic, less age able. It has been the challenge of my family since unsuspected times to affirm the unique value of Barbaresco: the elegance, the less austere, more ethereal and approachable character with respect to Barolo.
2. Among the wines mentioned above, describe one wine that you feel is the most reflective of unique terroir/site?
Sorì San Lorenzo, the first single vineyards wine that we ever produced: it was in 1967. In these last 45 years Sorì San Lorenzo proved to have an unbendable character that seams harm wrestling with every vintage to come out, always unmistakable unique but every time differently.
3. Overall, are there more advantages or disadvantages in being a woman in your position (or is there no difference whether one is male/female)?
By experience it is irrelevant for me to deal with a woman or a man. In the same way, I never cared about the eventual prejudices that some people may have in dealing with me instead of a man; I consider this eventuality so obsolete and ridiculous to be more of a problem for the other side than not for me.
4. What drives or inspires you to be the best at what you do?
The example of my parents and the love I have for my family but also the sense of responsibility and the desire of sharing with many and so different people the culture, tradition and taste of my unique region.
5. What does work-life balance mean to you?
Work plays a very important part of life and happiness and also takes most of my time but I am improving my organization skills and finding also the time to do other things that I like such as hiking, enjoying the beautiful Mediterranean sea and the enchanted landscapes of our wine regions, spending time with friends, reading!
6. If you could make wine in another region in the world besides Piedmont, where would it be and why?
Northern part of Piedmont (Valtellina, Bramaterra, Gattinara, Carema, Bocca region) because I love Nebbiolo in all the wine regions where is cultivated and produced pure or blended with Barbera, or Vespolina. Dolomites for the pure air, the cool temperatures and the powerful Nature that creates pure, fresh and mineral wines. Rheingau, Mosel because Riesling it's a noble variety achieving here the highest complexity Galicia, in the Ribeira Sacra wine region, the scenery is dramatically beautiful and its the only one where is cultivated Mencia, a variety with a great potential.
Reprinted with permission from Noblesse Korea