Wine with Hangzhou Cuisine
---
---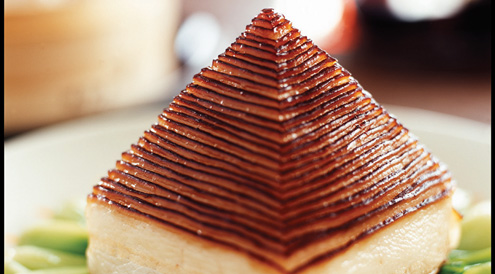 The beauty of the West Lake in Hangzhou inspired poets and artists throughout this city's more than 2,000 years of history, including Bai Juyi and Su Dongpo. Hangzhou is a fairly popular domestic tourist destination, as the country's former capital with beautiful greenery and a gorgeous lake. But with international visitors, it is often overlooked. A recent trip during the first week of September was my very first visit.
Hangzhou is located just 180 kilometres south of Shanghai and the high speed train takes only an hour. It is fast becoming a weekend excursion or second home destination for wealthy Shanghainese. But Hangzhou has plenty of its own internally generated wealth – some of the largest and most successful companies are headquartered here including Alibaba.
Philip Yu, General Manager of Hyatt Regency in Hangzhou confided, "I worked in Shanghai for several years and the difference between the cities is that if you are wealthy in Shanghai, you are probably a well-paid senior executive working for a big multinational company. Here, the wealthy are the laoban, the owners of successful businesses."
As a first time visitor to this ancient city, I was struck by the lushness of the environment – the streets were lined with manicured foliage and tall trees draped buildings and houses throughout the city. One of the oldest Buddhist temples in China is the Lingyin temple with its numerous temple buildings filled with giant wooden Buddha statues; well worth a visit.
For all my meals during my two-day stay in Hangzhou, I chose to eat only the region's specialty dishes, including Hangzhou style won ton soup (smaller dumplings and more flavourful stock than the Cantonese version) and congee in the mornings. Lunch times consisted of various local seafood dishes accompanied by small appetisers and side dishes that were milder in flavour compared with Shanghainese dishes.
Similarities in the two cuisines include condiments, cold appetisers and pickled vegetable dishes. The offerings in Hangzhou were less sweet and less vinegared compared with Shanghainese versions. With these appetiser dishes, I enjoyed refreshing Sauvignon Blanc and Semillon blend whites like those from Margaret River or from Bordeaux.
The preparation of fish and seafood dishes were a cross between Shanghai and Cantonese cuisine. One particularly memorable dish was the garoupa cooked in Shaoxing rice wine. This local traditional wine is what fuelled the poetic and creative energies of many artists that lived and worked in Hangzhou over the centuries. Shaoxing is considered among the highest quality huangjiu, or yellow wines, with an alcohol range from 14% to 18%. It's made from fermented glutinous rice and the colour ranges from a light red hue to a more brownish one. Quality and styles vary widely and the most expensive Shaoxing wines are those that are vintage dated and matured for a long time. Many dishes are made using this wine and is referred to as 'drunken chicken', 'drunken prawns', etc.
Since Shaoxing wine is used widely in Hangzhou dishes, this would be one of the best wine choices. However, a Fino Sherry or a dry Oloroso works equally well; alternatively full-bodied whites such as cool climate wooded Chardonnays and Semillons can work well too.
Shaoxing is also used sparingly in cooking many dishes such as the popular shrimps with Longjing tea leaf dish. Besides rice wine, tea is taken very seriously in this province with the local Longjing tea is used in cooking as well as consumed as tea. This popular dish includes small, sweet shrimps from local rivers and cooked with green tea leaves that are first steeped in hot water. The stir-frying of the shrimps together with the leaves creates a fantastic tea leaf aroma with the small shrimps adding sweetness and a soft succulent texture. Enjoy this with mature red Burgundy or a full bodied southern Rhone white wine. Be sure to choose a wine with sufficient acidity as well as body to stand up to the tea leaf flavours in the finish.
Besides seafood, slowly braised meat dishes are also very popular in Hangzhou. Dongpo Pork is named after the famous poet Su Dongpo from the Song dynasty. This pork belly dish, which is half fat and half lean meat is slowly cooked for many hours so that the meat acquires a velvety texture that is close to the thick layer of fat. These sort of slowly cooked fatty meats calls out for a full bodied red wine. With the gentle, soft texture of this dish and the intense flavours, a great match is a Super Tuscan style Italian red wine. I had it with Frescobaldi's 2007 Mormoreto and it was a match made in heaven.
During a banquet when the dishes are served in courses, we can introduce one wine with one dish. However, our family style dining habits which are the norm in Hangzhou as well as the rest of China, means reality often restricts us to one wine choice, perhaps two if it is a big group. With a wide range of seafood dishes from fish soup to braised and stir-fried seafood, as well as bitter mountain vegetables, marinated vegetables and fatty meats, there is no one wine which will pair with all the dishes.
Reprinted with permission from South China Morning Post