Wine Tastings for Singapore Airlines 2010, Part II
---
---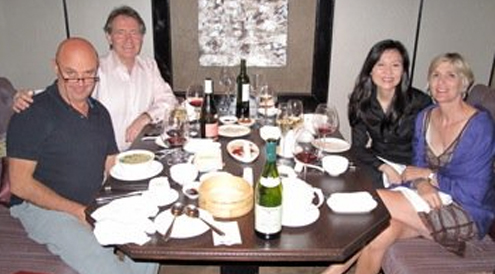 The week in Singapore flew by in a sea of wine. Seems not a bad thing but my tongue felt whipped and my gums started to ache. By the last, fifth day, when we were drowning in a flood of less than mediocre wine for Economy class, I stopped taking notes. All my notes were similar – "simple, short, dilute" and I seemed to be repeating myself like a broken record.
The wines for Economy class are on 'economy budgets' shall we say and I am not sure after deducting the cost of the glass, capsule, closure of choice (screwcap, cork or synthetic) there is much left for the producer to compensate for the grapes/wine. But large volume buyers like airlines, benefit from the overall surplus situations in many wine regions around the world — from most of Europe to the New World.
About 300 Economy class wines later, I am more enlightened as to why this surplus situation continues to exist in the wine industry – a vast quantity of wines are just no good. The wines we were tasting represented the availability of over 5 million cases of wine given the quantities that Singapore Airlines needed. In one of my notes, I wrote, "Could this really be wine?" Wine doesn't have to be expensive to be good. Recently, Jancis Robinson applauded Jacob's Creek Chardonnay Reserve and I would add to this a number of Loire and Beaujolais producers who make wonderful wines at under US$8. From the New World, both Chile and Argentina are filled with bargain reds and South Africa is a great place for inexpensive whites with minerality and ripeness.
Looking back, it probably wasn't fair for the poor Economy class wines. We were working backwards in terms of price and quality, tasting First and Business class wines in the first part of the week and leaving the Economy class wines till the end. We did however manage to find some that stood out from the pack (undisclosed at present). The announcement will be made by Singapore Airlines once purchases are finalised and the stocks secured – in about a month's time.