Wine Revival in Paris
---
---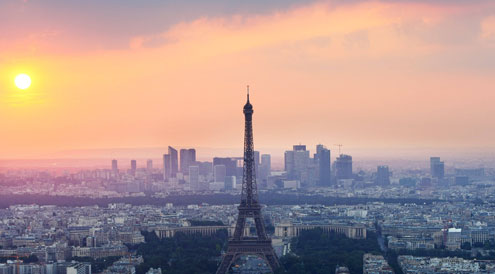 The figures look pretty grim. Consumption of wine in France continues to decline and from its peak at well over 100 litres per capita several generations ago, consumption now stands at half that amount. Add to it the changing lifestyle, economic situation and the Loi Evans law, which was passed in France in 1991 to restrict wine and alcohol advertising, and the current generation of French in their 20s and 30s may opt for beer or imbibe no alcohol at all. Drunk driving laws are strict and widely enforced which further ensures that long meals over many bottles of wine are a thing of the past.
In Paris where I have spent the past six weeks, alongside the popularity of fast food and gourmet burgers, which is all the rage in Paris right now, there are many new wine bars, which seem incongruous to the current trend. Many tiny wine bars like the popular Le Garde Robe on the 2nd district, are so small that a group of 12 people would fill the entire bar area.
Paris has always had excellent wine bars such as Willi's Wine Bar established more than 30 years ago. However recently, a new breed of wine bars in Paris has emerged, each with its own niche. Ambassade de Bourgogne, as the name implies, serves a good selection of wine from Burgundy at reasonable prices in the trendy 6th arrondissement. Like many of the new wine bars in Paris, the selection of wines is focused and accompanied by a simple food menu that includes items such as charcuterie and cheese plates.
Unlike the wine bars of the past where one might find an eclectic, often unfocused range of wines, the modern wine bars offer unique propositions to customers. While many seem to be focused on specific criteria such as natural or organic wines, others offer unique experiences by the sheer number of wines on offer by the glass. Wine by One offers 100 wines by the glass, which is staggering and unimaginable decades ago without the new technology of wine preservation (they use the oenomatic system). Another popular wine bar with a unique theme is O Chateau, where the focus is on wine education. O Chateau offers wine classes and seminars daily in either English or French and serves 40 wines by the glass.
Natural wine bars are de rigueur in Paris. Most have cropped up over the past decade and the focus is on serving mostly organic, biodynamic and vins naturel, wine made without sulphur and from grapes grown without chemicals. Racines is a very popular natural wine bar that takes food equally seriously with options that range from seasonal specialities to cheese platters. They now have two branches in Paris. Other natural wine bars include Frenchies and Vivant.
Not everyone is convinced about the merits of natural wines including Enrico Bernardo, the Best Sommelier of the World in 2004. Bernardo, who opened up his restaurant Il Vino in 2007, says, "Over the last two to three years, natural and bio wines have been popular. It is due to a combination of reasons including environmental awareness and the consumer's desire to be closer to producers of both food and wine. However, I have personally had many bad experiences where natural wines were oxidative and had…not nice aromas. In a Michelin starred restaurant, I had five glasses of undrinkable vin naturel wines.
Robert Vifian is the owner of Tan Dihn, a Vietnamese restaurant with an amazing wine list. Being in the restaurant business for over 30 years and seeing trends come and go, Vifian agrees with Bernardo that natural wines are now on the wane. "Vins naturel are not necessary good or even better than traditionally made wines. There is a lot of bottle variation.
Bernardo's restaurant Il Vino is a playful reversal of traditional menus – as a diner, one selects the wine first then dishes are recommended by the chef. Customers know that they are in such good hands that 70% choose the blind tasting degustation menu at 150€ where five different wines are served blind alongside two entrees, a main dish, cheese and dessert. Despite wine being "the protagonist" at Il Vino, the food is so good that it earned a Michelin star very soon after it opened.
Speaking with Bernardo, one can see the glimpse of a wine revival in France, which partly explains the growing number of wine bars dotted throughout Paris. Bernardo says, "In my 13 years of working in Paris, I have never seen so many people interested in wine and the evolution of wine in this way. Seven or eight years ago, I was seeing mostly mature, older people ordering and drinking wine. Now the younger generation is curious and they are more open to trying and drinking wines. Ten years ago, there was one person who was talking about wine and now it is everyone at the table is engaged with wine. Before people were more intimidated and now that is no longer the case.
Another trend that Bernardo sees is the move away from Grand Cru classe Bordeaux and towards wines and regions that offer better value for money. "People are now more open to trying foreign wines, especially the younger generation," Bernardo says. He has seen a growing interest in German Riesling, Italian and Portuguese wines since about two years ago. Wines that are most highly sought-after are the artisanal wines with small productions that offer high quality at reasonable prices.
The figures for declining wine consumption in France is a superficial, macro-view while the reality, according to many wine professionals I spoke with in France, is quite different. Most are optimistic and hopeful that the tide is finally turning in their favour.