Vinexpo 2011: Ode to China
---
---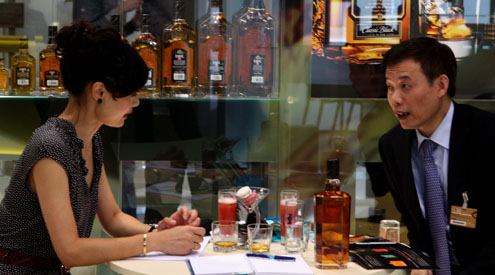 At this year's Vinexpo, the most important wine trade show held every two years in Bordeaux, what I noticed was the intense, almost obsessive focus on China. Walking along the enormous 40,000 square metre exhibition area, I noticed signs in Chinese that read, "We speak Chinese." When I peered into the stands with these signs, there were Asian faces who greeted me with "Nihao!" Some of the Chinese-speaking staff were full-time employees of the company but many more were part-timers employed to translate and assist in making business deals. I wondered as I walked by these exhibitors, did the French make such a fuss when the Americans entered the fine wine market in the 1980s?
During the course of the week, I met so many Hong Kong and Chinese mainland visitors to Vinexpo that it was like a mini reunion every day. I was not at all surprised to hear that one out of every three visitors (non-French) was from China! According to Vinexpo's organisers, there were 17,910 foreign visitors to Vinexpo Bordeaux this year and China-based visitors were at the top of the list with nearly 3,000 visitors; the Americans were second but trailed way behind with only 1,403 visitors and the UK in third with 1,342 visitors.
During Vinexpo, there were numerous seminars that focused on all things Chinese: Wines of Argentina held a tasting and seminar called 'Argentina for China'; La Revue du Vin de France just launched the Chinese version of its publication in May and held a seminar called 'The Chinese and the taste of wine'; Sauternes and Barsac sweet wine producers held a food and wine pairing session that paired spicy Sichuan flavoured dishes with a wide range of their sweet wines.
Except for the Sauternes and Chinese food pairing seminar, I didn't attend the numerous China-focused sessions. I was intrigued that the people who were presenting these seminars were not Chinese but rather new players in the crowded mainland Chinese market. For French and international wine producers, these seminars probably offered some real-life experience and insights to doing business in China and understanding the market place.
The large Bordeaux negociants and exported-minded chateaux do not need these seminars nor much advice. They know first-hand what moves the market and how to sell to the key cities in China. It is likely that at least one Chinese speaking representative works full-time for them and the most forward-thinking will send their next generation budding director or manager to a major Chinese city to live. Chateau Margaux has a representative in Hong Kong, Chateau Latour has one in southern China and all the super-ambitious chateaux like Cos d'Estournel have had someone in place locally in the region. When I spoke with chateaux owners, they proudly told me about their fluent Chinese-speaking assistant, relative or child.
It wasn't just during the day that one was cognizant of the pandering to the Chinese. During the many evening dinners and gala events, there was a clear homage to China. At the finale evening, Fete de la Fleur, the decoration along the large outdoor marquee consisted of life-size Chinese terra cotta soldiers. One thousand five hundred guests that night dined in the star light with the entire French menu translated into Chinese.
One can't help but wonder if this is a healthy shifting of markets. When the Americans entered the wine market in a serious way, Bordeaux and other fine wine regions around the world were quickly improving quality and growing at an incredible pace. Consider all the new quality wine regions in the United States, Australia and Chile that emerged during this period. There is definitely a paradigm shift occurring now with the Chinese grabbing market share, especially of fine wines and those from Bordeaux. But supply is not expanding nearly as quickly.
The fact is that the top wines of Bordeaux are destined for, or ending up, in the Chinese market. Market forces are naturally bring the wines to this part of the world because the trade, buyers and consumers in Asia will pay higher prices. I feel a bit uneasy about the magnitude and speed of this shift. What will happen if the Chinese economy takes a downturn or if demand keeps outstripping supply?
The result is the astronomical prices of the 2010 top Bordeaux. The first growths are being offered now at around US$1,000 per bottle for wines that will not be physically available for two years! I am flabbergasted: how did a glass of wine meant to bring drinking pleasure end up costing US$166 per glass? There are about six servings from a bottle of wine thus each gulp (depending on how large) is over US$20!
There is little doubt that the Bordelaise and the top French wine producers are savvy marketers – they market without seeming to market, they sell effortlessly, they speak with that alluring French accent and have incredible pride (sometimes bordering on arrogance) in their culture and their products. In Asia, this is a recipe for success.
It's clear that the Bordelaise knew what was coming, they were ready and expecting this surge in Chinese visitors at Vinexpo, their Chinese-speaking employees were out in full force, their Chinese translations were well prepared.
Hopefully, they can read the market with as much prescience when it starts to shift.
Reprinted with permission from South China Morning Post