Venetian Traditions Meets Chinese Cuisine
---
---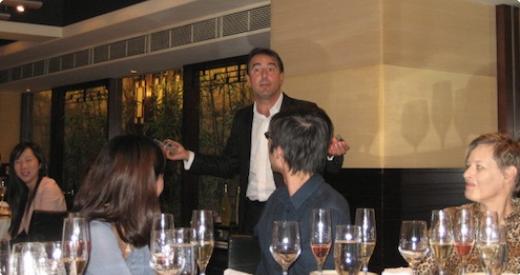 When I was a little girl, the black century egg amused me immensely. Its taste did not repulse me. But if you drank Coke or Sprite after eating the black egg, it left a foul taste in your mouth.  So when Sandro Bottega, President of Distilleria Bottega recently hosted a media dinner called 'Venetian Tradition Meets Chinese Cuisine,' I was intrigued.  
Century egg was the Amuse-Bouche, beginning this degustation at Yung Kee, Hong Kong's iconic Cantonese restaurant.  When executed perfectly, the centre of the duck's egg must be moist. Paired with a Prosecco, it was a fitting match.  The bubbly complemented the egg, providing a refreshing aftertaste.  
Century Egg with Prosecco
This was just the beginning of the evening's surprising food and wine pairings.  Sandro often pairs his Moscato Academia with cheese or foie gras. On this evening, they paired the sweet wine with a Roasted Goose liver and Barbecued Pork. The fat from the succulent Char Siew proved to be a wonderful pairing. Sandro explains, "The Moscato breaks the fats of a rich dish like this pork, or goose liver, and cleans the palate." The sweetness of the Char Siew and the richness of the roasted goose liver worked well with the Moscato's fruity flavour.  This proved to be best pairing of the evening for me.  The restaurant's signature dish, the Roasted Goose was paired with a glass of Grappa di Amarone.  In Italy, the Grappa is often served as an after-dinner drink, aiding in the digestion of a heavy meal.  With 38% alcohol content, this strong character of the Grappa di Amarone held its own bitter and licorice flavours, not at all overpowered by the delectable layers of crisp skin and juicy goose meat.  The grappa acts as Asian rice wines do, it cleanses the palate instead of complementing the dish.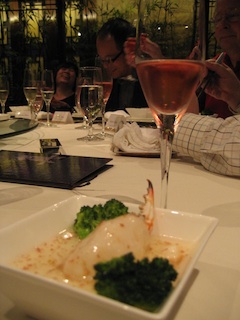 The innovative pairings continued, with a surprising pairing of the Deep Fried Preserved Goose liver sausage roll, paired with a Limoncello Bottega.  While I enjoyed the sweet refreshing lemon liqueur, pairing it with a savory lap cheong roll did not work for me.  I still prefer the limoncello as a digestivo. The finale was a Sweetened Red Bean Pudding and Baked Preserved Egg with Ginger Pastry, matched with Fior di Latte Bottega, a delicious creamy white chocolate grappa.  My sweet tooth would have been perfectly happy to end the meal with this milky liquor on its own.  
  Pairing Asian food and wine is a tricky endeavor.  But my kudos goes to Sandro for bravely challenging diners to get out of their comfort zone, give up their cups of tea, and eat traditional Cantonese dishes with Italian wines.  
Text and Photos by Maida Pineda.
Posted on 10 November 2010