To de-stem or not de-stem
---
---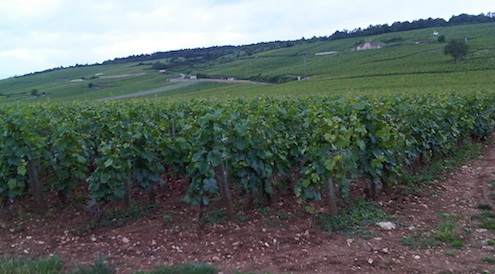 I have seen grown men go weak in the knees after tasting a glass of 1990 La Tache by Domaine de la Romanee Conti or a 1978 Cros Parantoux by Henri Jayer. Great Burgundy evokes a very different response compared with a wonderful bottle of Bordeaux; not even a 1961 Petrus or a 1947 Lafite makes a man swoon in the same way as a perfect glass of Burgundy. Its seductiveness is altogether feminine and subtle, quite different from the firm, sturdy tannins of Bordeaux with a powerful palate structure. The best Burgundy is gentle, persistent without making any effort and captivating in its heady perfume and silkiness. 
When you question Burgundian vignerons to try to understand where this magic comes from, they all point to the vineyard. "We are lazy winemakers, we try to intervene as little as possible," Laurent Ponsot of Domaine Ponsot told me several weeks ago while I was visiting his cellar in Morey-Saint-Denis in Burgundy. Ponsot added that to intervene as little as possible, he chooses not to taste his wines until April the following year after harvest to resist the temptation to help shape or create the wine. Though Ponsot is a bit extreme, this minimal intervention is a constant theme among most conscientious wine producers who are fortunate to work with great terroirs around the world. 
But we all know that grapes do not jump off the vines and into fermentation vats to create the magical flavours that beguile us. For producers who respect and strive to express a wine that reflects their unique terroir, less is usually more. There is one crucial winemaker's decision that divides the top Burgundian echelon: To de-stem or not de-stem. While many red wines are made with their stalks removed, Pinot Noir can benefit both in tannins and flavour with the inclusion of stems during the fermentation process. 
This thin-skinned grape variety is alluring precisely because it can never be massive or dense. Pinot Noir's appeal lies in its seductive perfume that evokes visions of wild strawberry patches and strolling through an oak wood forest with the pathways covered in autumn leaves with mushrooms starting to sprout. Stems can add to this powerful perfume as well as adding tannins, which provide structure for long ageing. 
Those who champion de-stemming include legendary winemakers such as the late Henri Jayer, considered by many to be among the most gifted and talented Burgundian winemakers of our time. A long list of top producers in Burgundy are on this side of the camp including Domaine Ponsot and Domaine Jean Grivot. On the other side, those who embrace stems include heavy weights such as Domaine de la Romanee Conti, Domaine Leroy and Domaine Dujac. From the fine wine world, the sides may look somewhat equally divided but among the more modest village and regional Bourgogne appellation producers, de-stemming is often the norm. New World Pinot Noir producers more often than not prefer de-stemming, choosing to avoid any potentially harsh or bitter flavours. 
Including stems (also called whole bunch fermentation) is a tricky affair since stems are only useful when they are ripe. In a climate that has historically struggled to obtain even sugar ripeness, including stems can mean imparting green, herbaceous and unripe flavours to the delicate characters of Pinot Noir. However, when skillfully added, stems can increase natural oxygenation during fermentation, which is desirable, aid in drainage (stems add channels in which the juice can flow through), stabilise Pinot Noir's fragile colour and add additional flavour dimensions. Arguments against adding stems aside from potentially adding herbaceous flavours is that the stems can reduce colour rather than stabilizing it and that acidity can be reduced because of the potassium that stems can bring to the juice. The reality in Burgundy is that many people operate in the grey area: In ripe years such as 2002, 2005 or 2009, many decided to add whole bunches to the fermenation vat while in unripe years, whole bunches may be reduced or eliminated completely. 
It is difficult to come down on one side or another since both options can produce fabulous results. I am convinced that if Aubert de Villaine decided to de-stem, his La Tache and Romanee Conti may have a slightly different flavour profile but they will be as equally impressive as the wines made with stems. Conversely, if Henri Jayer had chosen to make his Richebourgs and Echezeaux with stems, I am sure that the wines would be just as incredible as those without stems. To de-stem or not may be one of the crucial decisions in Pinot Noir production, but the over-riding factor is the terroir together with the sum total of a thousand small decisions made by a talented, conscientious vigneron. I am happy to be an observer in this debate and spend my life drinking, I mean experimenting, to discover how the debate unfolds. 
Reprinted with permission from the South China Morning Post