The Wine of Kings
---
---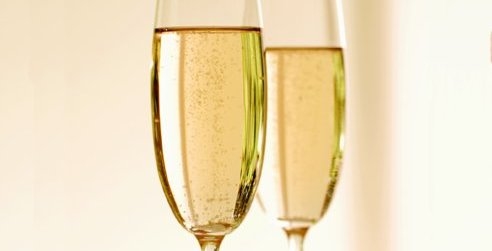 It's the wine that launches ships, the wine that marks a wedding or special birthday. It's the wine of victory, the mark of a champion who's just won a race or sporting event. It's the wine of choice for inaugurations, opening ceremonies and triumphs of any size or type. It's the wine of kings and the king of wines – it is champagne.
For centuries, leaders of the European world and their female companions have adored champagne. Madame de Pompadour, chief mistress of King Louis XV, famously said, "Champagne is the only wine that leaves a woman beautiful after drinking it." The effervescent beverage has continued to be appreciated by the famous through modern times – noted aficionados include the writer and poet Rudyard Kipling, and movie stars Bette Davis and Brigitte Bardot. Around the world, champagne instantly evokes the idea of celebration.
Champagne accounts for just a tiny fraction of the world's sparkling wines, even though for many of us, the first thing that comes to mind when we think of sparkling wine is champagne. There are many sparkling wines from around the world, with some very good ones available at a fraction of the price of champagne. Consider prosecco from Italy, which is light and easy to enjoy, without the depth and elegance of champagne. From Spain there is cava; from Germany, Sekt; there are also numerous sparkling wines from California, Australia and New Zealand. While many are made with great care, there's little competition for champagne at the prestige cuvée level, the very top end of the sparkling wine category.
What makes this sparkling wine so unique and highly costed? First, its limited production – champagne can only come from the northern French region of Champagne, which is limited in size. At maximum capacity, less than 30 million cases are produced each year, regardless of demand. Second are the historical reasons for champagne's cache. Traditions of grape growing go back thousands of years to Roman times, and as Paris became France's cultural and political center, Champagne's proximity made it ideal for supplying a growing aristocracy and wealthy bourgeoisie. Thanks to its accessibility, quality and style, champagne was refined over the centuries as great leaders of the world made it their drink of choice. Third, the combination of cool climate, a special chalky soil and dedicated, talented chefs de cave with incredible winemaking skills has enabled champagne to retain its unchallenged, prestigious place in the world of sparkling wines.
The 17th century marks the period when champagne as we know it emerged as a distinctive style. Before then, the wines were closer to rosés than the fine, delicate sparkling wines we know today. It took a combination of glassmaking technology from England and experimentation by devoted wine-loving monks such as Dom Perignon to create the unique style. Winemaking techniques have evolved to include not only the ability to capture the bubbles in a secondary fermentation process but also to expand the wine's delicate flavor profile and mouthfeel by allowing it to remain in contact with the yeast lees for years in the dark, damp, underground cellars of Champagne.
In the 1700s, many of the champagne houses we know today were founded by families – including Moët, Delamotte, Taittinger, Clicquot and Heidsieck. In the early 1800s, another generation of champagne houses was established, among them Mumm, Krug and Bollinger. Over time, the companies merged or were taken over, all because of the laborious, costly process involved in making great champagne.
The cost of land in Champagne is so high that the vast majority of grapes grown for making champagne are purchased from farmers. Stock holding – at least two years for most nonvintage champagne, and normally five or more yearsfor vintage champagne – is very costly. The sophisticated machinery needed for processing, degorging and bottling is expensive too, as is packaging material such as the special heavy bottles used to withstand carbonated pressure. Marketing is increasingly important and can account for a large chunk of a champagne brand's annual spending budget. All of these factors have made champagne production so expensive that over the years, the families that started the companies have been forced to sell their businesses to large beverage groups or luxury houses. Most of the familiar champagne houses now belong to a handful of multinational companies. Moët & Chandon, Veuve Clicquot, Krug and Dom Perignon are all owned by luxury group LVMH, while Mumm and Perrier-Jouët are owned by beverage giant Pernod Ricard.
This has created a new trend – for the growers who own and cultivate vineyards not to sell their grapes to the large champagne houses but rather to make their own wine. There are tens of thousands of these growers, of which several thousand are starting to make their own champagne. While this is a very exciting sector, it's also a minefield since quality can be inconsistent. While the large houses have the resources to employ the most blenders and chefs de cave and purchase the very best equipment, growers don't have access to the same resources. Most growers have limited experience crafting their own champagne and less access to older vintages, which nearly always form part of nonvintage champagne blends.
Grower-winemakers will have "Récoltant-Manipulant" or "RM" on the label of the bottle, while large champagne houses who mainly buy their grapes will have "NM" or "Négociant-Manipulant" on the bottle. Certain villages and vineyards in Champagne have a reputation for the best Chardonnay or the best Pinot Noir, and a handful of producers go against the traditional blending philosophy and bottle the grapes from a special vineyard separately. Examples include Krug's Clos du Mesnil and Philipponnat's Clos des Goisses. For Chardonnay, the villages of Mesnil and Oger enjoy an excellent reputation and often higher prices, while for Pinot Noir, villages like Bouzy and Verzenay are highly sought after. Vineyards are graded by their quality status, and grapes from Grand Cru vineyards command a higher premium. Nothing marks a special day, wedding or celebration like a bottle of champagne. Below are a handful of my personal favorites:
Non-Vintage Champagnes : Those who prefer light styles that are easy to drink might enjoy Lanson, Louis Roederer or Ruinart Blanc de Blancs. For fuller-bodied styles, try Bollinger or Krug. Other reasonably priced and delicious nonvintage champagnes include Deutz, Gosset and Billecart-Salmon.
Rosé Champagnes : This is a very popular category, so rosés are more difficult to find. Some of the best examples include Billecart-Salmon, Louis Roederer, Charles Heidsieck and Laurent-Perrier.
Grower Champagnes : This category can be erratic in quality and style, with some that are outstanding and even better than those of the large champagne houses, but many that are simple and disappointing. Knowing the reputation of the producer is very important. Two growers who've always impressed me are Francis Egly of Egly-Ouriet, especially with his Les Crayeres Vieilles Vignes, and Jacques Selosse, an eccentric genius who crafts gorgeous champagnes. Other excellent producers include Cédric Bouchard, Pierre Gimonnet, Larmandier-Bernier, Ulysse Collin and Roger Pouillon.
Prestige Cuvées : These champagnes at the top of the pyramid are pricey but worth the money – Salon makes an unforgettable Blanc de Blancs as does Taittinger with its Comtes de Champagne. Krug's nonvintage Grand Cuvée is probably the only nonvintage that belongs in this category, but their vintages (I especially love the 1996) as well as their two Clos – the Clos du Mesnil and Clos d'Ambonnay – are sublime. Cristal from Louis Roederer is pure poetry and the Winston Churchill from Pol Roger is full bodied and very impressive.
Reprinted with permission from Galaxy Macau