The Vertical Cheval Blanc - Right Bank Royalty
---
---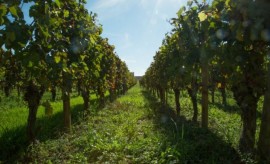 Cheval Blanc is one of the most revered names in the wine firmament, with certain vintages from the Saint-Émilion estate achieving near legendary status. JEANNIE CHO LEE chronicles their journey and tastes a broad selection, dating back to 1947.
Towards the end of July 1947, the temperature in Saint-Émilion hit 38 degrees Celsius (100 degrees Fahrenheit). It stayed there for a week. Then, on August 1, the temperature rose above 40 degrees. Jacques Fourcaud-Laussac, the owner and winemaker at Cheval Blanc, was worried – not just about the heat, but the drought. Since spring, there had been hardly any rain, meaning the vines were having to deal with the double stress of intense heat and no water.
Most châteaux in Bordeaux harvested from early- to mid-September in 1947 and as the grapes came in there was concern about the lack of freshness in the juice. In an era when chaptalization – the addition of sugar – was common in order to boost alcohol levels to 12 percent, 1947 was a freak vintage, with alcohol naturally reaching 14 percent.
When the grapes were brought into Cheval Blanc in September, the temperature was still in the high 30s. There were no cooling rooms, temperature-controlled vats or any easy method of keeping the grapes cool. Fourcaud-Laussac, like many other vignerons in Bordeaux, was concerned that the wines would become faulty and undrinkable, with high volatile acidity or other microbial problems. As the heatwave continued, bringing the yeast to a frenzy and consuming the abundant sugars in the grape must, his first concern was cooling the vats. There was only one way to do so.
Thus the legendary 1947 vintage of Cheval Blanc was made with plenty of large chunks of ice added to the fermentation. This now renowned wine, considered by many critics – this one included – as one of the finest clarets ever created, was a freak of nature. Initially Port-like in its luscious texture, it has evolved into a sensual, layered, intense wine, a symphony in a glass, even after almost 70 years in bottle. It is a jaw-dropping wine that walks that fine line of ultra-ripeness without going over the edge. Yet it was created almost by accident.
In the years since 1947, there have been fewer accidental vintages at Cheval Blanc, but several that are equally sublime. I have been fortunate to taste 28 assorted vintages, mostly in Bordeaux and in Hong Kong, over the past 12 months. This vertical overview, which includes the magnificent 1947, reveals the different facets of Cheval Blanc's personality, as well as its exceptional terroir.
In the early 1830s, the vineyard that makes up the core of Cheval Blanc was part of the larger Château Figeac estate, which stretched to about 200 hectares (about 500 acres) and was owned by Countess Félicité de Carle-Trajet. The countess decided to sell the estate, and part of it went to the Ducasse family, one of whose daughters married into the Laussac-Fourcaud family (whose surname subsquently evolved into Fourcaud-Laussac). Under this stewardship, Cheval Blanc's boundaries were established, and the area under vine has remained at 37 hectares from the 1870s to today.
Set on the border between Saint-Émilion and Pomerol, Cheval Blanc lays claim to a unique terroir. Some of its vineyards are planted on similar soils to those that lend the likes of Pétrus and Le Pin their renowned opulence and lush texture. In these clay soils the Merlot does best, and 42 percent of the property is planted with this variety. The remainder is planted with Cabernet Franc on more complex soils that range from gravelly mounds to gravel over clay.
Nowhere in the world does Cabernet Franc express the kind of richness, depth and complexity that it does at Cheval Blanc. This underrated variety, constantly in the shadow of Cabernet Sauvignon and used mainly as a blending grape, is the backbone of the wine here, adding dark earth and savory herb flavors while providing the structure for the wine to age gracefully for decades. In vintages such as 2014, it is the Cabernet Franc that "makes the vintage" according to CEO Pierre Lurton.
The year 1998 was a propitious one for Bernard Arnault, the head of LVMH, and Belgian tycoon Baron Albert Frère. It was then that they were able to purchase Cheval Blanc from the Fourcaud-Laussac family, and by pure chance it turned out to be one of the best vintages in many years for Saint-Émilion producers, outshining even 1996 and 1995, which are considered better across Bordeaux as a whole.
By then, Lurton had been at Cheval Blanc for seven years. "I didn't have such good timing," he admits. "I arrived in 1991 and I was there throughout that most challenging growing season. My first tough call was to decide that we should not make any Cheval Blanc that year. So no 1991 Cheval Blanc was made."
With Lurton at the helm, and the deep pockets of LVMH to hand, the estate has gone from strength to strength. It is not only the grand vin that has improved in consistency, however. Petit Cheval, its second wine, has made huge leaps in recent years, and is much higher in quality today than when it was created in 1988. The wines are in the capable hands of the young, dynamic technical director Pierre-Olivier Clouet, while continual investments have been made, most notably the opening of a new US$18.5-million winery in 2011.
TOP 10 CHEVAL BLANC VINTAGES
In the best years, Cheval Blanc is pure hedonistic pleasure – opulent, exuberant and joyful. The obvious vintage to represent the best of Cheval Blanc is 1947, but 1961, 1964, 1982, 1990, 2001 and 2005 all exemplify its depth, complexity and long aging potential. There were some wonderful surprises among the wines I tasted – vintages considered weak, such as the 1972 and 2002, were delicious – and there were also a few disappointments, such as the 1988 and the 2007, both falling below the expected standard. Overall, though, the 28 vintages, spanning six decades, reveal the glory of a truly great terroir.
100
1947
This most legendary of wines, the subject of primitive winemaking, sings in a glorious voice with a range of flavors that is simply mind-boggling. Sweet, supple and layered, with great length, this is pure sensuality in a glass.
100
1964
A perfect Cheval Blanc that is beyond words. Gorgeous, complex flavors with evolved, bottle-aged notes of black truffle, forest floor and leather. Silky tannins with all the elements in balance; supple, gorgeous with a very long finish.
100
1982
If a wine can be hedonistic and seductive at the same time, it would be the Cheval Blanc 1982. I have had the privilege of tasting this wine twice over the past six months and on both occasions I fell in love with it on the first sip. It has the maturity and depth of a beautifully aged 30-year-old wine, yet maintains the freshness and structure of a wine at least 10 years younger. A perfect Cheval Blanc.
100
2001
A powerful, intense, voluptuous Cheval Blanc that is the best Bordeaux red of the vintage. The wine is complete, with a mix of herbs, blackberry, plum and a hint of black truffle. The palate explodes with flavor without any heaviness or effort – seamless from beginning to end, with a persistent, lingering finish. One can still enjoy its youthful exuberance, but this will be at its best in five to eight years.
98
1998
A fabulous nose of exotic spices, cocoa, ripe violets and sweet, dried dark berries. This is a gorgeous, seductive, silky Cheval Blanc with a long finish. In 1998, the Merlots were beautiful and here they make up a higher-than-average proportion of the blend – 60 percent. The first vintage under the auspices of the LVMH group.
98
2005
Classic Cheval Blanc with notes of dark earth and black tea supported by ripe, velvety tannins and plenty of dark berry fruit. One can detect black truffle and great structure behind the balanced flavors, hinting at a complex evolution to come. One of the best vintages of the decade.
97
1961
A wonderful 1961 showing very little sign of evolution. Astonishingly, at more than 50 years old, the wine is just peaking, displaying an array of flavors encompassing truffle, cedar, earth and Pu'er tea. Wonderful concentration, excellent, ripe tannins and the silky texture of a well-matured fine Bordeaux. It should keep for another decade or two in the right conditions.
97
1990
Dark garnet with slight fade. Plummy, ripe dark berry flavors overlaid with spices. Rich, generous and velvety texture, with luscious fruit. A wine still in its youthful prime.
97
2000
A gorgeous Cheval Blanc that is plush and ripe, with a firm, structured backbone. It is still vibrant with some primary fruit notes of blackberry and cassis accented by mocha and cocoa on the finish. The tannins are ripe, velvety and beautifully textured. All in all, this is a seamless wine from beginning to end, offering great potential for aging over the next two decades.
96
1985
Incredibly perfumed, with supple, silky tannins. This was a warm vintage and the wine displays lovely ripeness and sweetness as a result, married with red flowers and sweet spices, and a very long length. Hints of violets, licorice and dried currants make this an elegant, perfectly mature Cheval Blanc at its peak.
CHEVAL BLANC DECONSTRUCTED
The dense black currant and blackberry of its early years give way over time to a lifted bouquet of violets and lavender, plum and sweet spices such as nutmeg. In its maturity, it evokes an 18th-century aristocrat's study, smoky and clad in leather with gold edges. A Cheval Blanc's texture is always plush, like velvet – it is a wine that just glides across the tongue.