The Power of Lafite
---
---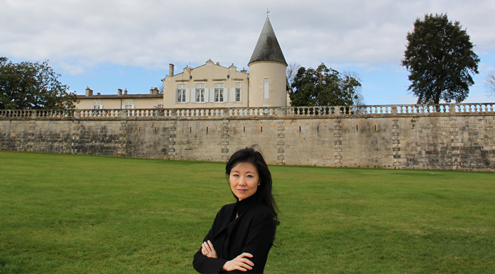 Let me make it very clear: I am not a cross-eyed avid Lafite fan and I went into the Lafite tasting very willing and happy to give an honest rating despite its attraction in China and Hong Kong. In fact I really did not want to like it – perhaps to state that as an Asian wine critic, I do not have a bias towards Lafite given the power of the brand. If the wines did not meet my quality standards, I would have been more than happy to give it a low rating. Perhaps next year.
Lafite in 2009 was for me one of best wines I tasted on this trip. The texture of Lafite reminds me of a combination of well cooked abalone and sea cucumber. The tannins are rich and mouthfilling but so gentle and caressing (like sea cucumber) with the firmness of dense abalone that tasting it made my mind run wild trying to describe its texture. I thought about the exuberant drawings of Japanese mangas (comic books) which illustrate visually how complex flavour sensations can bring forth images and I thought of various textural visions.
The five first growths are in a class of their own – it is evident in their immaculately kept properties, high prices and the demand achieved from around the world, in particular, China. Recently, perhaps to the dismay of the others, Lafite has pulled ahead of the pack and forged new ground with their record achieving prices for both their Grand Vin as well as well as their second wine, Carruades de Lafite. If you visit Lafite, they will tell you that it is the greater attention to detail that has something to do with its success – since Baron Eric de Rothschild took over the management in 1983, he has focused on refining and improving every year. Although the Baron is a banker living in Paris most of the time, his team at Lafite says he is very involved and is at the chateau at least once a month, lives in the property all of August and is present during each harvest.
This vintage of Lafite is one that will be in high demand and most likely matched by equally high prices. Lafite 09 is one of the few 09s that had moderate alcohol levels of just above 13%. It is an intense, complex wine for cellaring that expresses itself with class and elegance.