The Magic of Haut Brion
---
---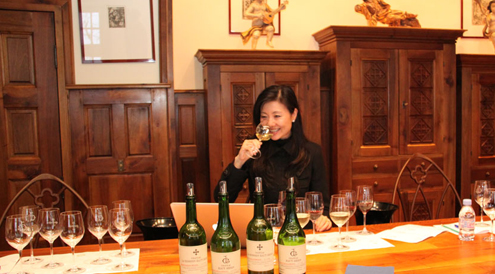 A visit and tasting to Haut Brion is always a treat and not just because of the wonderful wines but because of the entire experience. While top Bordeaux chateaux like Latour, Pichon Baron and Ducru-Beaucaillou seem to become more modern as they renovate their property over time, Haut Brion and La Mission Haut Brion exude old Bordeaux ambience with new renovations staying true to its historical roots.  
I met Prince Robert de Luxembourg more than ten years ago when he visited Hong Kong to host a series of Haut Brion events. Haut Brion is not one of the first growths that people seek out in Asia but those who love Haut Brion are most often true wine lovers who drink and enjoy wine rather than trophy collectors.  
The 1982 and the 1989 are legendary vintages for Haut Brion and certainly the 2009s are following in the same track. I am quite stingy with my points and I debate over and over again in my mind if I think a wine should be 90 or 91 points. Looking back over two decades of wine ratings (through a wine journal I kept for myself), I notice that I rarely give out 100 points. The 2009 Haut Brion however, is one wine that I felt has the potential to be a 100 point/perfect wine.
Just after the 2009 Haut Brion tasting, I had the good fortune of tasting the 1982 on the same day, direct from the chateau. This is a vintage I am very familiar with since I bought a few cases when it was very young and much more affordable, before the hype of the 1982 vintage escalated prices to absurd levels. This vintage and the 1989 always touches me in an emotional way, like a wonderful piece of art or beautiful music.