The High Cost of Making Sweet Wine
---
---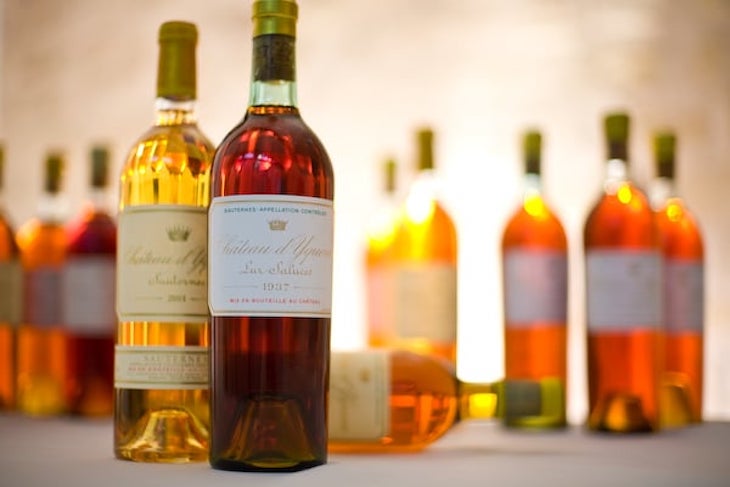 More than a hundred years ago, the most expensive wines in the world were sweet. Champagne as we know it, with its fine bubbles, crisp, linear dry style did not exist. Instead, Champagne had noticeable sweetness, and probably tasted more like Moscato d'Asti, the lightly sweet sparkling wine from Italy, than Brut non vintage Champagne that we are familiar with today. It wasn't only sweet Champagne that was popular around the world, it was all sweet wines.
In the past, people loved sweet wines much more than they do now. The greatest, most expensive wines in the world were not red wines, but included the best late harvest wines from Germany and the unctuous golden wines made from botrytised grapes called Sauternes in Bordeaux. Looking at the vines planted on steep slopes along the Mosel River or discovering the agonising way that botrytised grapes are hand-selected during multiple harvests, it is clear that the huge cost of making these sweet wines were at one time worthwhile because they were in such high demand.
The yield for Sauternes can be between 10 to 20 hectolitres per hectare and in some vintages fall below this range. Just to compare, a first or second growth Bordeaux chateau would average 40 hectolitres per hectare; that is for the top properties adhering to severe yield restriction employing green harvesting, sorting, etc. It is common in Bordeaux to be above 50 hectolitres per hectare.
That means a First growth Sauternes property, like Chateau Climens, Chateau Guiraud or Chateau d'Yquem, will produce only half of the quantity when compared with a comparable vineyard size first or second growth chateau producing red wines in the Medoc. Final quantity depends on weather conditions for Sauternes, more so than other wine styles because of the dependency on 'noble rot', or botrytis, to set in and infect the grapes. This shrivels the berries, concentrates the flavors and allows nuanced, complex flavors to develop. The extreme dependency on weather conditions to determine both final quantity and quality can be seen in numerous vintage in Sauternes. For example, no Yquem was made in 1992 because of terrible weather conditions. If you see a 1992 Yquem, you can be sure it is a fake.
Winemaking for Sauternes is just as costly as making top red Bordeaux. The first growth Sauternes and Barsac sweet wines, classified in 1855, often mature their wines in a large percentage of new barrels for 18 to 24 months. The cost of aging, holding stock and looking after the wine before it finally goes into the market is the same cost as for top red wines from Bordeaux. Yet prices have not climbed in the same way for these delicious sweet wines.
Even at the peak of the market, in the 2010 vintage for example, Chateau d'Yquem was released as futures in the market for around 420 Euros per bottle (ex-negociant) in 2011 while first growths like Chateau Lafite and Latour released at nearly double this price. It doesn't help that the next most expensive Sauternes is priced at less than half of Yquem's prices putting Yquem in a stratospheric price category for sweet wines all on its own. Top Sauternes producers like Climens sells for half the price.
Pierre Lurton who manages this legendary property said, "It is tough for Yquem and Sauternes in general because there is limited secondary market for Sauternes." Prices do not increase much from the time the wine is sold as futures and two years later when the wines are in bottle. What is the incentive to buy futures when you can buy the same wine at the same price two years later? Yquem is the only Sauternes chateau that makes appearances in wine auctions fairly regularly. In contrast to the others, Yquem clearly has a secondary market.
With the increasing view of sugar as an enemy of a healthy lifestyle in the modern era and many diabetics who avoid sugar altogether, sweet wines do not seem to have much of a future in Asia. But then again, who would have predicted that China would embrace ice wine and become the largest producer of ice wine in the world? Perhaps as a niche wine style, sweet wines will continue to find new followers and the great news is, less demand means more reasonable prices even for 20 or 30-year-old sweet wines that are gloriously mature!
Image credit: The Sloaney