The Best of Chile
---
---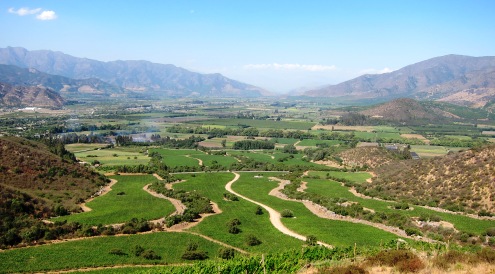 All around me, as far as the eye could see, there was sand — sand dunes as well as sand piles in intriguing shapes forming gigantic sand sculptures embodying nature's random yet orderly chaos. This is the Valley of the Moon, in Northern Chile, whose name derives from its similarity to the surface of the moon. I stood in the midst of the sand sculptures looking up at the excruciatingly bright blue sky with the wind of the Pacific blowing across my face and felt like a small figure in a Dali painting. The colours were so sharp that even with my sunglasses on, I had to squint. The 36-hour journey to get here was definitely worth it.
Chile is about the furthest wine country that one can visit from Hong Kong. A 12-hour flight followed by a four-hour layover in Auckland, then another 13-hour flight to Santiago. In Santiago, I waited another five hours for my two-hour domestic flight to Calama, a northern city from which one can easily access the sand dunes, the salt mines, the deserts and take in the dramatic, breathtaking scenery found no where else in the world.  More than thirty-six hours after I left Hong Kong, I found myself part of this surreal scenery. 
I was a guest of Wines of Chile and they had a full itinerary for us – thirteen judges from around the world who would evaluate 623 wines during the week for their eighth annual Wines of Chile competition. Before work officially started, we were being treated to a relaxing weekend in northern Chile to experience first-hand the diversity and beauty of Chile's narrow over 4,000 kilometre-long terrain. Thirty minutes after arriving at the resort hotel after a 36-hour journey, I had to attend the opening dinner and taste a dozen Chilean icon wines. There are times when wine tasting can be painful rather than a joy and this was one of them.
The rest of the week was a crash immersion course on discovering the diversity and range of Chilean wines. In addition to tasting about 100 wines per day for the competition, I also organized tastings and visits to uncover the best wines that Chile has to offer. My 400-plus notes are filled with wonderful discoveries – crisp vivacious whites from coastal regions throughout the country, dark, serious Carmeneres from Apalta, elegant and intense Cabernet Sauvignons from the older vines in Maipo. The best wines from Chile reflect the stunning natural beauty of a country surrounded by majestic mountains and the rough, cooling Pacific Ocean. 
Chile has really grown up. It is no longer a country filled with cheap and cheerful wines. There are impressive wines that in a blind tasting will stack up well against the very best in their category. If you don't believe me, seek out any of the wines recommended below and include it in a blind tasting lineup of top wines in their respective categories from anywhere around the world — the results may surprise you.
2008 Errazuriz Wild Ferment Chardonnay: Corton Charlemagne-like depth and intensity, filled with toasted hazelnut flavours. An impressive wine with wonderful complexity and length. 93 points
2009 Cono Sur 20 Barrels Sauvignon Blanc: An intense crisp Sauvignon Blanc filled with vibrant passionfruit and herbal characters. Seductive nose, great palate and long finish. 90 points
2007 Tabali Payen Syrah: A beautifully complex expression of spices and dark berry fruit all seamlessly woven with a fabulous texture. Balances elegance with concentration and depth. 95 points
2003 Almaviva: A generous, seductive wine with silky tannins and lovely flavours. Bottle age has given it grace and elegance, but it is still extremely youthful – wait another 3-5 years to enjoy it at its peak. 95 points
2007 Vinedo Chadwick: Hauntingly clear Cabernet Sauvignon varietal expression and clarity of flavours from Alto Maipo. Impressive depth and generosity of flavours that are distinctively Chilean but also reminiscent of top Bordeaux. Long, lingering finish. 95 points
2007 Don Melchor: A firm velvety textured wine with gentle flavours. Don't expect punch and thick concentration, this Cabernet Sauvignon-based red is subtle, almost gentle, classy, with a long finish. 94 points
2007 Montes Purple Angel Carmenere: Delightful aromas of dark exotic fruits and spices jump out from the glass. It's the harmony and balance that are most impressive – the ripe plummy Carmenere gets a lift from a touch of Petit Verdot in the blend. 93 points
2006 Neyen Cabernet Sauvignon-Carmenere blend: Attractive, enticing bouquet leads to a textured, graciously woven combination of flavours. Velvety and sumptuous on the palate with a long finish. 92 points
Reprinted with permission from South China Morning Post