Thanksgiving Asian Style
---
---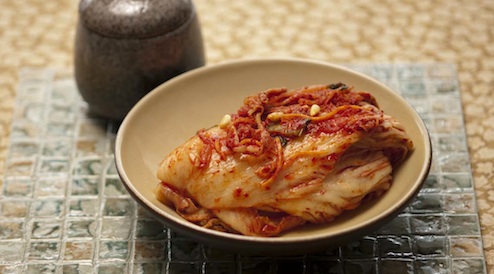 I am planning my menu for Thanksgiving this week and it includes my now-classic repertoire of a 24 pound turkey with spicy kimchi stuffing. Yes, I have taken a very American holiday meal and given it a uniquely Asian twist. I have been making and refining this stuffing for about 15 years now and each year I change the recipe, just for the sake of continual improvement. The basic ingredients include: A half head of cabbage kimchi (fermented spicy cabbage) which is first stir-fried in sesame oil with freshly chopped bacon bits, chili paste and onions; separately, I cook long grain wild rice (I've experimented with numerous types of rice) with chestnuts. Then I combine the two mixtures and add some toasted pine nuts, maybe some left over Korean pickles, fresh chopped herbs, spring onions or anything else I may have in my fridge that would add flavor and texture. One year, a close girlfriend asked me for the recipe and when I answered that I didn't have one, she chided me and whispered, "Don't worry, I won't tell anyone. You can trust me." I really don't have a recipe for kimchi turkey stuffing. The fun and joy of making the stuffing is that it is different each year. How tedious it would be if I had to repeat the same recipe and follow a formula over and over again! It was hard for me to follow recipes precisely when I was studying at Cordon Bleu because my natural inclination is to be innovative and create something new each time. Not sure how I managed to graduate with distinction but the learning methodology went against my inherent nature. The creative joy in cooking for me comes from learning, tasting and reading cookbooks and recipes, all of which trigger ideas and a desire to create flavor combinations. I rarely bake since I know, grudgingly, that I have to follow a recipe.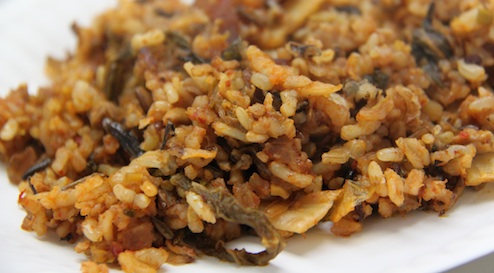 Jeannie's Kimchi Turkey Stuffing
With five families including children from all ages getting together over Thanksgiving, food and wine will be on a huge buffet table. Like my mother taught me, I will be cooking for double the number of people who will attend. Leftover turkey and ham leg is always good, as is the kimchi stuffing. This year, as well as every year, Thanksgiving dinner will be a noisy, loud affair where wine flows freely and it seems to empty as quickly as it is poured. Wines I have chosen for Thanksgiving include a hodgepodge of wines from around the world. For appetisers, we will have an array of Shanghainese cold dishes. I am sure the 2008 Schafer Frohlich Riesling Grosses Gewachs, which is a dry, minerally, floral wine will work brilliantly. I will also open the 2007 Bass Phillips Premium Pinot Noir, a sensational Australian Pinot Noir made by the brilliant Phillip Jones, to pair with the appetisers. For the main buffet which includes bean salad, turkey with kimchi stuffing and a large baked leg of ham and corn bread, I want to have expressive full bodied reds with plenty of personality. The 1997 Frecobaldi CastelGiocondo Brunello di Montalcino would fit this bill as would the Merlot-based, sexy 2004 Fattorio Petrolo's Galatrona. This latter wine is one of my favourite Merlots from Italy and ages extremely well. From the United States, I am considering the 1998 Presenti Zinfandel, which is a dry full bodied Zin with plenty of sweet dried fruit flavours supported by firm tannins and full body. To satisfy the Bordeaux loving guests, I plan to open several bottles of 1990 Cos d'Estournel which is drinking beautifully now and perhaps the 1989 Montrose, another wine from St Estephe, Bordeaux, with plenty of mojo (aka tannins which have now softened). I really enjoy opening mature wine with friends; it's always fun to open old bottles to see what stage they are in – drink now, keep in the cellar or use for making red wine vinegar. I am considering the Mondavi Cabernet Sauvignon Reserve 1993, of which I have two remaining bottles from a case. I am doubtful of its condition since one bottle I opened last year had dried up fruit exuding a whiff of graveyard gravel. I have many wines from the 1966 vintage, which I bought about ten years ago at auction just because it was inexpensive and I was curious. It was not a great year like the 1961, but there are some lovely mature Bordeaux still left. The 1966 Gruaud Larose was in great condition when I opened it a few years ago as was the 1966 Pichon Lalande. This year, I am considering the 1966 Figeac or 1966 Lynch Bages. Buying mature wines is always a gamble and one has to be prepared to be disappointed and say it was worth it anyway. Why would anyone who is rational and sane be willing to spend money and be disappointed? We are willing to gamble for the sake of the 'wine high' — the time when a wine blows you away and everything and everyone around you disappears for a moment and you are surrounded by the seductive perfume of ethereal flavours and that delicate, but finely etched profile of the wine and its personality. It woos you by not trying so hard and lures you in with a lingering taste that you cannot forget and you dream about the next day. Fantastic mature wines have lost their baby fat, their youthful aggressiveness and their loud personality. Sometimes you have to strain your ears to listen to its whispers. Some are on the borderline of starting to fade, to show its wrinkles and age, but it can still beguile you with its intricate expressions and gentle grace. Mature wines are not for everyone's palate, but I admit to being a wine high junkie.
Reprinted with permission from the South China Morning Post