Tasting En Primeur is like eating Swiss Cheese
---
---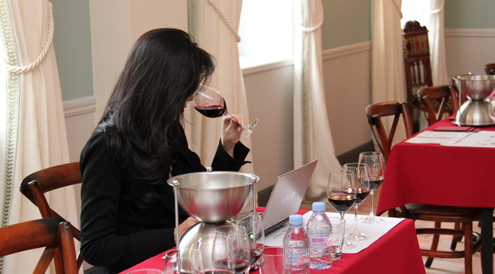 We all know the truth, but we don't really talk about it. Tasting en primeur wines are far from accurate because the samples we are presented with often do not represent the final blend. When tasting wines still in barrels, there are huge holes and gaps in our true understanding of the final components and quality of the wine.
For example, Chateau XYZ may have a blend of 75% Cabernet Sauvignon from a certain plot and 25% Merlot from a certain number of barrels. Well a year from now, the consulting oenologist may come by and suggest a totally different blend (not likely to be drastic) but this does happen often. Oenologists call it progressive blending – blending over a period of time to see how the wine evolves and develops. Some properties do present a final blend in March/April but even then, the wines can change over the next nearly two years as it matures and evolves in barrel.
There are other issues to tasting such young wines — there are many styles that do not taste good at this stage in its life and suddenly spring to life three, four, five months later. The weather conditions such as rainy cold weather can make a wine close down and the fruit has suddenly disappeared. When we (journalists, critics, buyers) come to taste the wines every spring, we taste what chateaux owners feel is their best sample. How can that be an accurate barometer of final quality?
What en primeur barrel tastings represent are sketches of what the wine may look like and are provisional ratings which should be considered as such. In a year like 2009, the ratings are probably close to the final ones because of the success of the vintage and the ripeness and generosity of the fruit. Other vintages like the 2001 were overlooked because they just did not impress when they were young.
Knowing that reality, for all the wine I gave a top score and most of the wines that did not taste well, I try to re-taste from a fresh sample. For the first growths, the wines are tasted together with a chateau representative who ensures the samples are consistent and thus need not be re-tasted. But for many others, especially those tasted at large UGC (Union des Grands Cru) press gatherings, I find it very helpful to go back to double check that there isn't a big sample variation.
Once in every 20-30 wines, I will find a wine that is very different (more than 1-2 point difference) from another sample of the same wine. I know that for most chateaux owners, they have spent the entire year towards making the best wine they could possibly make, and thus I feel a sense of responsibility towards the efforts made and try my best to fill in the holes.
Below Jean Luc Thunevin of Chateau Valandraud explains why the 09 vintage is gracing the shores of Hong Kong for the very first time.