Spice, and All Things Nice
---
---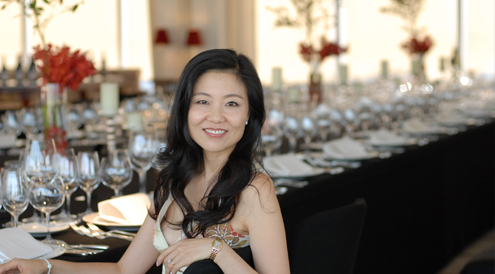 Holidays are the best times to gather with family and friends over some delicious food and wine. With the cooler weather upon us, the wine I think about is warming, full bodied, generous and red. Instead of looking to cool climates, where wines have acidity and freshness to suit the warmer temperatures of summer and fall, in winter months I look to warmer regions such as the south of France, southern Italy, Australia, California, Chile and Argentina. The variety that is a real contender as the "hottest" grape among winegrowers around the world is Syrah. 
The key to Syrah is its spiciness and dark berry fruit, with tannins that can range from moderate to fairly firm. It's generally a densely colored and densely flavored wine, and its fruit expression varies according to the region. Flavors can range from dark berries and Chinese red dates, similar to Cabernet Sauvignon, to plums and persimmons akin to Merlot. Warm regions can produce Syrah with a brambly fruit character that can lean towards jammy expressions. The palate structure (tannins, acid, body and alcohol) has a wide variation depending on climate, but Syrah's fruit character is generally more approachable, with softer, more accessible tannins than Cabernet Sauvignon.
Syrah thrives on sunshine and warm temperatures. Its classic home is in the Rhône Valley, where it is the predominant grape variety in the north and a key blending component in the south. The northern Rhône produces wines that are savory and spicy, reflecting the challenging growing conditions – steep granite slopes, fierce mistral winds and a harsh Continental climate. Here, Syrah expresses flavors reminiscent of an array of Chinese pork dishes such as char siu (Cantonese roasted pork) and Chinese salted pork. Savory, gamey and spicy characters are flavors that are most commonly associated with Syrah from this northern, Continental climate. There is a muscularity in the wines of the northern Rhône, with a dense garnet color, full body, and firm, chewy tannins. Fruit characters such as dried Chinese red dates and blackberries can be detected but do not dominate. During warmer years, the flavors tend more towards sweet liquorice notes, while the savory flavors provide the background.
The two highest quality regions in the northern Rhône are Hermitage and Côte-Rôtie. Hermitage is a classic region for pure Syrah expression and here, black pepper notes, firm tannins and savory Chinese salted pork dominate. Côte-Rôtie, on the other hand, is more floral and gentle in its spicy, gamey expression. The small addition of Viognier to Syrah often creates a deeply colored wine, with firm tannins and a complex fruit expression accentuated by jasmine notes.
The best wines have a longevity that rivals their Bordeaux counterparts. Traditionally, there was little use of new barriques for maturation. However, its judicious use has recently engendered a following among producers who appreciate the added richness and complexity they give the wine. One of the pioneers of this new wave of winemaking is Guigal. Their single-vineyard Côte-Rôtie wines are among the most highly sought after and expensive collectibles from the northern Rhône. Wines from Guigal's three single vineyards, La Mouline, La Landonne and La Turque, can be more expensive than top Bordeaux wines such as Margaux, Latour and Mouton.
The 1996 Guigal Cote-Rotie La Turque is one of the most iconic Syrah-based wines in the world. This is an opulent, powerful wine that is filled with classic, spicy Syrah flavors, along with a spectrum of dark berry fruits and cedar notes. This wine will benefit from a few hours of decanting, but is a perfect wine to enjoy over a leisurely holiday meal or to celebrate a special occasion.
The tannic, savory, northern Rhône wine style is in contrast to its Australian and other New World counterparts. In Australia, where Syrah is called Shiraz, it's the most widely planted red-grape variety. Every region throughout this large, diverse landscape produces its own distinctive Shiraz expression. Barossa Valley and McLaren Vale Shiraz express ripe blackberry fruit flavors and spices such as cinnamon and star anise rather than black pepper. Hunter Valley Shiraz has more leathery notes, while Victoria and Western Australia Shiraz often display more black-pepper notes.
New World Syrah generally expresses warmer-climate characteristics, tending toward a softer tannin style with flavors of sweet red-bean-paste desserts. Part of Syrah's growing worldwide popularity is its hardy character, generous crop and easily accessible, punchy fruit. Outside of Australia, regions such as California, South Africa, Chile and Argentina are embracing the variety with enthusiasm.
From California, I highly recommend the 2004 Hyde de Villaine (HdV) Syrah, which is partly owned by Aubert de Villaine of the renowned Burgundian winery, Domaine de la Romanée-Conti. Expect elegance and finesse in this wine, which is closer to northern Rhône in style than many Californian Syrahs. From Chile, try the Montes Alpha Folly Syrah – a full-bodied, sweet, ripe, black-fruit-dominant wine.
However, the country synonymous with great Syrah in the New World is Australia. Shiraz is the most widely planted red-grape variety in the country, and there are a wide range of styles produced – from simple, fruity, early-consuming reds to fuller-bodied Shiraz and Cabernet Sauvignon blends, as well as age-worthy, serious, 100-percent Shiraz wines.
The best South Australian Shiraz displays a concentrated dark-berry-fruit character complemented by layers of sweet, red-bean-paste desserts, coffee and dried Chinese dates. Old, pre-phylloxera Shiraz vines are dotted throughout South Australia, providing great raw material for producers aiming for the ultra-premium wine market. The two key regions in South Australia, Barossa Valley and McLaren Vale, produce very sweet, warm-climate expressions. Cooler sites in the Limestone Coast, Coonawarra and Padthaway produce more spicy, cooler-climate Shiraz expressions.
From Australia, I would highly recommend Torbreck's Run Rig or Grange, two of the most expensive and highly collectible wines from Australia. Grange was the experimental creation of Max Schubert. Following a visit to France, Schubert made the first commercially released vintage in 1952. From old Shiraz vines grown in pockets of South Australia, Grange is a blend rather than the product of a single vineyard site, making it unique among collectible wines. The best Shiraz can be pricey, but there are also plenty of reasonably priced options. Shaw + Smith make a spicy, black-pepper-filled Shiraz that is delicious, as is Wyndham Estate Shiraz.
Syrah is a wonderful variety that complements the hearty dishes of winter. Any time you enjoy pork, or dishes with pepper or tandoori spices, think about Syrah.