Selecting Airline Wines
---
---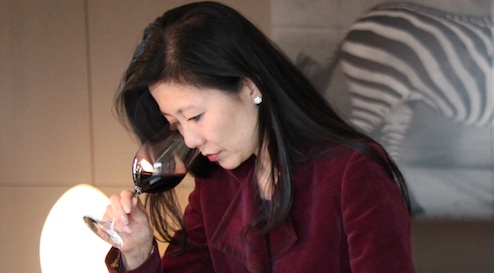 My dentist already knows the quarterly drill: Flouride coating and seal which would last a year for most people but for me lasts only two to three months. She is none too happy to see me about this time of year when I return from Singapore to get my grey stained teeth back to its natural colour. She asks me if I have been using the fluoride mousse every night as she recommended during big tastings. This time, I have to admit that I forgot to bring the mousse and the high acidity in the wines will no doubt have removed some of the enamel from my teeth. 
She is frowning as she looks at my teeth which are testimony that I tasted the most acidic wine categories during this trip: 55 champagnes, 60 Burgundies and 37 German whites. In addition to this, there were another 100 other whites and around 250 red wines — the culprit behind my grey teeth. At this rate, George Washington's closed-mouth smile hiding his toothless oral cavity may be exactly what is in store me twenty years from now.
Tasting hundreds of wines to select the best ones to be served on board a flight is very different from judging wine in a wine competition or critiquing wine on its quality. First of all, I am looking for freshness and vibrancy in the wine. While on the ground a wine can get away with soft, muted flavours, up in the air with our dehydrated bodies and mouths, these same flavours can taste insipid and weak. 
It is also important to consider the bitterness in tannins, which can easily be exaggerated thousands of feet in the air. In cool cabin conditions, wine's flavours tend to close up so younger, more lifted flavours are preferred in the final selection. I am aware that wine in an airplane is never served in the ideal conditions — starting from inadequate glassware, inability to decant to the limited control over serving temperature.
During this trip, I tasted about 20 economy class wines but in my spring trip to Singapore, it was 200 wines! I became better enlightened as to why the global wine surplus situation continues to exist – the vast quantity of these mass-produced wines are just no good! The economy class wines we tasted represented the availability of over 5 million cases given the quantities that Singapore Airlines needed. 
Disheartened with the quality of economy class wines, in one of my notes, I wrote, "Could this really be wine?" Wine doesn't have to be expensive to be good. The Loire and Beaujolais producers make wonderful wines at under US$8. From the New World, both Chile and Argentina are filled with bargains and South Africa is a great place for inexpensive reds and whites with minerality and ripeness. 
Wine submitted for tender for airlines are a special breed and not really representative of the class or region because of the sheer quantities involved. It automatically precludes many top small producers or even the large volume producers who just cannot afford to spare thousands of cases. Quantities required for economy class are in the tens of thousands of cases per order and even for 1st or Business class, the quantities are in the 1000s of cases!
A handful of airlines use this laborious process with professional consultants to select their wines. I am one of three consultants for Singapore Air (the other two are Steven Spurrier and Michael Hill Smith MW) and we taste between 500 to 1000 wines during the course of a week to select the wines to be served on board.  We meet at least every six months or earlier when necessary and we taste all the wines blind according to their categories separately. Our ratings for each wine are discussed after we have individually given our marks and the wines with the highest scores are selected on this blind tasting basis. 
It is always an exhausting but enlightening week wading through a sea of innocuous wines to find the handful that stands out. The grueling schedule requires tasting, say a flight of Italian red wines that leaves your mouth coated with tannins and your teeth coated with grey matter starting at 9am. At the end of the week, I feel I have run a palate marathon and it is my teeth which reveals the hazards of the trade.
Reprinted with permission from the South China Morning Post