Refreshing Whites
---
---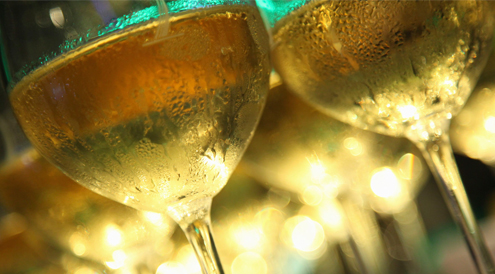 With the warm weather now upon us, I find myself reaching for cool white wines, especially those with lean citrus flavours and crisp acidity. In this category, the wine most readily available and the most popular is Sauvignon Blanc. We have all come to love New Zealand Sauvignon Blancs for their dependable style — always vibrant, zingy and refreshing. Never mind that Sancerre and Pouilly Fume in the Loire Valley have been cultivating this variety for centuries, very few people heard of Sauvignon Blanc as a grape variety until the New Zealanders and the Americans came along. That's successful marketing.
While I enjoy Sauvignon Blanc, it is the leaner, even higher acid varieties like Chenin Blanc, Riesling and Gruner Veltliner which really satisfy my parched palate during the summer months. For unoaked white wines, I appreciate the flavours which revolve around the framework of acidity at their core. Padded around this core are all the other key components of wine – various flavours, alcohol and body. For sweet wines, the balance may be more about sugar levels and acidity. Regardless of style, the main backbone of white wines is acidity. Interestingly, acidity is not as thoroughly analysed as tannins are for reds.
For instance, no one talks about the quality of acidity while red wine producers can go on and on about the quality and texture of their tannins. Tartaric and malic acids are the two key acids in wine, for both reds and whites, that make up 90% of total acidity. The remainder is citric, acetic, lactic, succinic and carbonic – all in minute quantities. I have yet to come across any comprehensive research that analyses the combination and components of fine acidity versus coarse acidity in wine. However, on my palate I distinctly notice fine and harsh acidity both as a tactile and sensory sensation. Acidity has texture which forms an important part of the delivery of flavours. It also contributes to a wine's long finish.
I recently led a masterclass on the white wines of Friuli and one binding factor of these wines was the impressive and fine quality of their acidity. North Italian white wines fall under the category of light-bodied styles with fresh acidity, modest alcohol levels and lively citrus or mineral flavours — popular wines include Soave, Orvieto, Pinot Grigio and Gavi. But wines from Friuli being especially far north, on the same latitude as Burgundy and bordering Austria and Slovenia, show more pronounced acidity levels, even for the reds they produce.
During the masterclass I suggested to one master of wine student that if they wanted to visit one region in Italy to try both a wide variety of international as well as indigenous varieties, it would be Friuli. More than 30 varieties can be found in one small region, Friuli Isonzo, for example. Here, one has varietally correct, very expressive examples of Sauvignon Blanc, Pinot Noir, Chardonnay, Riesling, Cabernet Sauvignon as well as indigenous varieties such as Picolit, Friulano, Refosco and Schioppettino. While the reds have challenges achieving phenolic ripeness in this cool Continental climate, the whites are brilliant because of their sharp, laser-like fine acidity.
As my palate has evolved over the years, I have a newfound appreciation for fine acidity. Intellectually, I always knew that it was the characteristic of a wine that contributes to its aging and keeping potential; I always appreciated the refreshment factor it added to wine. However, these days, I have an admiration for finely textured acids, those racy lines that run through the wine from the first sip through to the finish. Fine acidity is sleek and racy; its texture is smooth with amazing precision and it allows flavours to be lifted and detailed.
Just as I look for finely textured tannins as an indication of quality in reds, in white wines, I am looking for the fine acid line that runs through the core. We can find this in fine German Rieslings, whether they are the off-dry or medium sweet styles from the Mosel or the dry styles from Rheingau or Baden. In Austria, the best Gruner Veltliners and Rieslings possess this same fine acidity in their wines. From France, there is the Loire Valley with the dry and late harvested Chenin Blancs as well as dry Sauvignon Blancs which are brilliant. In Burgundy, Chablis represents the acid-flavour tension best but the best examples of top Cote d'Or wines such as those from Puligny Montrachet can be just as racy and lean.
There is no doubt that pockets of cool regions in the New World also produce these crystalline white wines with fine acidity, but in general, it is northern Europe where these style of wines are in abundance. The Friuli white wines impressed me with their focus on acidity. Even full bodied oak-matured Chardonnays possessed firm, crisp acidity. There is nothing fat or flabby about northeastern Italian whites; as one Friuli winemaker said to me, "We are looking to express salty flavours in our wines, not sweetness."
Reprinted with permission from South China Morning Post