Redefining the Language of Wine
---
---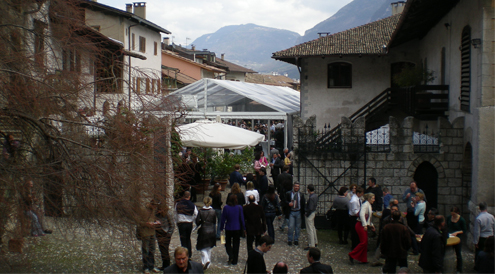 When I was in Italy this summer I discovered a wonderful restaurant in Alba called Piazza Duomo. In a city of only about 30,000 people, I didn't' expect to find a restaurant that served colourful rice crackers to whet your appetite and used ingredients like Japanese seaweed, Fujian lapsang souchang black tea and dashi soup stock. The menu at first glance reads like a typical Langhe restaurant with items like tonnato , the popular local sliced veal dish, agnolottiravioli pasta and the item that puts this region on the culinary map, white truffles. What was fascinating about this restaurant was that when you looked more closely at the menu and when you tasted the dishes, there was a very strong Asian influence.
One of the signature dishes of this restaurant, 'Salad 21, 31 or 41', is a tribute to the subtle flavours found in Japanese cuisine. The numbers – 21, 31, 41 – is actually the number of individual ingredients and seasonal fresh vegetables in the salad. The number changes depending on season and availability of these fresh vegetables and edible flowers which are delicately layered. With the encouragement of the chef we ate this salad with what looks like large tweezers. The dashi dressing was subtle and delicate enough to allow the flavours to rise and was savoury without any acidic or tart flavours. The bottom of the salad bowl had holes to drain the sauce and after eating the salad, we were encouraged to drink this subtle dashimarinade. I was dutifully impressed and spent time talking about each of the dishes prepared by chef Enrico Crippa who had carved out an Asian-influenced Italian restaurant in a small city.
I wasn't surprised at all to discover that Enrico Crippa had cooked under some of the top chefs in the world including Ferran Adria and Michel Bras. He spent three years in Japan, from 1996 to 1999 and opened up Piazza Duomo with the Ceretto family in 2005. His talent and innovative cooking earned him two Michelin stars in 2009. "I was definitely influenced by Japanese cooking," says Crippa. "There is so much detail and precision there and the focus on fresh ingredients." It is not just from Japan that he draws his inspiration. One can find lime and peppercorn on the sea bream and star anise in his risotto. Turbot is seasoned with spring onions and the suckling pig on his menu reads like a Cantonese dish.
This is one of many examples of how Asian ingredients are becoming more and more universal – spring onions can be found in a two Michelin star restaurant in a small city in northwest Italy! Yuzu, dashi , kaffir lime, lemongrass, spring onions and many other Asian ingredients are found in top restaurants around the world and utilised by the best and most promising chefs in the world. These ingredients are becoming part of a global culinary language.
Unfortunately the same is not true for wine; at least not yet. Our vocabulary to describe wine is fairly narrow. Descriptions have been passed down to us from Europe, enhanced over the years by prolific English wine writers. But it hasn't changed much over the past fifty years. Meanwhile, the culinary world has evolved to such an extent that one can find flavours of Hong Kong or Tokyo or Beijing in a small town in Italy, Spain or France.
As a wine educator and communicator, my concern is this: How can you turn someone into a passionate wine lover when the words used to communicate and describe a wine has little reference to something that is familiar? If I described a wine as having notes of butter, gooseberries, cassis or Christmas cake, how many Chinese, Korean or Japanese people would really be able to relate? Instead, if I described a wine as having an aroma of char siu (Syrah),longan (Riesling) or lemongrass (Sauvignon Blanc), I am sure I would get more people's eyes lighting up, nodding and smiling because I have pointed them towards something familiar.
Wine's appreciation is more than just the flavours in the glass. We all know too well how a great wine can disappoint in the wrong company or when we are in the wrong mood. Alternatively, when the atmosphere is relaxed, open and inviting and we are with people we really enjoy, a good but not great wine can taste wonderful. Wine appreciation is also equally about being able to relate to what we know, what we are familiar with and what we enjoy. By introducing ingredients that somehow trigger a memory, a moment in time, or a dish we love, it is creating a link that is much more than what is merely in the glass.
I am now two-thirds through my Asia book tour for my second book, Mastering Wine for the Asian Palate, which is my attempt to address this gap in the language of wine. My purpose in writing the book was to make wine more accessible, to make it more meaningful and relevant for those of us living here in Asia. At the same time, we are making wine something that can truly belong to us, not a foreign beverage that is appreciated once in a while. I do realise however, that it will take a generation of writers, commentators and wine lovers, to walk this same path to come to any sort of consensus and agreement about a new set of Asian descriptors for wine. That is what makes the journey exciting and fascinating, knowing that we are at the beginning of a paradigm shift in the language of wine.
Reprinted with permission from South China Morning Post