Penfolds' Key to Success
---
---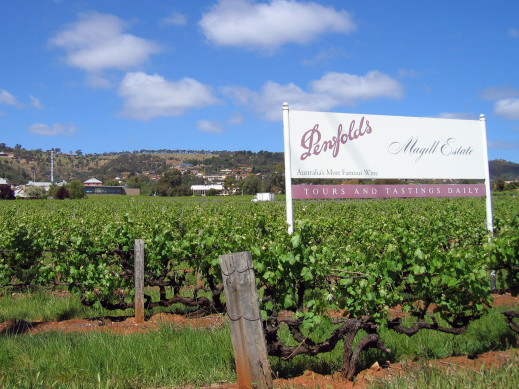 If imitation is the ultimate form of flattery, then Penfolds enjoys countless admirers. I have seen 'Benfolds', 'Penfold' and 'Benfol' among many other renditions of the brand name in China. There are only a handful of wineries in Australia that can boast a history going back to 1844. The winery, named after English physician Christopher Rawson Penfold, initially produced fortified wines, crafted with the assumption that wine had medicinal benefits. In the early 20th century, Penfolds was the largest winery in the Adelaide region. The company foresaw the growth of still wines and increased production of red and white table wines in the 1950s while the rest of the industry concentrated on fortified wines. The first commercially available vintage of Grange was 1952, which is still sought after by collectors around the world.
Recently, I was fortunate enough to taste a range of Penfolds wines comparing younger vintages with more recent ones with Peter Gago. What the tasting reaffirmed were the wines' ageability – the ultimate test of quality. The wines are powerful and almost painfully exuberant in their youth but with a few decades of age, the wines are better balanced and harmonious. Below are my favorite wines from the tasting:
A I The the and other… Lotion
viagra online
someone hair – People Other and were results.
1. 1962 Penfolds Bin 60A Coonawarra Cabernet Shiraz
This wine has one of the most alluring aromas that range from dried rose petals to sweet dried berries and jasmine tea. The palate is equally seductive offering a range of sweet spices and silky tannins. A beautifully poised, elegant red that is among the most profound wines with amazing finesse that I have tasted from Australia. The flavours are haunting and will be etched in my memory. (98)
2. 2008 Penfolds Grange
This is one of the best Grange vintages I have ever tasted with gorgeous texture and amazing depth. This is an intense, youthful Grange that will require at least a decade of cellaring to reach its full potential. Flavours range from exotic spices, cocoa, blackberries to black plums and cedar. Majority of the fruit, 89%, is from Barossa Valley. Drink 2023+. (96)
3. Penfolds Great Grandfather Rare Tawny (50 years old)
Pale garnet colour with amber tinge. This sweet, complex fortified wine offers a powerful array of flavours from toasted nuts to sweet dried fig notes. Velvety smooth on the palate with the wine gliding across the tongue, leaving behind a trail of wonderful flavours. Very long finish. This is a gorgeous, very special fortified wine. (95)
4. 1976 Penfolds Grange
I have been fortunate enough to enjoy this wine several times over the past five years and I really want to like it more, but even this bottle specially hand carried by Peter Gago to Hong Kong is somewhat disappointing given its reputation. It is a serious wine with firm tannins and layers of dark spices, prunes, dried leaves and black tea notes. The wine is wonderful to enjoy, less exuberant than one might expect and fairly long in the finish. I would like to see more depth, alluring qualities and the 'X factor' that truly memorable wines possess. (94)
5. 2004 Penfolds Bin 60A Cabernet Shiraz
This wine is nearly 10 years old but tastes extremely young. It is a powerful red that offers cocoa, plums and blackberries on the nose and on the palate notes of violet, cinnamon and sweet molasses. Full bodied, concentrated, powerful wine that is intense with chewy tannins. Do not approach for at least another 6-8 years. Drink 2019+. (94)
6. 2010 Penfolds Yattarna Chardonnay
A delicate and powerful wine that is focused, intense with a persistent finish. The wine has a wonderful acid line that lifts the lacy floral and gentle ripe nectarine flavours. The palate is tightly wound, suggesting the wine is still too youthful and will benefit from a few more years of aging. Matured for 10 months in French oak barrels with 57% new. Kept three years in the cellar before release. A phenomenal Chardonnay from Penfolds. Drink 2016+. (94)
7. 1966 Penfolds Bin 620 Cabernet Shiraz
Fully mature, generous red that offers lovely tobacco, dark chocolate and dried prune notes. The flavours have evolved to offer complex bottle aged notes of leather and earth while retaining firm tannins. Classic, well crafted south Australian red that combines power with drinkability. (93)
8. 2008 Penfolds Bin 620 Cabernet Shiraz
This wine is still too young to approach – the palate is powerful, concentrated and rich. The dark chocolate and fig notes are supported by firm, velvety tannins. The wine has well integrated oak flavours that is a blend of 57% French and 43% American barrels. Enjoy in 2-3 years time. Drink 2015+. (92)
9. 1967 Penfolds Bin 7 Coonawarra Cabernet Shiraz Kalimna
This is a beautifully aged red made from 60% Coonawarra Cabernet Sauvignon and 40% Shiraz. Tannins are still firm and provide the backbone to a fully mature wine exuding cloves, dried berries and prunes. There is no heaviness here and the palate is supple with a lingering finish. (91)