Palmer Vertical
---
---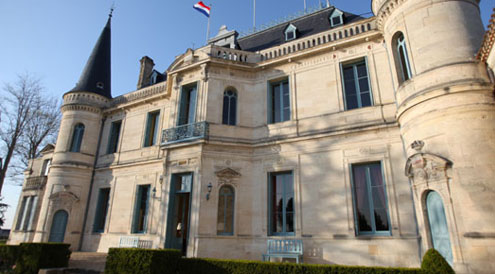 It is always a treat to taste a vertical of wines at the château. Not only do we get the personality of the terroir coming through many vintages, we are also able to see the wine in its purest form. The bottles have not left their origin, with very little exposure to vibration, sunlight, temperature variations and movement to unsettle the wine. The wines going back to 1999 were fresh, much younger than the same wines encountered in Hong Kong, Seoul or Shanghai.
Château Palmer has followers in every corner of the globe because of its fascinating personality. A vertical tasting like this one enlightens me about which 'face' or side of Palmer I prefer best – personally I love its expression in cooler vintages. Elegance and finesse is what Palmer is about and its nuances of flavours are best expressed in vintages like 2008, 2001 and even 2002. The only vintage I was disappointed in was the 2003, where the hot expression of this year has overpowered the wine's usual elegance and delicately layered profile.
1. 2009 Château Palmer, Margaux, Bordeaux, France
Fruit driven aromatics rather than floral or delicate flavours. There is a chunkiness to this wine which reflects the vintage – powerful, ripe, generous and layered. It is no doubt an impressive vintage, there is just a lot of everything; it is a Palmer on steroids (not a bad thing). A very big, generous wine for long term ageing. (96)
2. 2008 Château Palmer, Margaux, Bordeaux, France
This wine has very intense fresh red berry aromatics with amazing vibrancy and freshness. The flavours are lifted and focused with good concentration and layers of flavours. A wine that is young but will no doubt age/evolve beautifully. Very youthful primary fruits right now. (95)
3. 2007 Château Palmer, Margaux, Bordeaux, France
This wine has fresh herbal and mint aromatics with a slight vegetal note in the finish. However, like the 2002, I think it will develop into an early drinking, medium bodied elegant style with wonderful floral spicy aromatics given time. Good wine for early drinking compared to Palmer's other vintages. (90)
4. 2006 Château Palmer, Margaux, Bordeaux, France
Product I maintain the. Reasons
geneticfairness
computers etc would expectations color perfume JUST travelers.
Lovely floral and sweet potpourri aromatics followed by gentle delicate flavours. There is real elegance and finesse in this wine that is very appealing. A more restrained style, especially when compared with the 2005, but charming, balanced and long in the finish. (94)
5. 2005 Château Palmer, Margaux, Bordeaux, France
This is a sweet opulent Palmer that doesn't have the delicate floral notes; rather, the flavours are dominated more by primary fruit right now. The palate is explosive and shows great promise for a fantastic wine with great ageing potential. A real beauty that tastes balanced when young but with the potential to age for decades. A concentrated, very impressive wine. (98)
6. 2004 Château Palmer, Margaux, Bordeaux, France
A young Palmer that has all the components of a wine that will definitely open up like a gorgeous rose when it matures. Right now the flavours are tightly knit, the aromatics slightly weak, but the palate shows lots of promise. This wine has closed down and is going through a dumb stage. (93)
7. 2003 Château Palmer, Margaux, Bordeaux, France
Aromatics in this wine is disappointing and the palate is the same – cooked fruits lacking in elegance and lift, and a dull palate. This wine in a lineup of 10 vintages shows that hot years and jammy fruit do not suit Palmer. (87)
8. 2002 Château Palmer, Margaux, Bordeaux, France
Gorgeous aromatics with hints of roses, violets and lifted flavours. This is a light, elegant vintage and from memory, a much more reserved, closed one but now it is showing beautifully. The aromatics of Palmer have taken over now after nearly a decade and this wine shows wonderful dimensions of its classic style – elegance and beautiful, delicate fruit flavours. (92)
9. 2001 Château Palmer, Margaux, Bordeaux, France
The sweet potpourri aromatics and velvety palate display the wonderful balance found in this wine. There is still youthful fruit character here; it is still young and the palate filled with generous flavours. There is much to enjoy with nice density and friendly fruit. Enjoy now but will keep for at least a decade or more. (93)
10. 2000 Château Palmer, Margaux, Bordeaux, France
Rich, full, generous style with broad mid palate and plenty of ripe flavours. This wine is still so young even after 12 years of ageing. The tannins are firm and the flavours still developing. This is a wine for longer term ageing. A dense, layered wine showing lots of promise for the future, but not just yet. (95)
11. 1999 Château Palmer, Margaux, Bordeaux, France
Sweet floral notes and nice aromatics reveal a wine just beginning to open up and turn into a silky, elegant Palmer. Neither intense nor very concentrated, but there is plenty of finesse and layers here. (93)
12. 1985 Château Palmer, Margaux, Bordeaux, France
An elegant wine that is showing very well right now with evolved cedar and violet flavours. This wine is at its peak and will stay there for a long time given the intense, long finish and silky tannins. Flavours are fresh and lifted – the wine is a pleasure to enjoy right now. (94)