On becoming a Brand
---
---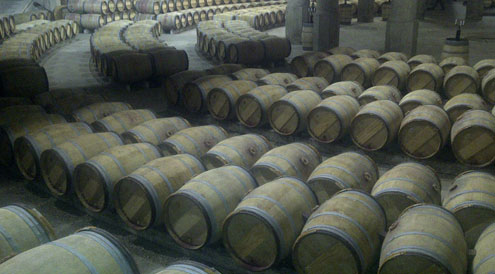 Even with hundreds of wine labels available to us in a typical wine retail shop, some wine names and labels stand out. We find that we recognise the bottle itself, its packaging perhaps, the name of the region written on the bottle, the producer or possibility the grape variety. The packaging and all the information on the bottle are clues but what makes the information, logo, name and the wine memorable enough for it to become a brand?
There are wine brands that exist at every price point – from Petrus and DRC (Domaine de la Romanee-Conti) at one end to Jacob's Creek and Yellow Tail at the other. The names of grape varieties have long been brands – consider Riesling from Alsace, Nebbiolo (d'Alba) from Piedmont and Montepulciano from Abruzzo in Italy. Over the past several decades, grape varieties have been marketed as brands, led by the United States and Australia.  In the United States, Chardonnay has become so successful and pervasive as a white wine that many people in America will order Chardonnay regardless of who the producer is, making 'Chardonnay', the grape variety, as influential and important as the producer, region, country of origin or price.
According to marketing experts, a product becomes a brand when we start to have a set of associations related to that product. A widely accepted definition of a brand is one from the American Marketing Association (AMA) which defines it as a "name, term, design, symbol or any other feature" that identifies the product as distinct from its competitors with consumers who have a perception of the product and associate it with an identity. 
Wine being one of the consumer categories with an endless range of products, being a brand has many benefits. For wine novices, wine brands present an immediate appeal when sifting through a long wine list in a restaurant. Besides price and general style (red, white, sparkling, sweet), it will be wine labels and brands which afford the most security and comfort. Those that are successful at the mass market end have to invest an enormous amount of time building up brand recognition to make it distinctive and stand out from its peers – this includes have a strategic well thought-out marketing mix and a hefty advertising and promotions budget. At the top end, promotions are more strategic and based on interactive experiences with the wines focusing on quality and unique aspects of the wine through tastings and dinners.
In the United States, placing an emphasis on grape varieties and featuring it prominently on the label helped to simplifying wine styles and contributed to wine sales. Robert Mondavi went one step further by creating his own name, Fume Blanc, which is now widely used in California to mean Sauvignon Blanc that has been oaked matured. The Australians contributed to innovative packaging with their colourful and attractive critter labels. For a short while, following the success of Yellow Tail with the kangaroo label, animals (critters) were added to wine labels to attract sales.  
Success of brands sometimes has a drawback. In India for example, the success of Jacob's Creek as a reasonably priced, dependable wine has created an "ABJC" movement among a circle of connoisseurs: "Anything but Jacob's Creek" for my wedding or dinner party please! A brand can become so successful that it shuns another segment of the wine drinking population looking for more distinctive and special wines. The drawbacks of success are not only limited to the lower end of the price point. These days, Lafite is considered gauche for many Hong Kong wine connoisseurs who are turned off by both the high prices and its popularity in the mainland.
The most successful wine brands are not still wines but sparkling wines – champagne has become synonymous with luxury, celebration, lifestyle of the rich and famous and exquisite quality. Dom Perignon, despite producing millions of bottles per year, is able to maintain their high end luxury image and most importantly, deliver a high quality consistent product whenever a new vintage is released (which is not every year). Champagne differs from most wines in that the vast majority is non vintage, where the wine is blended from current vintages as well as many other older vintages so that consistency in house style and quality can be maintained. Still reds and whites, face a new and different vintage every year with quality and flavour profiles that change from year to year.  Bordeaux is the classic example of this roller coaster pricing depending on the vintage.
Many classic European regions where grapes varieties are grown in their respective marginal climates for that style (e.g. Cabernet Sauvignon in Bordeaux, Pinot Noir in Burgundy, Riesling in Germany), suffer from vintage variation. One of the key tenets of a brand promise is to deliver consistency in quality and experience. This is at odds with wine, which by its agricultural nature is different every year. 
However, successful brands have been able to maintain this quality promise – at the everyday end, large volumes of wine produced have very little vintage variation since many source fruit from warm regions where seasonal variation is not high. At the high end, investments in the vineyard and winery have made it easier for producers to offer high quality year after year. Even in regions like Burgundy where wines have a high sensitivity to vintages, very good wines are now made even in challenging years such as 2004. With a combination of technology and careful vineyard management, severe selection and wise winemaking choices, the top domaines are consistent in crafting quality wine every year.  
With the growing number of choices available in the market today for good wines at every price point, branding will become increasingly important. Many wines are becoming brands and despite some of the drawbacks, having consumer recognition, being distinctive and standing out among one's peers offers numerous advantages in a very crowded wine market.  
Reprinted with permission from South China Morning Post