Myanmar Wines Push the Limit (2)
---
---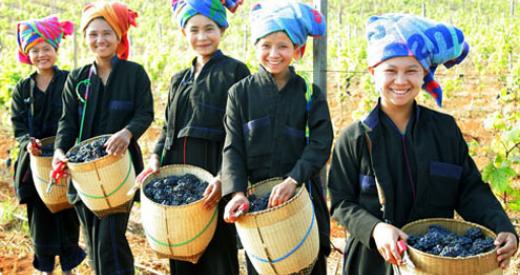 Back in 1959, Myanmar began experimenting with wine grape planting at Sebauk State Farm. Considering the local climatic conditions, three training systems have been developed: Arbor, Kniffin and Y-type systems. Since Myanmar maintains a largely manual labour-driven cultivation system, the Arbor system has been widely practiced. The high investment required and relatively low yield of an average 11 tonnes per hectare play a role in discouraging more extensive vineyard establishments.
Foreign expertise on yield improvements, area extension and more efficient viticulture management are thus of utmost importance for the development of the Myanmar local winemaking industry. This week, Francois Raynal from Red Mountain Estate elaborates on more technical matters, drawing from his own experience: site and rootstock/ clone selection, choice of grape varieties and the unique expressions of Myanmar wines.
1. How many sites did you inspect before selecting the current site to plant vines?
The first site, Taung Che, was given to me when I arrived in 2002. The second site was chosen in 2005 when we decided to expand the vineyard. I inspected different sites before finding Myay Phyu, mostly because this site could be planted with rows up to down, avoiding making contour lines.  This site is not too far from the winery, only 11km.
2. What are some other areas in Myanmar which might be potential sites for wine grape growing?
I didn't inspect the entire country. I suppose the potential sites would be those located at the same altitude. There might be many in the north of Myanmar, maybe in the Kachin State or other places in the Shan State. Another place, located in the Mandalay Division, Pyi Oo Lwin, could also be convenient. It is the place where the English Governor used to relax because of its cool climate. However, it might be too high in altitude, at 1,500m. Also, the rainfall records are not so good, with too much rain all year long.
3. You have experimented with a lot of different grape varieties including Shiraz, Chenin Blanc, Pinot Noir, Chardonnay, Malbec, Cabernet Sauvignon, Sauvignon Blanc, Tempranillo, Muscat and Roussane, Carignan, Petit Verdot, Alicante Bouchet, Merlot, Cabernet Franc, Verdejo, Macabeo, Airen and Gewürztraminer. Can you share with us some general observations from the experiments?
When I arrived in 2002, most of the experimented people, in Thailand or Myanmar, told me that only two varieties were working well in tropical zones: Shiraz (Syrah) for the reds and Chenin Blanc for the whites.
Personally, I don't like the Chenin when producing dry white wines; they give neutral wines. That is the reason why I decided to experiment with other varieties before planting the vineyard.
We found out that the Sauvignon Blanc was working well, growing well and fast and giving a reasonable yield. In comparison, the Chardonnay was not growing well; we got the first grapes in 2010, 7 years after plantation. Even today, the yield is extremely low- we produce only 1,000 bottles from 0.5 hectares. The Shiraz and Muscat Petit Grain are growing well.
Cabernet Sauvignon does not give a regular yield every year, but the wine is good when the grapes are overripened. Some varieties like Tempranillo and Carignan were very promising at the beginning but a bit disappointing now. They are also very sensitive to diseases.
Most of the other varieties do not work so well in tropical zones. They were planted only for experimentation, at 500 plants each. The only promising one was the Malbec.
4. You've imported rootstocks from a variety of regions to Myanmar including France, Israel and Spain. Are quality vine materials (rootstocks, desired clones) easy to obtain in Myanmar?
We could not find these varieties in Myanmar. It's just not available here. Just some table grape varieties were available.
5. For Sauvignon Blanc, Pinot Noir and Cabernet Sauvignon, how do you think your wines' expressions are different/ unique from other places?
Our Sauvignon Blanc can be compared to the Sauvignon Blanc of New Zealand, without the acidity. The aromatic expression is more of tropical fruits such as guava. I think our wines are unique, with a unique taste. I would prefer someone else than me to describe the wines. I'm in charge of winemaking and I'm not that good to talk about them.
The Pinot Noir is for me very delicate. Soft tannins and light color but very classic Pinot Noir.
6. What is your vision for wines from Myanmar?
My vision of Myanmar wines? It is the vision of our Red Mountain Estate wines. We are the only serious producer in this country. Some producers are making wines from other fruits, not grapes, but I personally don't call them "wine". Another producer is blending South African wines with local wines.
The challenge for me was to manage to produce drinkable wines, not to compete with Château Margaux. The people are surprised at the quality of our wines and that is a success for me. They had bad experiences in Vietnam, Thailand or Indonesia, and are happily surprised with our wines.
7. Finally, a more personal question. You have been working as a winemaker in quite a handful of exotic/ unconventional wine regions like Turkey, Israel, Thailand and now Myanmar. Can you describe your experience in Myanmar?
That was a very unique experience. Such an experience will not happen to me again. To create a vineyard, in a new latitude, from scratch is completely unique. Few people have had the chance to do that before. There are, however, some other places in the world where we can create new vineyards.
For me, it took 10 years before reaching success in the production here in Myanmar. I'm not sure I would be strong enough to restart such an adventure. Probably in Myanmar, since we have enough experience of the climate to reduce the period from plantation to production. We know already which varieties to plant. I also know the winemaking process better, which is different of other countries.
8. What takes you to different regions? What is your selection criteria when it comes to choosing a new wine region to work in?
After finishing my studies, my aim was to travel widely. That is the reason why I chose to learn winemaking. I always loved to go in difficult countries, such as the Israeli settlements in Cis-Jordania.
At the beginning, I wanted mostly to practice winemaking as fast as possible, to get a maximum of experience. I went twice in the southern hemisphere, in Chile and New Zealand.
Surprisingly, Myanmar was very safe for me, even 10 years ago, because of the strong ruling junta (military political group), there was no criminality here. Now that the former regime has given up, the country is changing everyday. We can expect a good future for such a country with all its natural resources and high tourism potential.
Sources:
Report of the Expert Consultation of Viticulture (Grape Production) in Asia and the Pacific (2000) Food and Agriculture Organisation of the United Nations Regional Office for Asia and the Pacific, Bangkok, Thailand