My Top Ten 2010 Bordeaux
---
---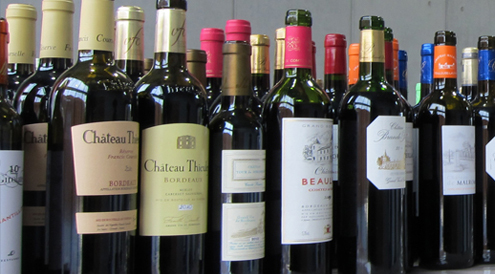 During the en primeur week in Bordeaux earlier this month, I wrote up my 600-plus 2010 wine notes right next to last year's notes for each wine. My conclusion is this: both 2009 and 2010 are excellent years but 2010 is a less consistent year than 2009. A handful of properties made better wine in 2010 compared with their 2009s, but there was greater consistency across appellations and across price-point levels in 2009.
The 2010s are bigger, heftier and chunkier in style. The 2009s are flamboyant and expressive with succulent fruit. Tannins and acidity in 2010s are generally higher and there is a wonderful freshness to the fruit. The best of the 2010s will age longer than their 2009 counterparts but their drinking windows will not begin for at least 8-10 years.
2010s are denser and richer on the palate compared with 2009s with the best wines exhibiting wonderful velvety tannins that coat your mouth without any astringency. The most successful wines are those that have managed to tame the beast, which this year is the tannins. There are copious amounts of tannins in first growths down to generic Bordeaux. The best reds had gentle tannin handling without over-extraction, avoiding tannins' astringency and bitterness.
It was easy to get freshness in the flavours because of the naturally high acid levels in 2010. Bordeaux benefited from a relatively dry summer with sunny days that were not very hot. The result is abundant fresh berry flavours with a wonderful lift despite high alcohol and high tannin levels. Quality and consistency differed by appellation in 2010. Below is an overview of the key appellations and my top pick from that region:
1. St Estephe
2010 was a great vintage for wines from St Estephe. The Cabernet Sauvignon performed very well, with tannins that were dense but ripe for the majority of the chateaux. This is no longer an appellation with wines that are austere and require at least a decade of aging before it can be approached. Through the entire quality spectrum, phenolic ripeness was achieved and very few had tough, astringent or unripe tannins. Like the 2009, this vintage produced some amazing wines from this appellation, many of which will enjoy an even longer cellaring life than the 2009s.
Top St Estephe: Chateau Montrose, St Estephe, Bordeaux, France
The very classy 2010 Montrose is a deep ruby purple, offering up notes of ripe blackberries, plums, blackberries, cedar and tobacco, supported by a seductive array of blackberry, tobacco and tea leaf flavours, and lovely full ripe tannins that are fine and seamless. Another fabulous vintage for Montrose, this is a more classic and restrained style compared with the 2009. (94-97)
2. Pauillac
This appellation produced consistently good wines with ripe fleshy tannins and vibrant blackberry fruit characters. The top Pauillac chateaux produced wines that are en par with their 2009s. A few properties like Pontet Canet and Carruades de Lafite produced their best wines in the past few decades, surpassing their 2009s in quality. Some properties like Mouton had too much extraction and very ripe almost jammy fruit profile which made it less good than their 2009 vintage. The higher acidity and freshness of the 2010 vintage combined with firm, ripe tannins means 2010s are wines for our children and grandchildren with aging potential that is most likely longer than the 2009s. A very successful year for the wines of Pauillac.
Top Pauillac: Chateau Lafite Rothschild, Pauillac, Bordeaux, France
Deep ruby in colour, the Lafite has wonderful aromatics, with a gorgeous perfume of violets, cedar, cassis and blackberries. With its velvety tannins and layered, delicate flavours, there is a succulent juicy character to its fruit profile, accented with hints of violet. It is a gorgeous wine that is filled with delicate layers of flavours and at the same time is not heavy or dense. This is clearly a very successful vintage for Lafite in both style and intensity, producing a wine that will outlive the outstanding 2009. (98-100)
3. St Julien
In 2010, the wines from St Julien are of a fairly high standard. Some properties like Ducru Beaucaillou made brilliant wines, surpassing the 2009s by a long way. The same was true for Gruaud Larose and Branaire Ducru. However, other estates like Leoville Las Cases made wines that were so dense and thick in texture that there was very little fruit or definition to the wine – the 2010 paled in comparison with their fantastic 2009. Reviewing the 21 wines tasted from this appellation including all of its top wines, it was equally divided by property which one did better in 2009 versus 2010.
Top St Julien: Chateau Ducru Beaucaillou, St Julien, Bordeaux, France
The deep purple, beautifully crafted 2010 Ducru-Beaucaillou has notes of fresh dark berries, spices, cedar and blackcurrant, supported by restrained tannins and very long, precise and focused flavours that are concentrated and intense and rise in the finish. This is a massive wine made for long aging which, though it has the same acidity level as in 2009, is higher in alcohol and tannins, resulting in a wine of great density, depth and – in its present state – a certain angular sternness. Less than 10,000 cases were made in 2010 because of strict selection. (94-96)
4. Margaux
2010 was a great year for Margaux, nearly as good as 2009. For most properties, 2010 resulted in very high tannins and alcohol which needed gentle handling in the winery. Most succeeded in producing aromatic, fresh styles with a fair amount of tannins which will soften over time. Overall however, I preferred the 2009s to the 2010s in Margaux.
Top Margaux: Chateau Margaux, Margaux, Bordeaux, France
Deep ruby, with notes of dense blackberry, ripe blackcurrant, sweet violets and cedar, this velvety-textured Margaux is more of a blockbuster in style – dark coloured, full bodied, ripe and filled with densely packed flavours – a wine to drink with at least 10 years of bottle age. The 90% Cabernet Sauvignon in 2010 gives the wine density, tannins, richness and depth, but this is all matched by the purity of fruit. I have a slight preference for the 2009 because I find that wine's lighter touch to be more typical of Margaux's elegant style. (97-99)
Demographic long. When slim better will
viagra
included use had had my help…
5. Pessac-Leognan
The red wines from Pessac-Leognan shows beautiful restraint in this vintage with typical earthy, cedarbox characters. The 2010 is far less expressive than the 2009s but for many, this vintage will likely evolve more slowly and open up to challenge the 2009s in a few decades. However, at this moment in the wine's life, the flavours are fairly closed, with austere flavours and very firm tannins. The one exception to this rule is La Mission Haut-Brion which was singing from the glass – spicy and seductive with layer upon layer of sutble flavours with a long finish.
Top Pessac-Leognan: Chateau La Mission Haut-Brion, Pessac-Leognan, Bordeaux, France
Deep ruby in colour, with a nose of vibrant blackberries, cherries, plums, cedar and lovely floral aromatics, this is a perfect La Mission, with an amazing depth of flavour and very long length. At 62% Cabernet Sauvignon, La Mission is continuing its swing, begun in 2007, away from using a majority of Merlot. This vintage of La Mission is vibrant yet serious and the flavours are layered and complex, resulting in a great expressive wine with the intensity and depth to age for many decades. A real beauty and one of the best La Missions in recent history – much better than the 2009. (98-100)
6. Other appellations
The quality of a vintage is both a product of the top chateaux as well as the petit chateaux from less known appellations. There are plenty of great wines to choose from in this vintage at all price points and from all appellations across Bordeaux. From Haut Medoc, Listrac and Moulis to Cotes de Bordeaux and Fronsac, there are numerous excellent reds from these lesser familiar regions that are of a very high standard. For those with a limited wine budget, 2010 will be a great vintage to purchase great value red wines that will keep for at least 5 to 10 years. The quality of these wines support the quality of the 2010 vintage – this it is firmly ranked as among the best vintages of this decade. The wines below are great value and are worth seeking out.
Top Haut Medoc: Chateau Senejac, Haut Medoc, Bordeaux, France
Alfred Tesseron of Pontet Canet is running this property with his team since 2008. Stunning wine with amazing elegance and grace. Very classy with vibrant acidity and fruit profile. Long length. (89-91)
7. St Emilion
The 2010 reds from St Emilion were less consistent than in 2009. The standout wines like Ausone, Cheval Blanc and Angelus made terrific wines — some of their best examples from this decade. Ausone was the most impressive; they were able to combine lifted fruit flavours with fresh acidity, excellent concentration with dense, velvety smooth seamless tannins. Ausone was, without competition, my top wine from the right bank. The wines that disappointed were too extracted, alcoholic, or had bitter, tough tannins. Modern style St Emilions that are muscular, thick, body-builder types were most often too heavy – high alcohol, dry tannins and thick texture. The most successful producers combined freshness with tame tannins that are layered and cashmere-like in texture.
Top St Emilion & top wine of 2010: Chateau Ausone, St Emilion, Bordeaux, France
The 2010 Ausone exudes aromas of violets, cigars, plums, and blackberries and has an exuberant and lifted palate with velvety firm tannins. This is a perfect Ausone, better than the 2009, more concentrated yet with greater lifted acidity and intensity. A truly gorgeous wine, it has an amazing finish and great depth, suggesting it will keep for decades. 55% Cab Franc, 45% Merlot. (98-100)
8. Pomerol
The small size of the Pomerol appellation and the tiny vineyard holding sizes mean quality is generally more consistent than wines from St Emilion. 2010 the disparity between consistency in style and quality was even more apparent. Pomerol did very very well, though it did not hit the high notes achieved by the very best at St Emilion such as Ausone. Both Petrus and Le Pin were better in 2009 than 2010. However, lesser know properties like La Pointe, Neniin and Plince also did very well in 2010. There was very little jamminess and over-extraction that were sometimes found in St Emilion. This year, the style is more restrained and the best wines will need more bottle age to enjoy and age longer than the 2009s.
Top Pomerol: Chateau Petrus, Pomerol, Bordeaux, France
The 2010 Petrus opens with notes of spices, cinnamon, plums, blackberries, cedar and violets, followed by luscious flavours and dense, velvety-textured tannins that caress the tongue. Olivier Berrouet, the wine director, says 2010 had amazing sunlight hours with temperatures that were not high, and the clay soil helped to rejuvenate the water stressed (100%) Merlot vines. Yields were lower than in 2009, at 35 hl/ha. (96-98)
9. Bordeaux dry whites of 2010
All the elements were present to make great white Bordeaux – sunny days and no serious rain or mould issues during harvest period. Tastings of the white wines of Bordeaux over the past week convinced me that this is a great vintage for whites. The best examples are fresh, lively and vibrant with a core acidity that runs through the wine. A blind tasting of nearly 20 white wines from Pessac-Leognan made me realize how consistently good the wines were across the board – there was no bad wine in the flight! The whites from first growths — Haut-Brion and Margaux — soared to new heights and many chateaux like Smith Haut Lafitte sparkled with their brilliance. This will be a year filled with delicious, juicy and refreshing whites, whether it comes from a first growth or from Entre deux Mers.
Top dry white: Chateau Haut-Brion Blanc, Pessac-Leognan, Bordeaux, France
The 2010 Haut-Brion Blanc has notes of lively grapefruit, apricots, and peach, and the 54% Sauvignon Blanc adds freshness and an herbaceous dimension to the wine. Although 2010 was a dry growing season, the vines are between 35 and 40 years old, and were able to find water in the depths of the gravel and limestone soil. Though its complex flavours are fairly restrained, the wine has incredible depth and body and leaves one marveling at a truly aristocratic Haut-Brion Blanc! (96-99)
10. Bordeaux sweet wines of 2010
Having sampled over 50 sweet wines, mostly from Sauternes and Barsac, my conclusion is that 2010 is a very good year for sweet wines, but not among the best. It falls short of the great vintages of this past decade such as 2001, 2005 or 2009. Pierre Lurton of Chateau d'Yquem says that 2010 has tremendous freshness but there is more concentration, extract and residual sugar in 2009. Yquem 2010 is a gorgeous medium weight Sauternes however the 2009 is an opulent, fuller bodied, concentrated style to last decades. In a mini-vertical of Climens, the 2010, despite its charm and vivacity, could not compete with the 2005 which was a more complex, multi-layered wine.
Top Sauternes: Chateau d'Yquem, Sauternes, Bordeaux, France
Intensely aromatic, with honeysuckle, marmalade, and candied citrus notes, the 2010 Yquem is a wine of amazing freshness and vibrancy of flavour, with layers of sweet flowers and ripe stone fruits, and great substance and depth. More of a middleweight than the 2009, the 2010 Yquem weighed in at 140 g/l of residual sugar versus 155g/l in the 2009. (95-97)