Moving beyond Value for Money
---
---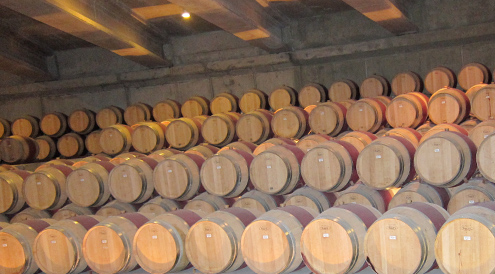 We often view Chile as a new entrant to the wine producing world and is counted as among the 'New World' countries. What we overlook is that Chile has been producing wine for over four hundred years when the Spanish explorers settled in this narrow country along the Pacific Ocean in South America. In the 19th century, even before phylloxera devastated European vineyards, there were French and Spanish vine cuttings that were brought over to expand viticulture. Fortunately for Chileans, phylloxera never reached the country and even now, it is one of the few countries in the world that is phylloxera-free.
Wine was produced, but it never became a serious industry geared for exports until about thirty years ago. It is one of the countries, along with Argentina, that has progressed by leaps and bounds over the past few decades. More recently, Chile has been trying to shed its 'value for money' (aka cheap and cheerful) image. The movement away from industrially produced inexpensive wines to higher end premium wines actually started in the late 1980s. Concha Y Toro, arguable the largest and among the best known Chilean producers released Don Melchor in 1987. Others quickly followed such as Don Maximilano in 1989. By the mid 1990s, international producers were eyeing the favourable climatic conditions for growing quality grapes in Chile and Robert Mondavi started a joint venture with Errazuriz with its first release in 1995. The Mouton Rothschild family arrived in Chile and Almaviva was created – a joint venture between the Rothschilds and Concha Y Toro in 1996.
Chile is still not known for their premium wines, even though by global standards for quality, there are a handful that have garnered rave reviews. I was recently in Santiago, Chile, and winery owners were concerned about Chile's challenges in gaining international respect for their top wines. How do you get people to see beyond the label and country of origin and assess the quality in the glass and be willing to pay for high quality wine? Some have tried to achieve this by giving seminars and blind tastings while groups such as Wines of Chile have been promoting the industry's expansion of vineyards to include premium cool climate sites, which often make more elegant, higher quality wines.
There is certainly improvement in every aspect of grape growing and winemaking in Chile. While I am less impressed by the winemaking technology, which can become a winemaker's crutch, the vineyard improvements is by far the most interesting. There are now many serious wine explorers going beyond traditional regions and moving all along the coast from the northern-most Elqui and Limari Valleys down to the far south in the Bio Bio and Malleco Valleys. More and more vineyards are being planted on slopes, something that was new only a few decades ago.
There is also much work being done in the form of organic and biodynamic viticulture. Sena recently celebrated the opening of its biodynamic centre but the vineyards have been cultivated biodynamically for the past nearly ten years. Vina Emiliana is a pioneer in the area of organic and biodynamic viticulture, spear-headed by the talented Alvaro Espinoza. Emiliana cultivate over 200 hectares organically and biodynamically eschewing traditional pesticides and herbicides.
On the marketing front there are movements and change as well. In 2009, MOVI (Movement of Independent Vintners) was formed to represent a group of small-scale producers who are independent from the big producers who monopolise exports in Chile. A few years ago, I tasted an entire range of wines from MOVI producers and quality was variable rather than consistent.
More recently, there is a group calling themselves Vigno (Vignadores de Carignan) who are producing wines from old Carignan vines. Those who are part of Vigno include both large and boutique wineries who are committed to making wine from old vines of Carignan in Maule. Vigno members' wines must be at least 65% from Carignan, with vines that are a minimum 30 years old and be aged for 2 years. I tasted some wonderful examples of Carignan from producers like Undurraga and Morandé.
There are definitely some great wines from Chile. But can we even claim that there are 'icon' wines from Chile? The first internationally recognized premium wine, Don Melchor, is a mere 25 years old. In regions like Burgundy where wine making goes back over 1,500 years, a 25-year old vineyard is considered young. Mature vines are considered at least 30 years old and ideally between 40 to 60 years old.
There are certainly a large number of premium wines from Chile now such as Clos Apalta, a Carmenere based red wine established by Casa Lapostolle, and the Montes M or Altair. Others include Carmin de Peumo from Concha Y Toro, Casa Real from Santa Rita, Kai or La Cumbre from Errazuriz, along with a long list of wines at the premium level and deserving of their status. But many of these wines have not yet achieved international recognition in Europe, Americas or Asia. It will take time, but if quality continues to improve at the pace that it has been over the past ten years, it may be sooner than we expect.