Is 2010 Bordeaux better than 2009? Part I
---
---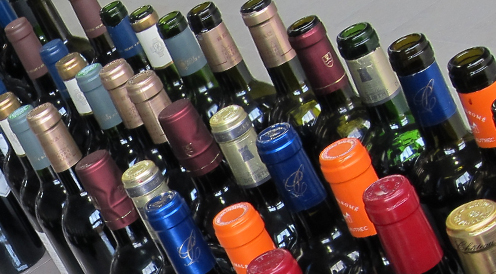 I have heard the marketing talk enough times to be wary of the message streaming out of Bordeaux before I arrived: 2010 is not only the vintage of the century but it is even better than the 2009 vintage which broke records as the most expensive Bordeaux wines sold en primeur, as futures two years before the wines are available in the market. After seven intensive days of tasting these infant, highly tannic, deep purple coloured wines, I compared my 600-plus wine notes with those I took in 2009. My conclusion is this: 2010 is a less consistent year with a handful of properties doing better than in 2009 but the majority made better wines in 2009. Overall the quality is very high and it was an excellent vintage. The 2010s are generally bigger, heftier and chunkier than the 2009s which are flamboyant and expressive. Tannins and acidity in 2010s are generally higher and there is a wonderful freshness to the fruit. Most of the wines will age longer than their 2009 counterparts but the drinking window is much later and perhaps narrower since many of these wines should not be approached for at least 5 to 10 years. Wines from top chateaux will need a few decades before they are ready to be enjoyed.
Another key difference in the 2009 versus the 2010 is the texture and mouth feel of the wines. 2010s are denser and richer on the palate with the best wines exhibiting wonderful velvety tannins that coat your mouth without any astringency. In several chateaux, I compared the 2009 with the 2010 and the 2009 was spicier, had more seductive flavours and was a generous style. Among the top properties, the 2010s are wines to enjoy after at least ten years of aging. The most successful wines are those that have managed to tame the beast, which this year is the tannins. There are copious amounts of tannins in first growths down to generic Bordeaux – so much so that my fingers have permanent purple stains and my teeth are an eerie shade of grey. The best wines have velvety rich tannins that haven't been over-extracted; the best examples steer away from tannin's tough angular, astringent side. It was easy to get freshness in the flavours because of the naturally high acid levels in 2010. Bordeaux benefited from a relatively dry summer with sunny days that were not very hot. The result is abundant fresh berry flavours with a wonderful lift despite high alcohol and high tannin levels.
There was a quality and consistency difference by appellation and style in Bordeaux in 2010. Below is an overview of the key appellations and my top wine from each region:
St Estephe 2010 was a great vintage for wines from St Estephe. The Cabernet Sauvignon performed very well, with tannins that were dense but ripe for the majority of the chateaux. Like the 2009, this vintage produced some amazing wines from this appellation, many of which will enjoy an even longer cellaring life than the 2009s.
Top St Estephe: 2010 Chateau Montrose, St Estephe, Bordeaux, France The very classy 2010 Montrose is a deep ruby purple, offering up notes of ripe blackberries, plums, blackberries, cedar and tobacco, supported by a seductive array of blackberry, tobacco and tealeaf flavours, and lovely full ripe tannins that are fine and seamless. Another fabulous vintage for Montrose, this is a more classic and restrained style compared with the flamboyant 2009. (94-97)
Pauillac This appellation produced consistently good wines with ripe fleshy tannins and vibrant blackberry fruit characters. The top Pauillac chateaux produced wines that are en par with their 2009s. A few properties like Pontet Canet and Carruades de Lafite produced their best wines in the past few decades, surpassing their 2009s in quality. The higher acidity and freshness of the 2010 vintage combined with firm, ripe tannins means 2010s are wines for our children and grandchildren with aging potential that is most likely longer than the 2009s. A very successful year for the wines of Pauillac.
Top Pauillac: 2010 Chateau Lafite Rothschild, Pauillac, Bordeaux, France Deep ruby in colour, Lafite has wonderful aromatics, with a gorgeous perfume of violets, cedar, cassis and blackberries. With its velvety tannins and layered, delicate flavours, there is a succulent juicy character to its fruit profile, accented with hints of violet. It is a gorgeous wine that is filled with delicate layers of flavours and at the same time is not heavy or dense. This is clearly a very successful vintage for Lafite in both style and intensity, producing a wine that will outlive the outstanding 2009. (98-100)
St Julien In 2010, the wines from St Julien are of a fairly high standard. Some properties like Ducru Beaucaillou made brilliant wines, surpassing the 2009s by a long way. The same was true for Gruaud Larose and Branaire Ducru. However, other estates like Leoville Las Cases made wines that were so dense and thick in texture that there was very little fruit or definition to the wine – the 2010 paled in comparison with their fantastic 2009. Reviewing the 21 wines tasted from this appellation, it was equally divided by property which one did better in 2009 versus 2010. Top St Julien: 2010 Chateau Ducru Beaucaillou, St Julien, Bordeaux, France The deep purple, beautifully crafted 2010 Ducru-Beaucaillou has notes of fresh dark berries, spices, cedar and blackcurrant. This is supported by restrained tannins and very long, precise, focused flavours that are concentrated and intense and rise in the finish. This is a massive wine made for long aging which, though it has the same acidity level as in 2009, is higher in alcohol and tannins, resulting in a wine of great density, depth and – in its present state – a certain angular sternness. Less than 10,000 cases were made in 2010 because of strict selection. (94-96)
Reprinted with permission from South China Morning Post