Initial Assessment of the 2009 Vintage: Exceptional Year for Top Wines and very good for Others
---
---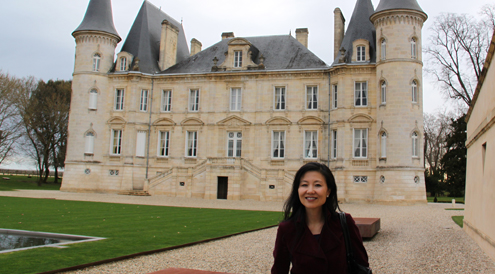 Even before I arrived, there were news reports of winemakers and producers touting 2009 as the vintage of the century. But this is not surprising given how often Bordeaux seems to announce 'the vintage of the century' and every other year, 'the vintage of the decade'. What made the vintage so exceptional in weather terms is the consistently, warm but not hot, growing season with very little rain in most parts of Bordeaux. There were patches of hail but nothing serious and no one complained about mildew or mould issues thanks to wind, sunlight and fairly dry weather conditions. Grapes were picked at optimal conditions during harvest for most chateaux so the background is ideal for producing the vintage of the century.
The Left Bank: Overall, the wines of the left bank are consistently good across the board with the best properties producing some of the best wines in decades (perhaps in the past century). Cabernet Sauvignon was ripe, concentrated and balanced by vibrant freshness in the fruit. The tannins are generally powdery soft and ripe; the properties that did less well weren't successful in managing their high tannin levels which were reported to be higher or as high as the 2005 vintage. There is a plushness in the texture of tannins in this vintage which makes it a pleasure to taste and is drinkable straight from the barrel! Merlots ripened just as successfully but the Cabernet Sauvignon managed to achieve so much complexity and depth in this vintage that it overshadows the Merlot at least on the left bank.
St Estephe
After sampling over 200 wines, predominantly from the top wines across the major appellations of Bordeaux, my initial assessment about the vintage is positive and cautious: The very best chateaux on the left bank did extremely well and most have produced wines that for them may be the vintage of the century. The appellation which did extremely well is St Estephe. The quality across the board is excellent with the top properties like Montrose and Calon Segur producing the best wines that I have tasted from their property in my lifetime. Even lesser known properties in St Estephe like Chateau LiIlian Ladouys and Chateau Meyney made excellent wines that will age well due to their dense tannic structure and concentrated fruit. These latter wines will present some of the best buys for cellaring from this vintage.
Pauillac
This appellation almost always produces consistently good Bordeaux reds. Three out of the five first growths call this appellation home and all three (Lafite, Latour, Mouton) produced incredible wines. And it's no surprise that the other top properties from Pauillac also made wonderful wines – Chateau Pichon-Longueville Comtesse de Lalande, Chateau Pichon-Longueville Baron and Chateau Pontet Canet to name just a few. What is impressive from this vintage is that the second wines of the top Pauillac chateaux produced fantastic wines which will be a bargain compared to the main, top wine or grand vin. Second wines to look out for in offering value are: Pichon Lalande's Reserve de la Comtesse, Pichon Baron's Les Tourelles de Longueville and Petit Mouton.
Margaux
In Margaux, the quality was great for the top producers but less consistently good in the lesser known properties. Chateau Margaux was extremely successful as was Chateau Palmer, Chateau Brane-Cantenac, Chateau d'Issan and Chateau Giscours. But others which should have shined in this vintage such as Chateau Rauzan Segla was disappointing given the potential of this vintage. There were dense, massive tannins which is unusual for Margaux and it seemed like some did not know how to manage and handle such density of tannins. The successful properties balanced the aromatic flavours typical of Margaux with the thick tannin structure creating complex elegant wines for long term aging.
St-Julien
Frankly, St-Julien's top wines starting with Chateau Leoville Las Cases were disappointing given how well the other appellations fared in this vintage. That is not to say Leoville Las Cases made bad wine – it is a wonderful wine which I rated 93-95 points, but given the stature and potential of the estate, it did not rise up to the quality potential of the vintage. There were some other excellent wines from properties such as Chateau Ducru-Beaucaillou and Chateau Gruaud Larose, but other reliable chateaux such as Chateau Talbot and Chateau Beychevelle produced good but not exceptional wines.
Other regions
Most of the 200 samples tasted so far are from the left bank appellations described above. The few samples from the Graves region, especially from the appellation of Pessac Leognan looks very promising. Chateau Haut Brion produced a tremendous wine that will no doubt become one of the legendary vintages for the chateau. Domaine de Chevalier is also very successful and I look forward to tasting more from the Graves region. I am also looking forward to tasting the sweet wines of Bordeaux from Sauternes and Barsac in the next few days. Initial Conclusion: This vintage is undoubtedly a great year and one that has allowed for incredibly precise expressions of terroir. Each region is distinctive in their style and expression: Margaux wines are undeniably Margaux with their attractive violet and cedar perfume while St-Estephe is classic St-Estephe-like with their dense powerful structure and dark berry fruits. The chateaux with great terroir shone even more brightly this year with their unique terroir-driven flavours and incredible texture. Not one of the 200+ wines tasted thus far were poor quality, just disappointments considering the vintage, which means that 2009 is a great vintage filled with solid terroir-driven wines.