Icon Wines of Chile
---
---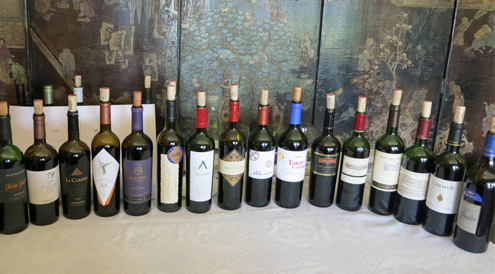 I was in Santiago just a few weeks ago and participated in a lively, informal discussion about icon wines from Chile. We were enjoying a casual lunch and in our group were Chilean wine professionals as well as seasoned wine writers including Robert Joseph from England and Jorge Lucki from Brazil.
"Can we even say that there are icon wines from Chile?" Lucki questioned. After all, the oldest famous wine from Chile was Don Melchor with its first vintage in 1987, a mere 25 years ago. In regions like Burgundy where wine making dates back over 1,500 years, a 25-year old vineyard is considered young. Mature vines are considered at least 30 years old and ideally between 40 to 60 years old.
So the first question was whether or not Chile can qualify to use the word 'icon' to describe the top wines from this relative newcomer to the arena of fine wine. If we defined the word broadly to include high quality wines that have become synonymous with the best wines from the country and have achieved international recognition, then there would be a handful.
We rattled off names like Almaviva, the joint venture between Mouton Rothschild and Concha Y Toro in 1996; Don Melchor which was first released in 1987; Sena, initially a joint venture between Errazuriz and Robert Mondavi with its first release in 1995; and Don Maximiano, one of the pioneers with a debut in 1983.
After this initial list of four, we debated over another handful of about ten names. Does Clos Apalta, a Carmenere based red wine established by Casa Lapostolle belong in the icon group when its first vintage was a mere 15 years ago? What about Montes M, Altair or Carmin de Peumo from Concha Y Toro? Why not Casa Real from Santa Rita or Kai or La Cumbre from Errazuriz? Has quality from these wines been consistent enough over the past decade, which is about how long most of these wines have been around? Have these wines achieved international recognition in Europe, Americas and Asia to be icon wines?
While we quickly agreed on the first four names as being qualified to be referred to as 'Iconic Wines from Chile', the other names triggered a lively discussion. How much does heritage and history matter? If so, then how many vintages must the wine have produced to enable an assessment of the wine's aging potential? This last point was critical since icon wines, by our definition, must possess high quality, which includes having aging potential. For reds, this would be at least a decade or two. Our conclusion was that while about five qualified as icon wines, others were debatable. Robert Joseph brought up a good point when he concluded, "A half dozen Chilean icon wines is not bad. How many do you think South Africa would have?"
There is certainly improvement in every aspect of grape growing and winemaking in Chile. While I am less impressed by the winemaking technology, which can become a winemaker's crutch, the vineyard improvements are by far the most interesting. There are now many serious wine explorers going beyond traditional regions and moving all along the coast from the northern-most Elqui and Limari Valleys down to the far south in the Bio Bio and Malleco Valleys. More and more vineyards are being planted on slopes, something that was new only a few decades ago.
There is also much work being done in the form of organic and biodynamic viticulture. Sena recently celebrated the opening of its biodynamic centre and the vineyards have been cultivated biodynamically for the past nearly ten years. Vina Emiliana is a pioneer in the area of organic and biodynamic viticulture, spear-headed by the talented Alvaro Espinoza. Emiliana cultivates over 200 hectares organically and biodynamically eschewing traditional pesticides and herbicides.
Some of my favourite wines that express unique Chilean character and distinctive terroir include the following wines: 2011 Casa Marin – Cipreses Sauvignon Blanc Leyda; 2008 Concha Y Toro – Carmin de Peumo Carmenere; 2010 Errazuriz – Kai Carmenere; 2009 Morande – Edicion Limitada Carignan; 2010 Errazuriz – La Cumbre Syrah; 2009 Altair; 2009 Almaviva; 2009 Concha Y Toro – Don Melchor; 2010 Santa Rita – Casa Real; 2010 Sena.
Reprinted with permission from South China Morning Post