Great Wall enters new Phase
---
---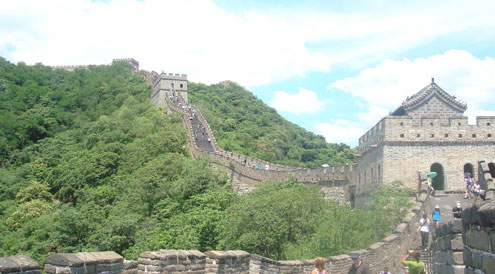 In 2003, during one of my earlier trips to China's wine regions, I managed to visit the top three major wineries in one trip: Dynasty, Changyu and COFCO (Great Wall). It wasn't long into my trip when I would hear this phrase repeatedly: "We are the biggest in China and the best." It was a mantra conveyed to me within the first ten minutes, then several times throughout my visit, and repeated at least twice emphatically at the conclusion of my visit. I heard this first at Great Wall in Hebei, then again at Dynasty in Tianjin, and finally at Changu in Yantai.
This is the type of phrase that triggers my suspicious journalist instincts and so I would demand proof. Lots of papers were brought out and in it were a jumble of numbers and everything written in Chinese and nothing I, nor my translator, could decipher as proof of their size and quality. Could you make a copy of this, I requested? Replies were all the same: "No we cannot give you a copy. This is confidential information but we are allowing you to view them. But as you can see," they would say pointing to the documents, "we are clearly the biggest and the best!"
Since 2000, China has seen enormous growth, as much in the production as in the more widely-covered consumption side, ranking sixth place among top largest producers by country in the wine world. According to the OIV (International Organisation of Vine and Wine), China produces more wine than Chile, Germany, South Africa and even Australia. Given its growth, it is surprising how little the replies among top Chinese wineries have changed. I spent quite some time with Ms. Luan Xiuju, Managing Director of China Foods under which the wine division falls. She is head of their enormous wine operations with Great Wall, Sun God, Huaxia and Junding as their top brands.
Luan is a no non-sense woman who has completely streamlined and changed Great Wall since she took charge in early 2011. She gained experience managing and leading a beverage company to success as chief executive officer of COFCO Coca Cola Beverages Limited, a 65% subsidiary of China Foods. However, Luan understands clearly that wine is not a normal beverage – she has rebuilt their portfolio of wines to fall under four categories: 'Chateaux wines' at the very top of the heap, next 'Terroir wines' equivalent to premium wine, followed by 'Regional wines' and 'Table wines'. Great Wall has also been on a buying spree, purchasing wineries in France and Chile and now Luan is eyeing wineries in Australia, Spain, Italy and the US.
Not unexpectedly, Luan offers a long list of Great Wall's many 'firsts': First chateaux concept in China with Chateau Sun God in Hebei prvince in 1970. This was followed by Chateau Huaxia in Changli, also in Hebei province. According to Luan, Chateau Sun God made China's first bottle of dry white wine in 1979 and Chateau Huaxia made China's first bottle of dry red wine in 1984. When I mention Changyu, Luan dismisses them and replies, "Yes, they have been around a long time but the type of wines they were making were not completely dry. They made lots of sweet and fortified wines.
The other top domestic wineries in their portfolio are Chateau Junding in Yantai, within Shandong province. I have visited Junding several times over the past several years and find their top Cabernets credible and am impressed by their potential as well as their price tag. Junding wines are very good for Chinese wine standards, I especially like their Santa Grace Red, which has evolved from a soft fruity, uninspiring red back four years ago to one that has some depth and structure now. However good the wines are, at over US$200 per bottle, I would have to pass on buying the wine. A cheaper alternative is the under US$35 wine called Great Wall Zone A Cabernet Sauvignon from Hebei – it is a medium bodied, fruity red with good substance and nice balance. It is still not worth the price tag for its quality level, but it is an example of where Chinese wines are headed.
Great Wall's other 'firsts', according to Luan, include making the very first commercial sparkling wine launched by Chateau Sun God in 1986. Luan says, "In many key markets, we [Great Wall] are the number one brand." She rattles off a list of cities including Beijing, Tinajin, Hebei and Sichuan." And very importantly, she adds, Great Wall and their subsidiary wineries, are the first in terms of size among Chinese wineries.
But where does quality fit into this entire picture? I wish more Chinese wineries would boast about their ever-increasing quality level rather than about the volumes or their marketing success. Until recently, it seemed rather low on most Chinese wineries' priority list. But that is no longer the case. At Great Wall, Luan has just signed on Michel Rolland, the high profile wine consultant and talented 'wine guru' (that is the name of his recently released autobiography). For the far-sighted and marketing-savvy Luan, the quality of the wine is increasingly important. She shares her vision about the eventual competitiveness of top Chinese wines and for that dream to come true, Rolland and his team will play an important role in their Chateau and Terroir range of wines.
Looking back at my meeting with Luan, which was just a month ago, and reflecting on the sheer size of the market and the increasing number of competitors arising from all corners of China, I can understand why all of these 'firsts' are important. How else do you distinguish yourself in a huge, fragmented market with double-digit growth in competitors as well as in consumption? With Luan at the helm, competitors should be getting worried, Great Wall has both the resources and distribution power to be hugely successful and since 2011, they have a visionary and results-oriented leader.
Reprinted with permission from South China Morning Post