Great Pinots from Victoria
---
---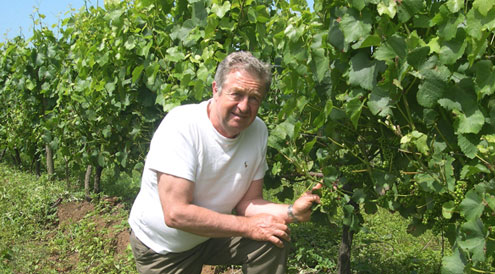 Most people in the Australian wine trade will tell you that Phillip Jones is crazy or that he is a mad genius. As I walked around his newest, insane project of planting 17,000 vines per hectare just last month, I could see how such opinions could be formed. To put things into perspective, top vineyards in Europe where close density planting is linked with high quality wine such in the vineyards of Chateau Lafite Rothschild or Domaine de la Romanee-Conti (DRC), 10,000 vines per hectare is considered very dense. At 17,000 vines per hectare, with barely the length of my shoes providing space between vines, viticulturalists as well as winemakers will call it madness.
Jones arguably makes the most highly sought after Pinots in Australia. I had the good fortune of discovering Bass Phillips wines just as his reputation was taking off and the prices of his wines were not so high and his Premium and Reserve wines were not impossible to find. Since then, he has cemented his reputation as one of Australia's top Pinot producers, if not the top producer, of long-lived, profound Pinots that are often compared with Burgundy but have a flavour and palate profile all their own.
Like most highly creative and talented souls, Jones is eccentric and some say extremely gruff, but I am one of his staunchest supporters. I have been on the receiving side of his generosity and passion for everything Pinot. In 2005 and 2006 as I was preparing to sit my Master of Wine exam, it was Jones I turned to for information about the technical and precise aspects of how pruning and yield effects the quality of Pinot grapes. He explained the clonal differences and importance in Pinot, more so than in many other varieties, and he patiently drew pictures of key pruning methods, viticultural treatments and spent hours explaining how decisions in the vineyard such as green harvesting, dry-farming principles, organic and biodynamic farming directly impact Pinot quality and flavours. His wines captivated me with their depth and longevity; the man behind the wines impressed me with his intellect and passion for Pinot.
Although we have been friends for years, it was only last month that I visited him for the first time in South Gippsland, a picturesque region known more for its dairy than vineyards, over an hour drive outside of Melbourne. The Pinot vineyards subdivided into small plots were orderly and healthy, despite having to compete for water and nutrients in a non-irrigated and tightly spaced environment. His cellar and office were, as I expected, orderly chaos with only the most basic winemaking essentials. Like all skilled winemakers, Jones knows very well that most of the work is done in the vineyard and not in the cellar.
Since 2002, Bass Phillips has been biodynamic but Jones has been experimenting with organic viticulture way before then. He says, "2011 was very tough and I needed to be extremely vigilant. There was only a two-day window to treat the vineyard [with biodynamic treatments]." Bass Phillips joins the ranks of top Burgundian producers like Leroy, DRC and Leflaive who adhere to Rudolf Steiner's biodynamic principles of viticulture. "Since becoming biodynamic, I am getting more consistent fruit year after year," Jones adds. With many of his vines more than 30 years old now, vine age also contributes to the wines' depth and complexity.
During this trip to Melbourne, I also visited other producers such as Yabby Lake and Kooyong and tasted many Pinots from Victoria. I found some wonderful wines but no Pinots that came up to the level of the best from Bass Phillips. The other iconic Pinot producer in this region, who I did not get to see, is Gary Farr, the man behind the success of Bannockburn. Gary left Bannockburn in 2005 and is now on his own making excellent Pinot under the labels called 'By Farr' and 'Farr Rising'.
Below are some of my favourite Pinots from Victoria:
1. 2009 Bass Phillip, Reserve Pinot Noir
Full bodied with very complex layers of fruit that ranges from spices and herbs to dark cherries and blackberries. Very long length. It has intensity and depth with gentle layers that belie the power behind this wine. Only 50 cases made. (95)
2. 2009 Bass Phillip, Premium Pinot Noir
Much more voluptuous than the 2010, the 2009 is very concentrated, focused with ripe, gorgeous flavours – lovely layers with sweet spices and blackberry fruit combined with firm acidity. Seamless, powerful wine that is still very young. (94)
3. 2010 Kooyong, Pinot Noir
Ferrous Single Vineyard Floral notes and exotic spices on the nose. Intense, lifted floral notes and attractive layer of spices along with firm tannins. Well composed Pinot with grace and nice depth. A precise, lacy Pinot worth aging in your cellar for at least 5 years. Still very young. (91)
4. 2010 William Downie, Pinot Noir from Mornington Peninsula
Raspberries and lavender notes with wonderful savoury herbs, spices and firm tannins. Very different from the 2011 which was light and purely floral. Lovely texture and long finish. Made since 2003 from purchased grapes by Bill Downie. Only 300 cases of this wine made per year. (91)
Reprinted with permission from South China Morning Post