Graves Wines
---
---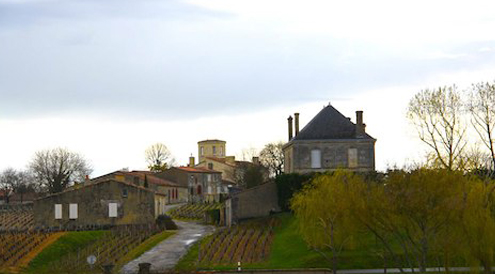 As I get older and seek subtlety and grace even more than when I was younger, I appreciate the wines from the Graves more and more. Let's take the most prominent wine from the region – the venerable first growth Chateau Haut-Brion. This wine has never been about sheer power or intensity, even in very ripe years like 1982, 1990, 2005 or 2009. Its aristocratic personality favours nuances, delicate layers, longevity and possesses a certain reserve in its youth. The 2009 Haut-Brion which I tasted in 2010 when it was not yet bottled, I gave nearly perfect points. Recently, I tried it in bottle and the flavours were dormant, the potential locked up behind its firm tannins and velvety structure like many 2009s and 2005s can be at the moment. But there is no denying that the 2009 Haut-Brion has the depth and complexity to make it one of the chateau's best vintages over the past few decades. 
Many of Chateau Haut-Brion's neighbours have similar structures and personalities with the closest being Chateau Haut-Bailly. Their 2009 is a complex, concentrated wine of amazing finesse and nuance. In my experience with Chateau Haut-Bailly, the potential of the wine even in modest vintages takes a decade to open. A bottle of 1998 Haut-Bailly I enjoyed recently was just starting to show its true colours after 15 years and it is simply gorgeous at the moment – elegant, still youthful, complex and subtle with an amazing length.
These wines are not for the impatient, demanding market nor for flashy blind tastings of trophy wines. They will probably not do well simply because they refuse to shout or intrude. The best wines from the region, especially Pessac-Leognan, are for enjoying over a lingering meal, where the wine does not try to compete with the chef's creation or scream to get noticed.
When I was asked recently which region in Bordeaux most often gives me drinking pleasure, I replied Graves. The diversity here is unrivaled – there are wonderful reds as well as great white wines and sweet wines. For the best dry white wines from Bordeaux, there is no question that Pessac-Leognan within the Graves region, reigns supreme. Here, the longest-lived, complex, gorgeous whites from Sauvignon Blanc-Semillon blends can be found – these include Haut-Brion Blanc, La Mission Haut-Brion Blanc, Smith Haut Lafitte Blanc, Pape Clement Blanc, Malartic-Lagraviere Blanc, Fieuzal Blanc, Carbonnieux Blanc and Domaine de Chevalier Blanc.
This year, 2013, marks the 60th anniversary of the official classification of the Cru Classes de Graves. To commemorate this special sixth decade, the sixteen chateaux of the classified growths, all located in the appellation of Pessac-Leognan, will be showcasing their wines in major cities around the world. In Asia, they will be holding a tasting in Hong Kong on March 1, 2013 and in China later on in the year. The group will be presenting two wonderful vintages – their 2010 whites and their 2009 reds.
I was fortunate to taste the selection early in Paris on 15 February, 2013. Below are some of my favourites:
Reds:
2009 Chateau Haut-Brion – Majestic, complex, reserved Haut-Brion that shows amazing potential. At the moment the wine is closed but the texture and structure leaves no room for doubt that this is one of their greatest vintages. 
2009 Chateau La Mission Haut-Brion – Compared with Haut-Brion, La Mission is more open with spicy, cedar, tobacco flavours. A generous, layered wine with supple texture and beautifully ripe tannins.
2009 Domaine de Chevalier  – Beautifully crafted red with velvety, almost silky tannins. A poised, gracious wine that is both serious and generous with ripe plums and blackberry fruits.
2009 Chateau Haut-Bailly – A classy red with plenty of substance and potential to age for decades. The beautiful handling of the tannins makes the wine seductive and substantial. Don't approach for another 10 years.
2009 Chateau Malartic-Lagraviere – This red combines freshness along with precise, detailed flavours that range from cedar, cassis to sweet spices and violets. A lifted red that is more open than many of the other wines from this vintage.
2009 Chateau Smith Haut Lafitte – An alluring red with supple texture and plenty of spicy, floral and blackberry fruit. The wine is generous without being heavy or big. Wonderfully composed, harmonious red.
Whites:
2010 Domaine de Chevalier Blanc – This is consistently one of my top white wines from Bordeaux. Year after year, Olivier Bernard crafts delicious, generous whites that have great intensity and potential to age. This vintage is especially concentrated and has a very long finish.
2010 Chateau Malartic-Lagraviere Blanc – Both the whites and reds from this chateau are excellent and in 2010, their white wine is vibrant, lifted and filled with juicy apricot and nectarine fruits. Enjoy it now but this is a wine worthy of your cellar to age easily for a decade.
2010 Chateau Pape Clement Blanc – This is a full bodied, creamy Bordeaux white that has quite obvious toasty oak notes. There is sufficient intensity and layers of ripe flavours to stand up to the oak treatment and it would be best to approach it in 2-3 years time.
2010 Chateau Smith Haut Lafitte Blanc – I love the svelteness and fresh, lively flavours in this wine. Elegant white with hint of gooseberries, star fruit and dragon fruit. Well integrated oak and fairly long finish.
2010 Chateau de Fieuzal Blanc – Light bodied and elegant, this wine has lovely vibrant flavours of mangosteen and passionfruit. The crisp acidity and lean body allows the details of the wine to shine. Beautifully crafted.
Reprinted with permission from South China Morning Post