From Fine Dining to Private Kitchens
---
---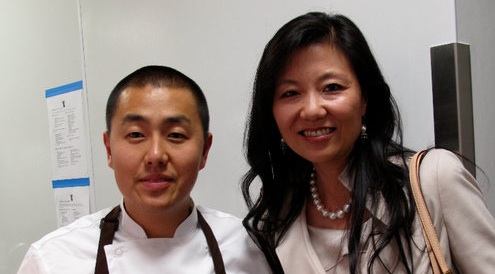 I had a wonderful meal at the French Laundry in Napa Valley last month. The tasting menu at Thomas Keller's French Laundry was by far the best meal I had in my three weeks in the United States. His two restaurants, Per Se and French Laundry, may have slipped down several notches in Pellegrino's list of World's Best Restaurants, but the meal I had ranked among the best I enjoyed in California. It was my fourth time there in the past five years and I was bracing myself for disappointment, as I was when I last patronized the restaurant over a year ago.
This time, I was won-over by the delicate touch and refined flavours of Keller's chef's menu. One of his signature dishes, 'pearls and oysters', had a gorgeous texture punctuated by small pearl-like tapioca sabayon and marble-sized miyagi oysters. The eight dishes that followed skillfully brought together ingredients and seasonings from around the world. Columbia river sturgeon meets cilantro and ginger while Japanese eel is adorned with nicoise olives. Where Keller succeeds is in the marriage of very diverse quality ingredients that has integrity of flavours that do not get lost in each other.
I was delighted to find out that the very same week I dined at the French Laundry, Keller's protégée Corey Lee, was opening his own restaurant in San Francisco. Since Lee had worked at the French Laundry for nine years, eventually rising to become its chef de cuisine, I expected his restaurant Benu to be reminiscent of Keller's style. I was pleasantly surprised that Lee was forging his own path, which harks back to his Asian roots. His 14-course tasting menu pulled together ingredients like thousand-year-old quail egg with black truffle, ginger and scallion and married sea urchin with potato puree, corn and celery. His rice porridge with abalone, lemon and sesame touched my soul as much as it pleased my palate. Except for a few dishes like the cheese plate, nearly every dish incorporated Asian-based ingredients.
Although haut cuisine is fantastic, I missed home-made food after two months of living out of a suitcase. There is something very satisfying about filling your stomach with a bowl of noodle soup cooked in your own kitchen or savouring a well-cooked bowl of rice with left-over anything and pickles. I also missed the local Hong Kong restaurant scene. While fine dining has its rightful place on my culinary calendar throughout the year, it is the 'private kitchens' in Hong Kong I frequent the most.
These tiny chef-led establishments in Hong Kong, often referred to as 'private kitchens', are like the wine world's gargiste wineries: Small production wines, not necessarily all great, made with care by a devoted winemaker. Within Hong Kong's private kitchens, there is a similar dedication level as well as creativity, energy, experimentation and often, innovation. I love following pioneering chefs like Alvin Leung, who started from a tiny restaurant at Gilman's Bazaar where I frequented to try out his new creations, to his current standing as a Michelin-starred chef. Some restaurants like Ta Pantry, which is housed in a residential flat, fits neatly into the 'private kitchen' category. This one-table dining venue is like hiring a personal chef for a private party. Esther Sham's dishes at Ta Pantry may lack polish, but some of the dishes like the balsamic linguine are creative and shows promise for a self-taught chef passionate about food. 
We are lucky because Hong Kong is brimming with dining options. I am eager to go back to Liberty Private Works to sit around the 14-seat sushi-counter style venue to sample Makoto Ono's latest omakase menu. I am also looking forward to the latest creations of Vietnamese chef Que Vinh Dang at TBLS, a tiny16-seat restaurant in Central. Despite having lived here for almost 17 years, I have a checklist of private kitchens I want to try or go back to that is a few pages long. If only it didn't take so long to secure a table at these tiny venues, I might be able to make it half-way down the list within a year.
Reprinted with permission from the South China Morning Post