Food Friendly Spanish Wines
---
---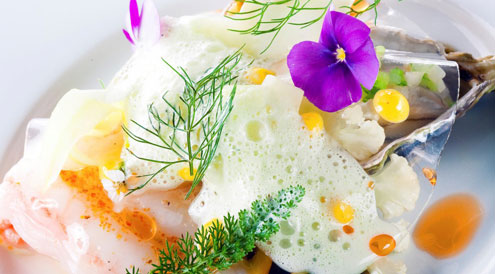 The talent of Spanish chefs like Ferran Adria, Juan Mari and Elena Arzak are indisputable among people who take food seriously. But how many have heard of Xavier Ausas, Peter Sisseck or Alvaro Palacio? These are top Spanish winemakers of Vega Sicilia, Pingus and L'Ermita respectively. Wine is often in the shadows of this new breed of culinary masters, the celebrity chefs. While gelatinous balls that explode on the tongue into the essence of foie gras and caramalised apples dazzle the food lover, wine becomes an after-thought. What wine can possibly increase the pleasure of delicate creations made as much in a laboratory as in the heat of the kitchen?
Most young, talented chefs I have come across in top restaurants seem to have moved beyond 'molecular cuisine', going back to more familiar flavours and their native roots. But the ethos behind modern gastronomic philosophy still remains: to surprise and delight by creating light, flavourful dishes. The focus is on light – away from heavy, dense and creamy.
Meanwhile, the wine world over the past few decades has been moving toward a completely different path – greater concentration, higher alcohol and body. In Bordeaux, alcohol levels regularly go above 13.5%, and for Merlot-based reds, the levels can reach 15% alcohol. When you talk to winemakers about why alcohol levels have increased over the past decades, you will receive numerous responses ranging from global warming to green harvesting and importance of ripe tannins measured in IPT units. Their strongest argument is often their 'enlightened' understanding of physiological and phenolic ripeness. Does this mean that the delicious 1970 or 1986 red Bordeaux at only 12% alcohol that I enjoy even now were made from grapes that were not really ripe?
In Spain, this bifurcation between the evolution of the culinary world and the wine world is more dramatic than in many other countries. Spanish chefs rock the culinary world with their progressive cooking techniques and flavour combinations that tickle your tongue as much as your mind. Modern Spanish winemakers on the other hand, are more interested in working with a hammer than a whisk, with knock-you-out powerful wines that sometimes remind me of weightlifters on steroids. In the world of modern Spanish reds, whether it hails from Ribera, Priorat or Rioja, it is nearly impossible to find wines below 14.5% alcohol. In trendy Priorat, 15% alcohol and incredible concentration are squeezed from tiny berries and small bunches harvested from ancient vines. They do have immense flavour and power, but what crosses my mind is, "Shall I use a fork and knife to cut through this wine?" The wine is so big, it is a meal unto itself. Forget pairing it with any of Adria or Arzak's food.
Thank goodness there are Spanish winemakers who clearly have both food and wine in mind when crafting their wines. Alejandro Luna at Luna Beberide is one such winemaker. His reds from Mencia, an indigenous Spanish grape variety, have the perfume, elegance and lightness of Pinot Noir combined with the firm, herbal palate profile of a cool climate Cabernet Franc. His Finca la Cuesta from Bierzo, a region in northwest Spain is a wonderful food-friendly wine with bright red cherry flavours along with an array of floral notes ranging from violets, roses to jasmine. It is a beautifully textured and delicately layered wine that is versatile enough for progressive European or even Cantonese food.
Within Spain, Mencia is attracting a following. Talented winemaker Alvaro Palacios, better know for his Garnachas from Priorat, is now making wine at Bierzo with Mencia. Though I admire Palacios' Priorats from old vine Garnacha, his Mencia is far more drinkable. The variety is not deeply-coloured and the tannins are moderate, which contributes to its versatility. It is the flavours that are charming and range from black to red berries, sweet spices, flowers and herbs to tea leaf flavours. And always, there is a taut structure that suggests time will offer even more dimensions to the wine.
On the other side of Spain, in the southeastern region of Valencia, Tony Sarrion is making a name for himself with the most unlikely grape variety – the Bobal. It was always known as the cheap workhorse in southern Spain, helping to produce full bodied, deeply coloured forgettable wines. Sarrion is changing this perception, making perfumed, very fine Bobal from old vines. I especially like his Quincha Corral, made from 90% old vine Bobal and the balance being Tempranillo and Cabernet Sauvignon. I had the opportunity to taste the 2004, 2007 and 2009 vintages recently. These are full-bodied, deeply-coloured reds that call out for red meat dishes. However, at the same time, the wine is not heavy or powerful, they possess delicacy and subtlety that make them food friendly. I would especially recommend the 2007, which shows the finesse that this variety is capable of achieving as well as its aging potential.
In Spain, what many chefs probably discovered is that modern wine styles have evolved towards the opposite direction of their fine, detailed, science and chemistry-inspired creations. But times are changing. There are many producers now moving away from high alcohol, heavy and excessively oaky reds towards a lighter style. The wine world, not just in Spain, still has a long way to go before finesse and delicacy is as prized as power and richness. But when I spend time with winemakers like Tony Sarrion, I am convinced this will happen at least in my lifetime.
Reprinted with permission from South China Morning Post