Final Thoughts on 2012 Bordeaux
---
---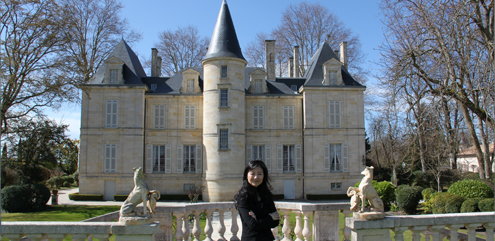 In Bordeaux, I tasted over 500 wines, many of them twice. I have detailed reviews of all the main appellations in articles posted over the past two weeks on the website and looking back, this is a modestly good vintage that is punctuated by superstars like the top reds from Pomerol. This is an average to good vintage that was more consistent for early ripening varieties like Merlot and white wines.
It was a disaster for late ripening varieties and sites, especially for sweet wines. Top Sauternes producers like Yquem, Rieussec, Raymon Lafon, de Fargues and Suduiraut said they would not make any 2012s. Those who did choose to produce wine, such as Chateau Guiraud, made only 700 cases, which is less than 10% of their normal production. However, there were exceptions – producers like Climens, Coutet and Doisy Daene made very good sweet wines. Barsac in general did better than Sauternes as a whole because their grape maturation cycle was more advanced so it allowed them some protection against the late fall rains and challenging conditions.
Several aspects about this vintage surprised me: First, how good the wine quality was at the top end, especially for the properties in Pomerol and the very best Saint-Emilion Grand Cru Classes. Second, there is wonderful elegance in the best wines on both left and right banks with freshness and lift. There was strict selection conducted by most conscientious chateaux to bottle only their best, healthiest grapes and this meant low yields. Third, how well the wines at the basic Bordeaux appellation and the Cru Bourgeois levels performed in 2012. This was the biggest surprise because I fully expected in a rainy harvest to find the wines dilute, unbalanced, green and tannic. There were many good wines at the very basic level, which indicates to me that this vintage is not a write-off. Overall, this is a good, solid Bordeaux vintage with cool climate characteristics and elegance in the wines.
Thankfully, the en primeur has kicked into gear fairly early – good news for all of us. 2010 and 2011 were so protracted and long that it killed the campaign; buyers and readers lost interest towards the end. Prices trickled out from the Moueix family even before I left for Bordeaux in early April. Now that the wine critics and merchants are all back in their homes, prices are coming out steadily with 2012 Mouton coming out ahead of all the other first growths at 275€/bottle, 33% lower than 2011 and significantly lower than in 2010 when it was 600€/bottle.
We knew this year was always going to be about prices. The vintage had concerns from the beginning when we read about the rainy harvest conditions in October. Considering how weak rain-infected vintages can be in the past, the wines from 2012 are pleasantly good – soft, early drinking styles with charm. But this vintage was never going to be about the quality, which could only be so good given Mother Nature's limited blessings this year. It is all about the price. Below are my assessments on some the wines released so far:
Prices are per bottle
Mouton Rothschild at 275€ (Still too expensive; 33% down from 2011 but consider 2008 which was 120€)
Petit Mouton 2012 at 66€ (Too expensive)
Aile d'Argent 2012 at 48€ (Too expensive)
Lynch Bages 2012 at 60€ (Too expensive; in 2008 they were at 32€)
Echo de Lynch Bages 2012 at 21,60€ (Too expensive)
Ormes de Pez 2012 at 16,80€ (Below 2011 but higher than 2008)
Gazin at 39€ (A bit expensive but very good wine this year)
Rauzan Ségla 2012 at 36,50€ (Reasonable price and same price as 2008. Good move and so far the best value in 2012)
Camensac at 14,40€ (Good value Médoc)
It seems we will have sane prices this year, which is a huge relief. Please browse the nearly 500 reviews and ratings of the 2012 Bordeaux wines on www.asianpalate.com/wine_reviews. I may try to pick up a few bargains if prices come down to similar levels as 2008 prices. Happy shopping!