Figeac Vertical
---
---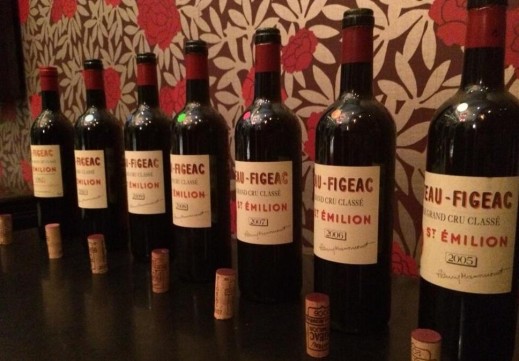 Figeac is a historic property with roots dating back more than 1,500 years. Since 1946, it has been owned by the Manoncourt family, and until early 2013, it was managed by Eric d'Aramont and his wife Laure d'Aramont Manoncourt. Many changes have taken place recently in this unique Saint-Emilion property with a string of announcements: Michel Rolland was hired to consult on the winemaking, focusing especially on the blend; Jean-Valmy Nicholas, La Conseillante's Co-Managing Director, has been appointed as Figeac's Co-General Manager working together with Hortense Manoncourt Idoine; Frederic Faye was promoted from Technical Director to CEO.
This under-rated property is often dubbed the 'sleeping beauty' among the Premier Grand Cru Classe Saint-Emilion properties. While consumers love its under-stated style and acknowledge its long aging potential, professionals have been less generous in their ratings and comments. There is no denying that Figeac has a distinctive flavour profile – with one-third Cabernet Sauvignon in the vineyards, the cepage is unique and different from its right bank neighbours.
In early December 2013, I had the opportunity to taste 8 vintages of Figeac with Hortense Manoncourt Idoine who was in Hong Kong. I love the drinkability of the Figeac, even from powerful vintages like the 2005 and 2010. I hope the new team will continue to respect the elegant style and subtle complexity, which is what Figeac is all about.
1. 2010 Chateau Figeac, Premier Grand Cru Classe Saint-Emilion, Bordeaux, France
Out of the 8 different vintages of Figeac tasted, this is by far the most dense and concentrated but not lacking in finesse. Flavour profile of dark berries and black tea leaves has wonderful precision, freshness and depth. Extremely long length. A structured, intense Figeac to leave in your cellar and forget about for a few decades. (96)
2. 2009 Chateau Figeac, Premier Grand Cru Classe Saint-Emilion, Bordeaux, France
This bottle is closed and although there are no obvious faults (TCA, brett, etc), the wine is shut down and not revealing itself. Frederic Faye acknowledged that this is an off bottle and not showing well. (Not rated)
3. 2008 Chateau Figeac, Premier Grand Cru Classe Saint-Emilion, Bordeaux, France
This is a tightly wound Figeac with notes of pu'er tea leaves, black currant and dried Chinese black dates. Both on the nose and palate, the wine is closed. Looking at my notes from barrel tasting this wine, even then, the fruit was hidden behind the structure. A wine to lay down and wait patiently, at least another 5 years, to see how it evolves. (88)
4. 2007 Chateau Figeac, Premier Grand Cru Classe Saint-Emilion, Bordeaux, France
Classic, delicious Figeac that is young but just beginning to drink well. While it lacks somewhat in concentration and depth, it offers wonderful drinking pleasure. Among the 6 young vintages (2005-2010), it has the softest, lightest tannin structure and is the most open and approachable now. (89)
5. 2006 Chateau Figeac, Premier Grand Cru Classe Saint-Emilion, Bordeaux, France
A wonderful surprise! I did not expect the 2006 to be so beautifully ripe, balanced and complex. The wine offers an array of flavours on the palate – from blackcurrants, plums, cedar to dark cocoa. Great intensity and freshness with a persistent finish. An under-rated wine that offers great value. (93)
6. 2005 Chateau Figeac, Premier Grand Cru Classe Saint-Emilion, Bordeaux, France
A voluptuous wine with firm, velvety tannins and a lush, ripe, generous palate. Flavours of fresh tobacco, cassis and violets are layered, delicate and powerful at the same time. A young wine that is expressive now but will age beautifully over the next few decades. (95)
7. 2001 Chateau Figeac, Premier Grand Cru Classe Saint-Emilion, Bordeaux, France
An expressive Figeac that is just starting to open up and reveal its true colours. Although it is still young with mostly primary fruits on the palate, the wine is starting to show hints of bottled aged characters – black truffle, dried flowers and leather. An impressive wine that did extremely well in this vintage. (95)
8. 1982 Chateau Figeac, Premier Grand Cru Classe Saint-Emilion, Bordeaux, France
This was my wine of the night. I have not tried the 1982 in a long time and it was a reminder how beautifully Figeac can age. Fully mature and still fresh and vibrant with layers of dried flowers, sweet figs and aged tobacco flavours. Gorgeous wine that will easily keep for another decade. (96)