Fabulous Good Value Fortified Wines To Put You In The Holiday Mood
---
---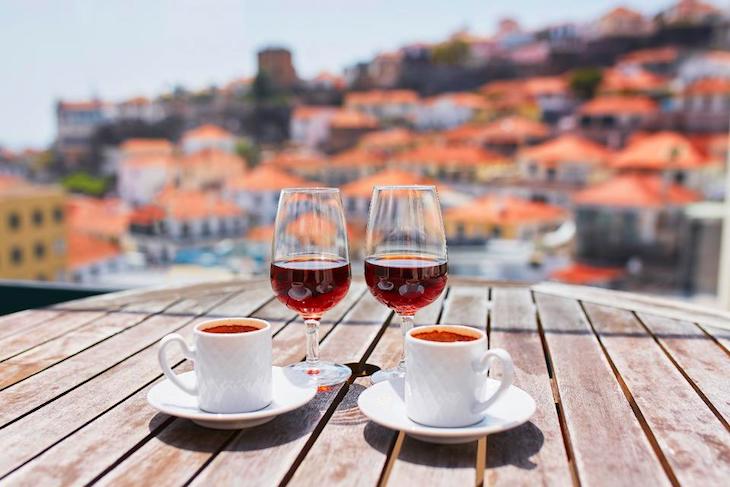 Madeira wine in street cafe with view to Funchal town, Madeira, Portugal
Delicious fortified wines like Port or Madeira are a relative bargain compared with non-fortified reds and whites, and what makes them perfect for the long holiday season is their ability to deliver amazing flavors even after being opened for several weeks, and some up to a few months. There are almost too many choices and options when it comes to wonderful fortified wines; the best traditional styles come from the Iberian peninsula, on or near the coast of Spain and Portugal. My choices for this winter are Tawny Port, dry Amontillado Sherry and Fresqueira Madeira Bual or Malmsey.
Fortified wines like Port, Sherry or Madeira, are different from spirits because they are made with grapes that were partially or fully fermented with a neutral spirit added in the middle or towards the end of fermentation. Spirits, on the other hand, go through a distillation process with base ingredients that can vary from grains, fruit or vegetables. Port is probably the most famous fortified wine, partly due to its long history with British traders. To toughen the red wine from Portugal and help it survive the sea trip to Britain, the traders in the mid 18th century fortified the red wines with brandy. Port wine followed the British wherever they settled around the world.
At the top of the Port pyramid is vintage, or bottle-aged Port. The best recent vintages – the 1994 and the 1997 – are still widely available and not that expensive at US$70-90 per bottle. The 1994s, at 24 years of age, are still powerful and young filled with ripe, plum pudding flavors; 1997 vintage is even more youthful and incredibly complex. Some will enjoy the youthful, velvety richness of these Ports even at this age, but they will keep and age beautifully over the coming 50 years. Besides vintage Port, Ruby Port, which is a fruitier, youthful, vigorous style, is also popular.
Personally, I love the wood-aged Ports, also referred to as Tawny Ports. This ready-to-enjoy style offers many options: basic Tawny aged for at least 2 years; colheita with a vintage year usually released after 10 or more years; 10 to 40-year old blended versions. This latter category indicates that the blend has at least 10, 20, 30 or 40 years of barrel aging. With longer barrel age, Port develops a lighter palate, leans more towards dried tea leaf and spicy characters compared with the younger versions, which offer notes of caramel, roasted figs and dates. The best values can be found in the 20-year old Tawny blends and my favorites include Dow's (retail price US$40-50 per bottle) and Quinta do Noval (retail price US$70-80).
While Port is sweet, at any age, since fermentation was stopped with residual sugar from the grapes intentionally kept to balance the 20% alcohol, Sherry can be bone dry to sweet. Named after Jerez in Spain, Sherry encompasses a wide range of styles made in a unique, solera method of blending young and old wines slowly over a long period of time. Generally, Sherry is divided into two distinct styles – fino and oloroso – and a style that falls in between the two. Fino is dry, influenced in flavor by unique, naturally occurring yeast called flor resulting in a pale lemon, green colored, salty, fortified wine. Oloroso, on the other hand, can range from dry to sweet but does not have the protective flor and thus has a deep gold to brown color with oxidative, toasted nut and caramel flavors. Two other in-between styles include Amontillado and Palo Cortado.
With tapas or antipasti, a crisp, cool Fino or its saltier version, Manzanilla, works beautifully. I am partial to dry Amontillados and one of my favorites is the intensely nutty, gorgeous Gonzalez Byass Duque Amontillado Muy Viejo Sherry which retails for US$40-50 per half bottle. Another delicious aged version is Emilio Lustau VORS 30-year old Oloroso Sherry which retails for around US$60-80 per 500ml bottle.
Unfortunately Madeira is much harder to find in Asia even in large wine shops, especially the best ones with the word frasqueira on the label: This means the wine is 100% from the vintage year declared, it has 100% of the variety as stated on the label, and most importantly, it has been aged in barrel or cask for a minimum of 20 years. What I love about Madeira is the sizzling acidity that runs through the wine – this is due to early harvesting at below 10% alcohol in most cases. The bracing acidity is the backbone of the wine and it is easy to identify in a blind tasting of different fortified wines. Top producers use the canteiro method of allowing the barrels to age naturally in warm rooms for a few decades; the direct heating method usually associated with Madeira is used mostly for the cheaper, simpler versions. My favorites include: 1982 Barbeito Frasqueira Boal at US$230 per bottle or the 1987 D'Oliveiras Bual Vintage Madeira US$90-110 per bottle.
Although local Asian wine retailers may not stock your favorite Port, Sherry or Madeira, most will be happy to take orders for you and ship it in time for the upcoming long lunar new year holidays. Or if you live in Hong Kong, you can have UK specialist shops ship it directly to your home.
Image credit: Shutterstock.com